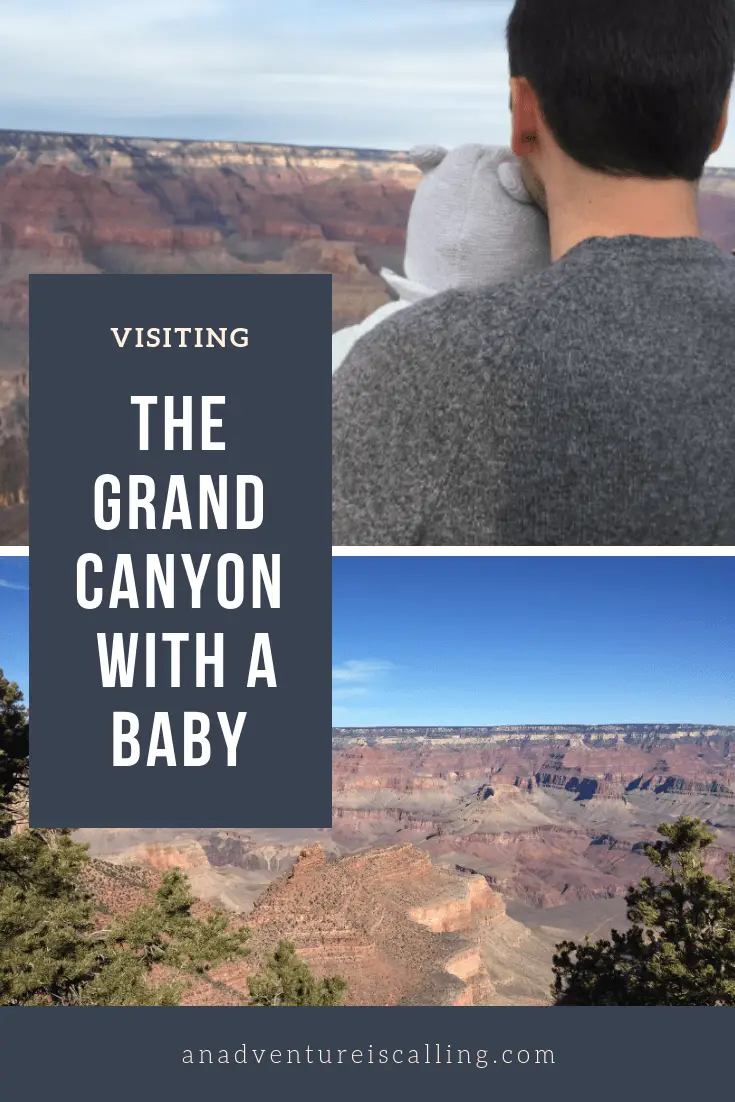 The Grand Canyon is absolutely stunning, and it is a bucket list item for many people. Our baby girl recently got to cross it off of her list (although I don't think she realizes it yet!), after our family enjoyed 24 hours there in December. Although our time there was brief, we loved exploring the South Rim of the Grand Canyon during the winter, and it was the perfect time to go with our daughter, who is under one year old. (Note: The North Rim is closed during the winter months.)
We may earn money or products from the companies mentioned in this post. We only recommend products and services that we love!
My husband and I had both been to the Grand Canyon before but never together. We were excited to share the experience with our baby, who is a very content little traveler! Because we were there for such a short time, we decided to keep it simple and avoid large hikes (we will have to go back for a full canyon hike soon!). Overall, we had a wonderful experience, and I'm looking forward to sharing our tips with you. (You can also read more about why we loved visiting in the winter here!)
The National Park Service has an informative podcast on traveling to the canyon with babies, toddlers, and kids, which you can listen to online here. It is a great resource!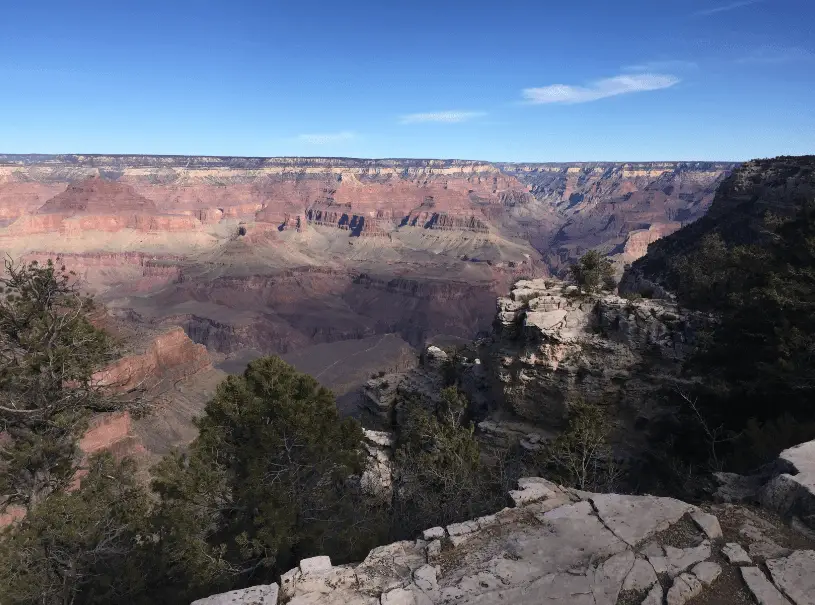 Visiting the Grand Canyon with a Baby
Be Prepared for the Weather
We traveled there in the winter, so we made sure we were prepared with plenty of warm clothes. The weather was in the high 40s during the day, and our baby wound up wearing a snow suit most of the time. She also wore a warm hat, pants, a cotton onesie, and wool socks. She was nice and warm the entire time (and took a great stroller nap!).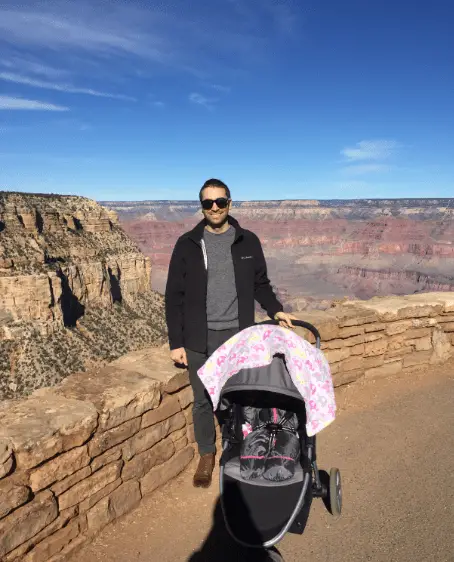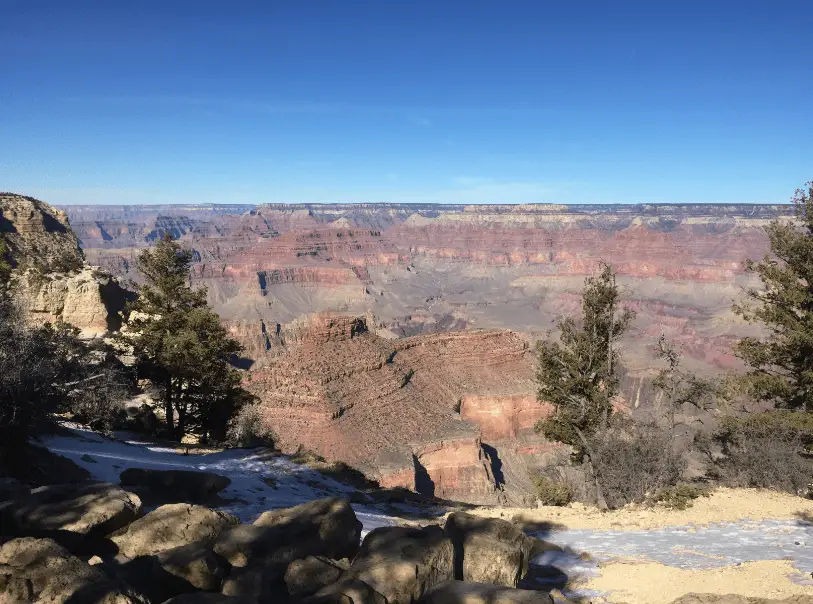 If you're traveling during the summer, you'll want to make sure you are prepared for the high temperatures. NPS has great information on this here.
Bring a Carrier (and a Stroller too!)
Before we left, I did a lot of research on traveling to the Grand Canyon with a baby. Everything I read said to bring a carrier, so I planned to use our Ergobaby 360 most of the time. We also brought our hefty stroller, because we knew that the Rim Trail was stroller-friendly. (Note: We have an amazing travel stroller, but we still use our bigger Britax B-Agile stroller when we are in situations that might be rocky, muddy, etc., because its hefty wheels can go just about anywhere- this was one of those situations where we preferred it).
We wound up using our stroller the entire time. We had a great parking spot at El Tovar lodge, so we left our carrier in the car with the plan to swap our stroller for our carrier when we were ready. But the stroller worked out great, and we wound up using it most of the time. Our daughter took an incredible nap in the stroller, and we didn't have any issues taking it on the Rim Trail.
If you're wanting a backpack carrier, here are some popular, safe options that are perfect for long hikes at the Grand Canyon: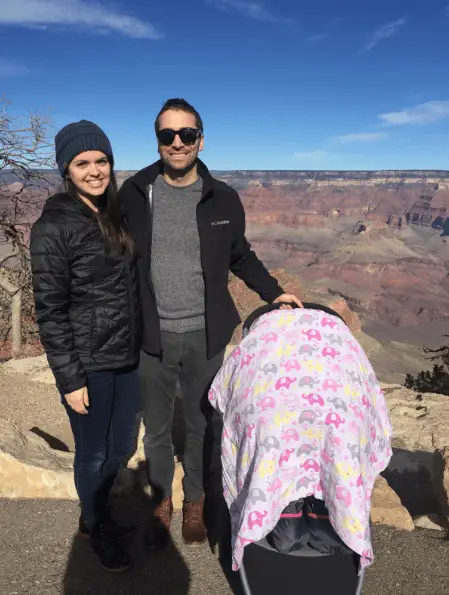 My suggestion is to bring both a carrier and a stroller. If we had hiked at all below the rim, we would have used the carrier instead. We also might have used the carrier if we were visiting at a busier time of year, as a stroller might have been frustrating to push through crowds or to squeeze on to the shuttles. But we had a great experience, and I think it is just best to keep your options open. (You can see in the photo below that we were not crowded at all!)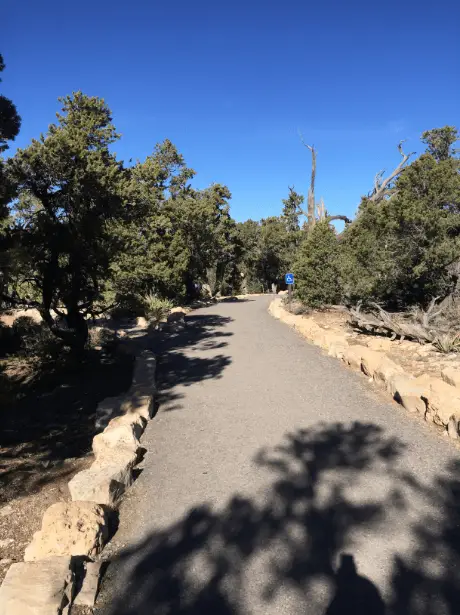 Choose Trails & Viewpoints Ahead of Time that are Do-able with a Baby
As I mentioned earlier, we stuck to the Rim Trail, because we had limited time there (24 hours). We walked the Trail of Time (great for families with young kids too), which was totally stroller-friendly. The trail was well-paved, and some sections were fenced off. We felt completely safe, but the reality is that the Grand Canyon can be nerve-wrecking with toddlers and small children (our baby wasn't quite walking yet). If you are visiting with young children, check out this blog post for tips on visiting the Grand Canyon with kids! If you're looking for another great national park to visit as a family, consider Big Bend National Park!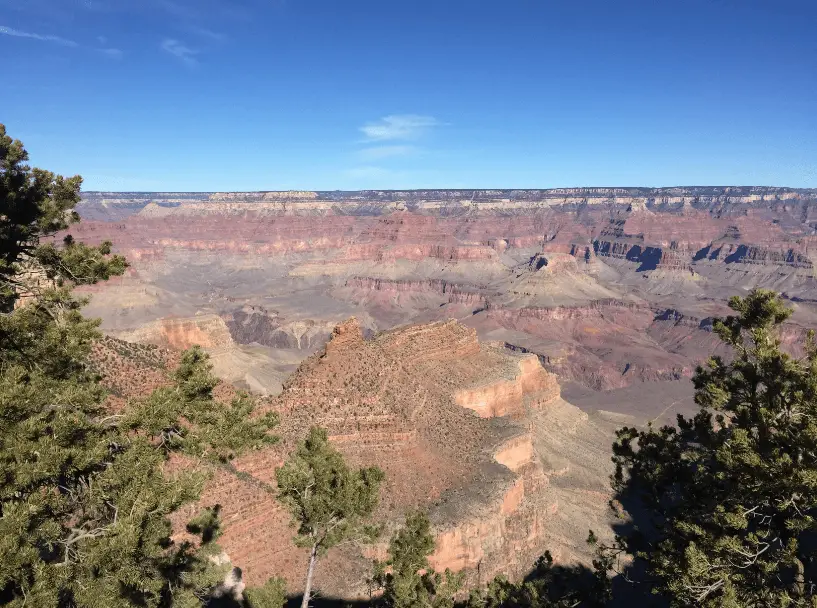 Some viewpoints might feel a little safer than others, so if you're worried, do your research ahead of time. We loved going to the Powell Point lookout with our baby (during the summer months, this road is closed to cars and only open to shuttles; during the winter, shuttles do not run there and they open it up to cars).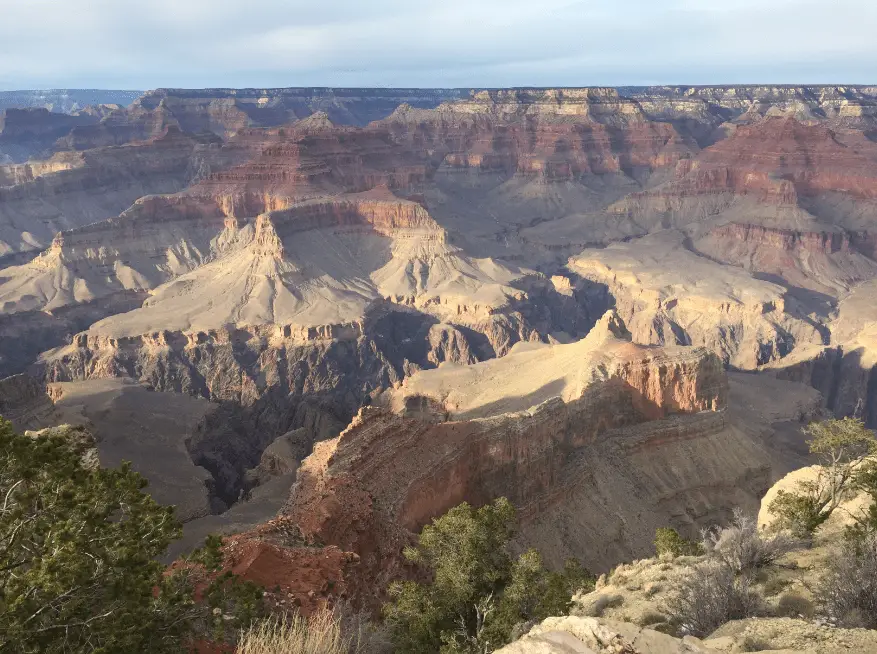 Book Comfortable Lodging
If you have the option to stay inside the park, I recommend it! There are so many lodges and cabins that have beautiful views of the canyon. We booked a little last minute and had a hard time finding a deal, so we stayed nearby at the Grand Canyon Inn in Valle, Arizona (Tusayan is another great option, but it was completely booked while we were there). I'll be completely honest- I was very hesitant when we booked our room. It had good reviews, so we went for it, and we are so glad we did! It turned out to be great. The room was huge and perfectly clean (cleanliness is one of my biggest priorities when we travel). The décor was fun, and overall it was a good experience.
If you're considering staying here, you might want to book a second floor room if you are a light sleeper. We had our daughter's travel white noise machine with us, so we slept great, but we could hear people walking around on the floor above us before and after we turned it on.


Hotel Options Inside Grand Canyon National Park (I highly recommend that you stay inside the park, if at all possible):
Here are a few fun, family-friendly VRBO vacation home and glamping options with 30 minutes of Grand Canyon National Park:
Ultimately, you just want to plan ahead. The Grand Canyon is a busy place, and we had a hard time finding lodging even during its off-season. You don't want to get stuck staying somewhere that is an hour+ drive away- you want to spend that time enjoying the beautiful views in the park!
Relax & Enjoy the Park's Food!
Since we were on a road trip from California, we didn't plan to bring our own food to the Grand Canyon (it would have been too much of a hassle to precook and store meals for that many days). We planned to eat 3 meals (over the course of 24 hours) at the park, and I'm so glad we did. It was nice to not have to worry about packing meals. We had enough to carry around with our baby's diaper bag, extra warm layers, etc. We did pack plenty of water and snacks, but otherwise, we enjoyed eating there. (Note about drinking water: there are several water re-fill stations throughout the park; in the winter, the outdoor stations are turned off, but you can still find these stations inside the lodges and visitor centers.)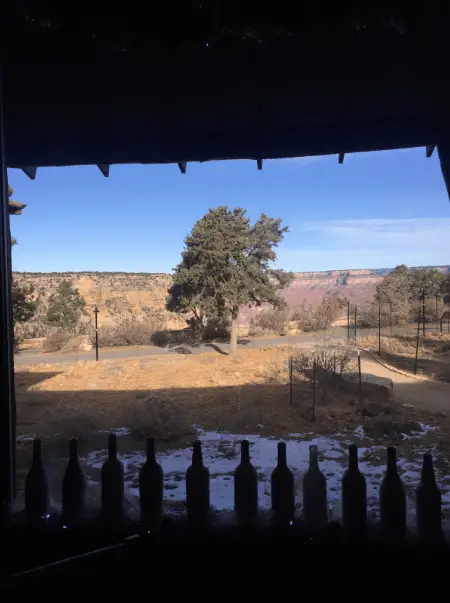 On our first day there, we ate dinner at the Harvey House Café. The next day, we ate breakfast at El Tovar and a simple lunch at the Maswik Food Court. Because we traveled there in the winter, we never had to wait and had great tables with views at both the Harvey House Café and El Tovar. Our baby is pretty easy to feed at this point. She still has a lot of milk, but she enjoyed eating off our plates at each meal too!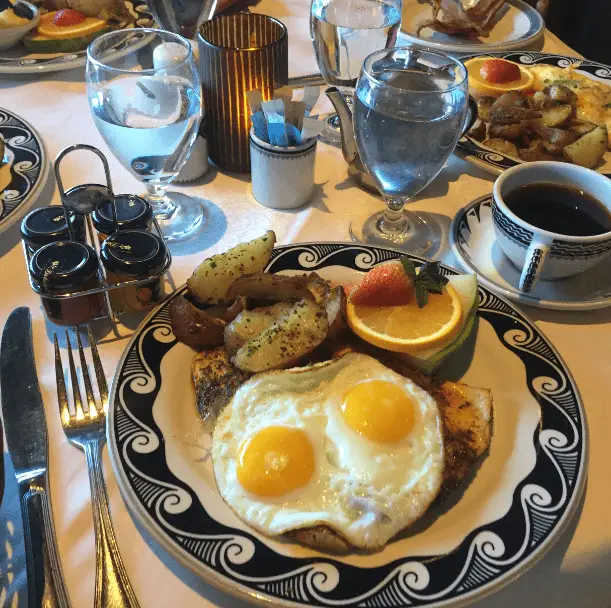 Enjoy exploring this beautiful national park with your baby! We cannot wait to return (next time she'll be a toddler!). I would love to hear any other tips you might have!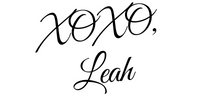 Pin for later: