The Isle of Skye is arguably one of the most beautiful spots in Scotland- and possibly on earth too! Our family of 3 (including our 1 year old) recently traveled to this beautiful Scottish isle, and I'm excited to share our Isle of Skye 2 day itinerary with you! The Isle of Skye is constantly growing in popularity- and for amazing reasons. Located in northwest Scotland, it is accessible by bridge, making it easily accessible by car. It has a gorgeous coastline, numerous stunning lochs, and amazing views. The locals are kind, the animals are adorable, and it is overall a beautiful destination!
We may earn money or products from the companies mentioned in this post. We only recommend products and services that we love!
We spent 2 full days in the Isle of Skye and found that it was enough. Could we have spent more time there? Definitely! But we managed to see everything that was important to us, and we moved at a relaxing pace, so have no fear if you can only spare two days. We wouldn't have wanted to spend less time there- that's for sure!
Before I begin, I want to give you a BIG TIP/WARNING regarding cell phone service! It can be spotty, so bring a paper map and/or a screenshot of printed driving directions before you head out. We had our own rental car, but tour buses and private drivers are available for hire if you prefer. I'm excited to share our complete 2 day itinerary of the Isle of Skye with you!
You might also want to check out: Things I Wish I Knew Before Visiting the Isle of Skye, Scotland
Isle of Skye 2 Day Itinerary
Day 1
We spent day 1 driving the Trotternish Loop, which is home to several of the Isle of Skye's "must see" destinations. The stunning peninsula is located on the northern side of the island, and you won't want to miss it. In my opinion, a 2 day itinerary of the Isle of Skye would not be complete without driving the Trotternish Loop. You can drive the peninsula in either direction, depending on where you are staying (we stayed in the beautiful town of Edinbane- more on that below). Keep in mind that public restrooms are sparse and food can be difficult to find in some areas too. So pack yourself plenty of snacks (I recommend an entire lunch picnic). We started our day at 8am, took our time at most spots, and were finished with our day around 5pm. We spent a total of 2 hours in car. Whether you are driving yourself or taking a backseat in local transportation, I highly recommend using Sea-Bands if you are prone to getting car sick.
Fairy Glen on the Isle of Skye
Our first stop of the day was Fairy Glen, which turned out to be our favorite stop of the day! It is supposedly one of the less popular spots on the isle (large tour buses cannot drive there), but it was beautiful. I would not miss it!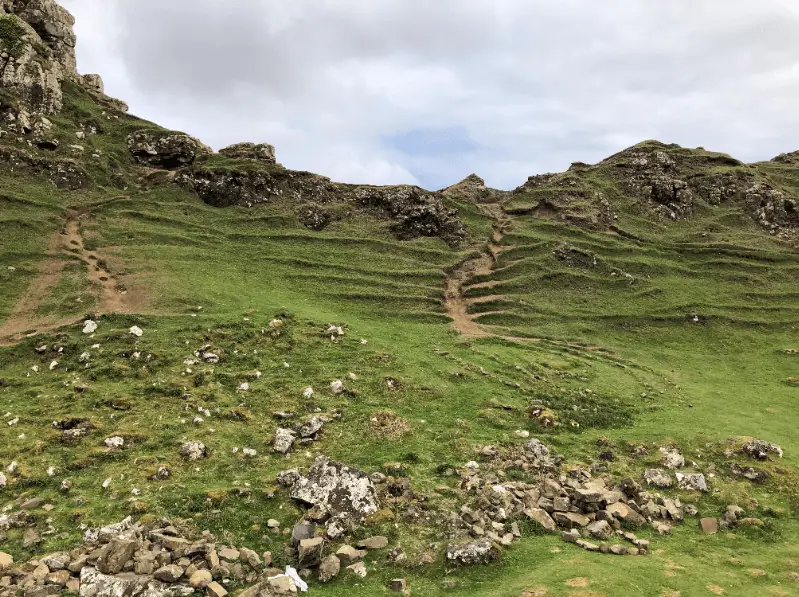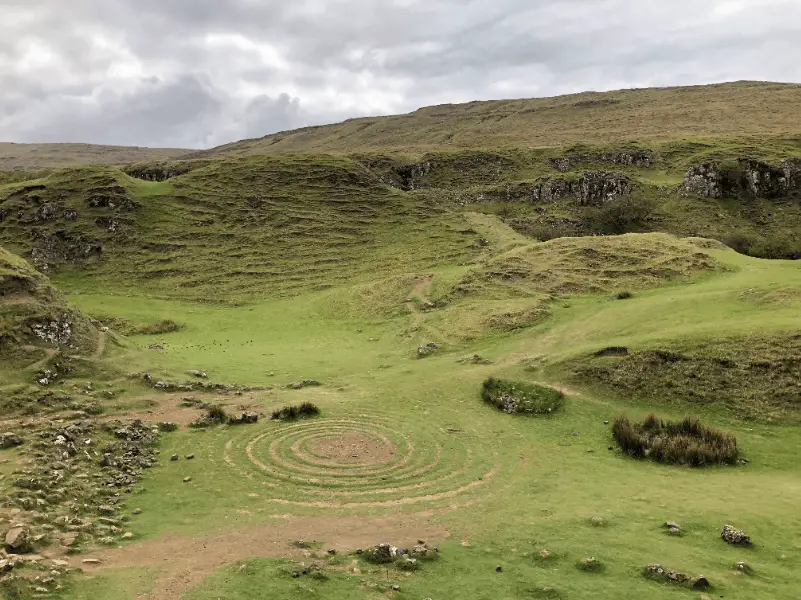 We spent about one hour exploring Fairy Glen and easily could have spent more time there, but we had a full day of exploring ahead.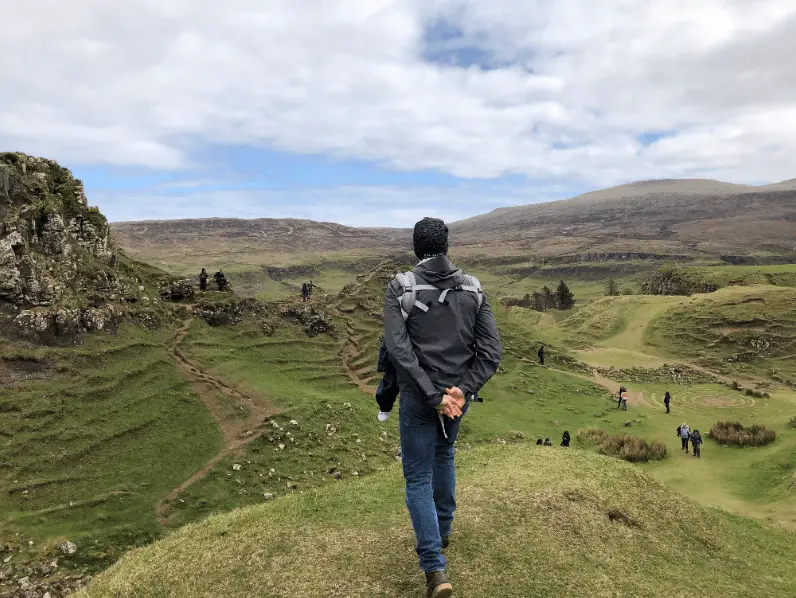 Don't forget to respect the area, and keep your eye out for fairies! 🙂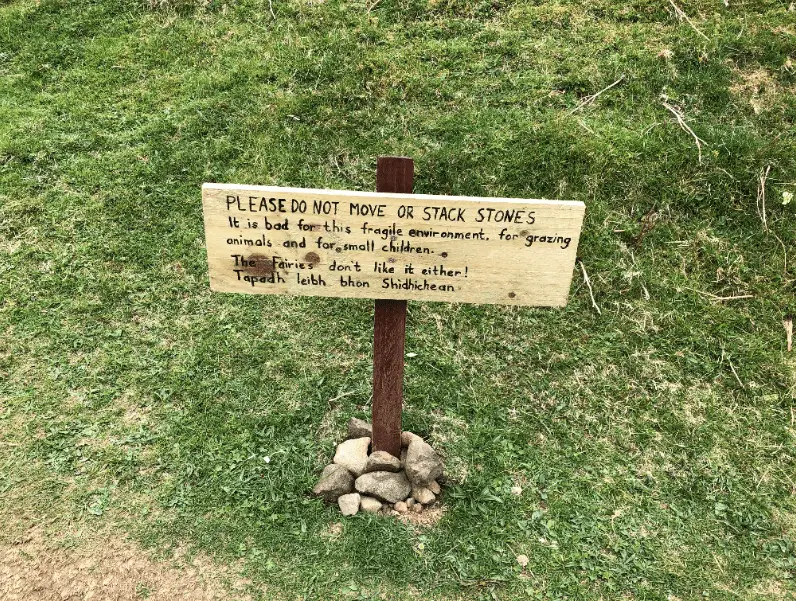 Pro Tip: This one can be difficult to find, as it wasn't clearly marked from the main road (A87). We accidentally passed it up and wound up in the charming town of Uig. There are free public restrooms in the parking lot by the ferry dock. If you have a full day ahead, I recommend heading there before you leave the area! Check out this post for more tips!

You might also want to check out: Traveling to Scotland with a Toddler or Baby
Quiraing on the Isle of Skye
We then drove 10 miles to Quiraing, which took about 30 minutes (keep in mind that many of the roads are single-lane, so be prepared to pull over often for oncoming traffic…and sheep). Quiraing is a landslip with cliffs and beautiful rock formations. Our daughter was peacefully napping in her car seat when we arrived, so we parked and took turns heading out to explore. The entire hike is 4.5 miles, so hiking the entire thing was not an option for us (since we wanted to see more!).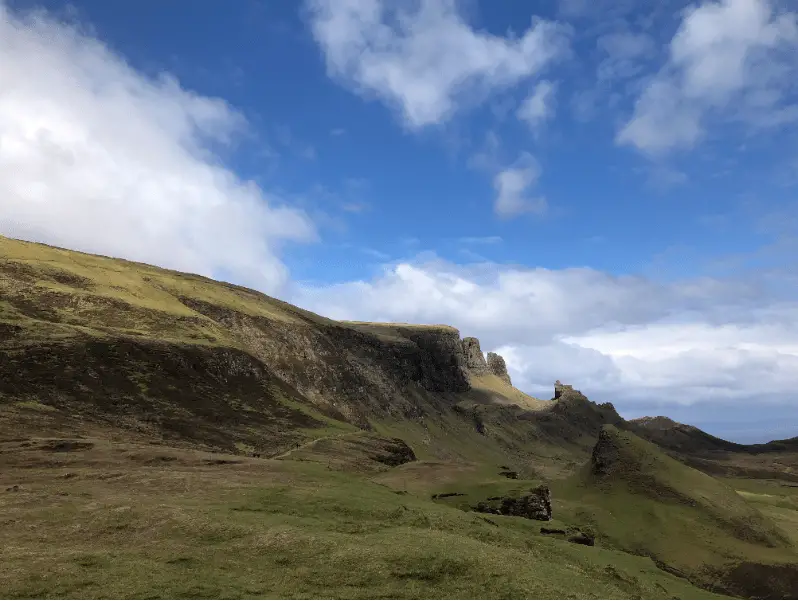 It was beautiful! My husband and I each had the chance to hike out about 10 minutes. It was windy but worth it!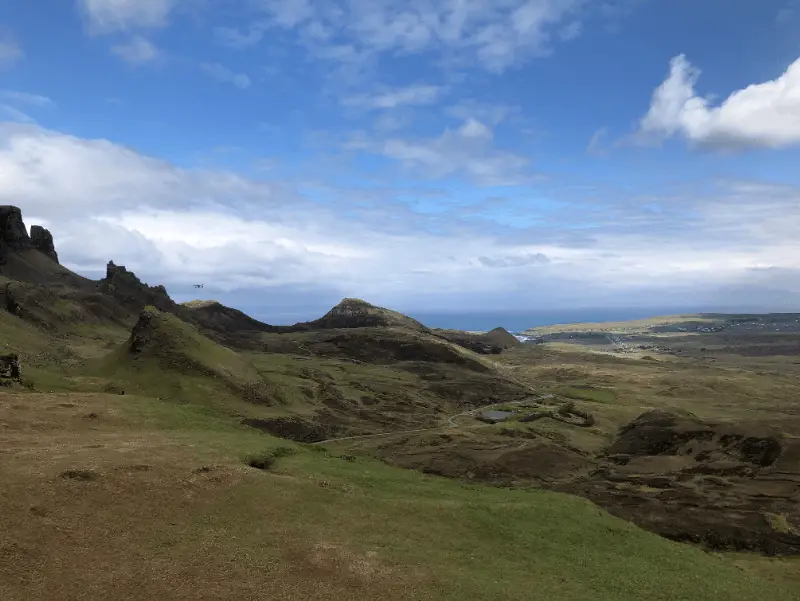 Pro Tip: Be prepared for less-than-ideal parking conditions here. Watch out for deep holes and wet mud, and don't forget to bring a pair of good rain boots. Check out this post for more tips!

Mealt Falls and Kilt Rock on the Isle of Skye
I first knew that I wanted to visit the Isle of Skye when I saw a photo online of Mealt Falls and Kilt Rock. It reminded me of the natural beauty that I loved so much in Ireland. Once I actually started planning our trip, I was surprised to find that the viewpoint is actually pretty small, and it's really just a quick stop.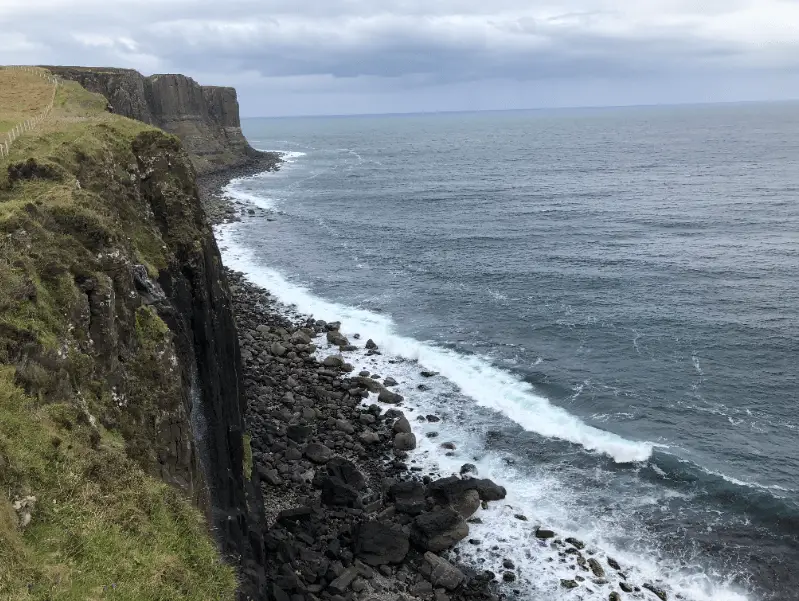 The drive from Quiraing to the Mealt Falls and Kilt Rock viewpoint is a short 4.5 miles (about 10 minutes), and it is definitely worth the quick stop. Just don't plan on spending hours here. It's a quick place to admire its beauty, take a couple photos, and then move on. It's a very popular spot and the parking area was crowded with buses, and you can find some local vendors here if you want a snack.
Pro Tip: Grab a peek of Brother's Point from this lookout, which is the next stop on our itinerary! Check out this post for more tips!

Brother's Point (Rubha nam Brathairean) on the Isle of Skye
Brother's Point (Rubha nam Brathairean) is the easternmost point on the Trotternish Peninsula. It is a short 2 mile drive from Mealt Falls and Kilt Rock (it took us about 5 minutes to drive there). Of all the places we visited on the Isle of Skye, this was the least crowded and one of the most beautiful!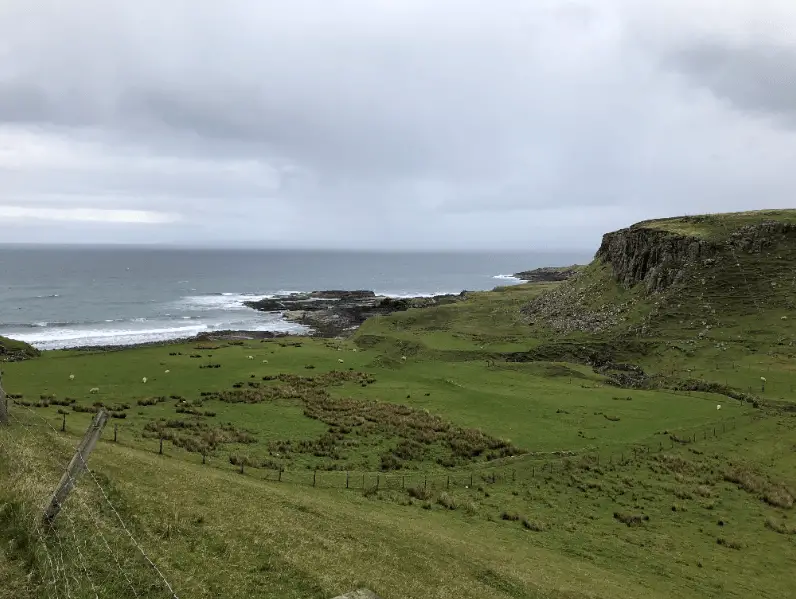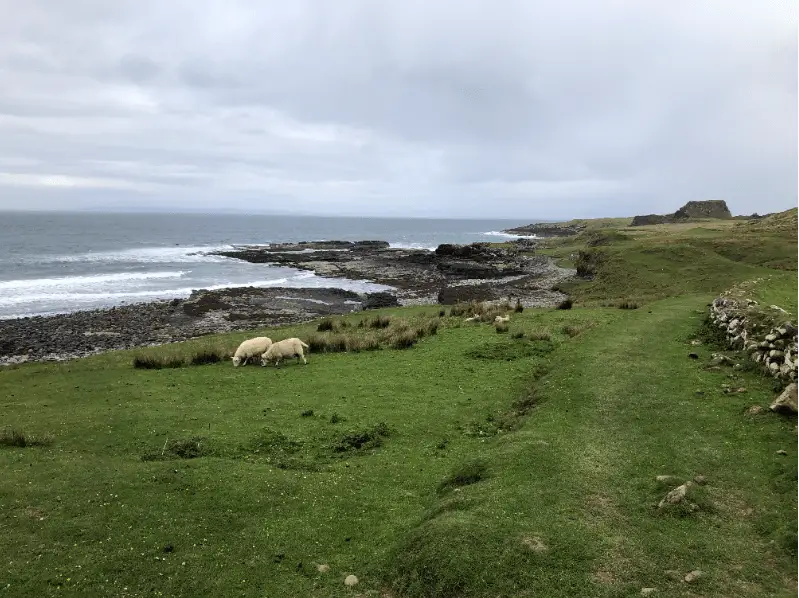 We actually didn't walk out onto the peninsula, because the rain started to roll in and we wanted to keep our daughter warm and dry. But the walk to the peninsula was stunning and worth it! The green hills are covered in friendly sheep, and the sound of crashing waves was beautifully peaceful.
Pro Tip: Keep your eye out for this one- it is hard to miss! There is a small car park across the road (A855) and a weathered sign at the entrance to the walkway for Brother's Point. Then you'll pass through a gate, where you'll see a second sign letting you know where to go. Check out this post for more tips!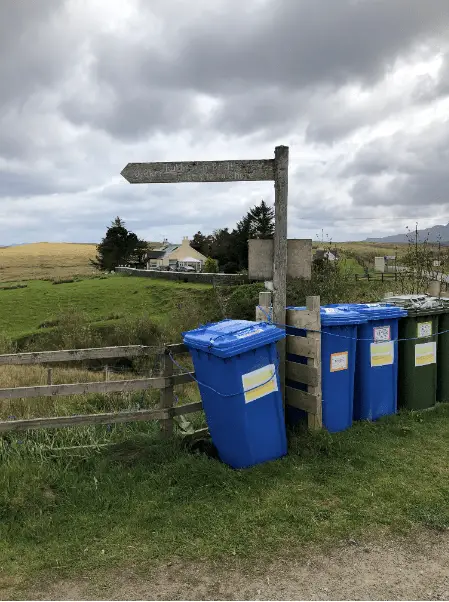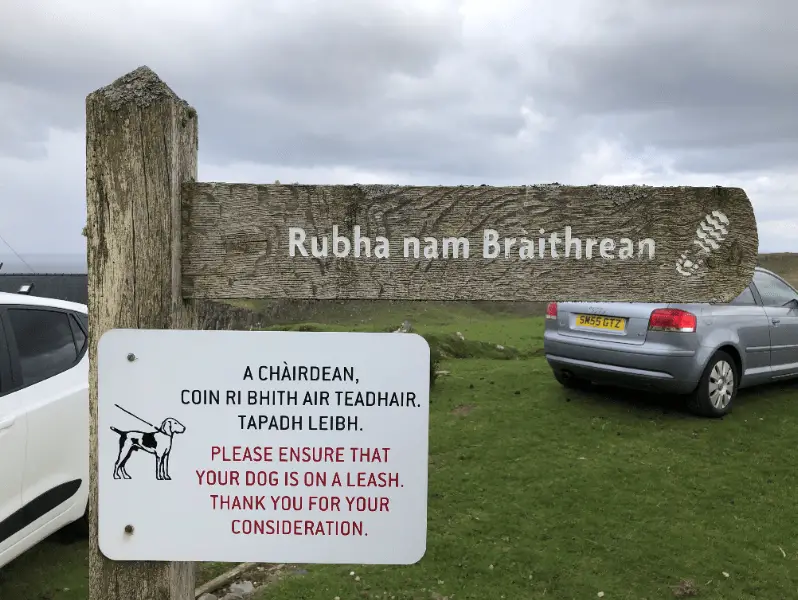 Old Man of Storr on the Isle of Skye
Our last stop of the day was the Old Man of Storr, which was just 7 miles down the road (a 10 minute drive). This beautiful, rocky hill is one of the most popular spots on the isle. We found the largest crowds here (TONS of tour buses).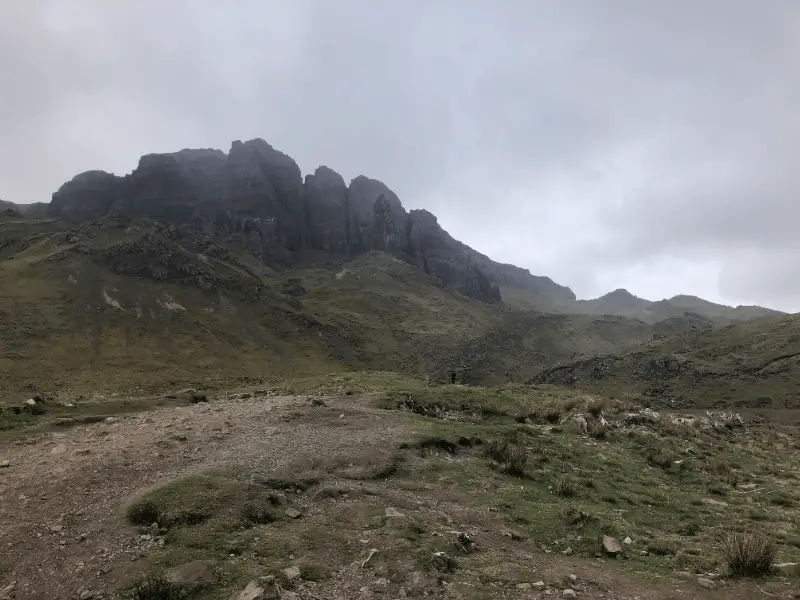 Confession… I messed up when planning this stop! I somehow missed the fact that we should allow a couple hours for this hike, and we didn't arrive until the end of the day. Unlike the other stops of the day, you have to hike quite a bit to the actual hill. The hike itself is over 2 miles. The rain rolled in (full force!) and the wind was strong- so we wound up turning around about halfway. We are still glad that we saw as much as we did, and we loved what we did see!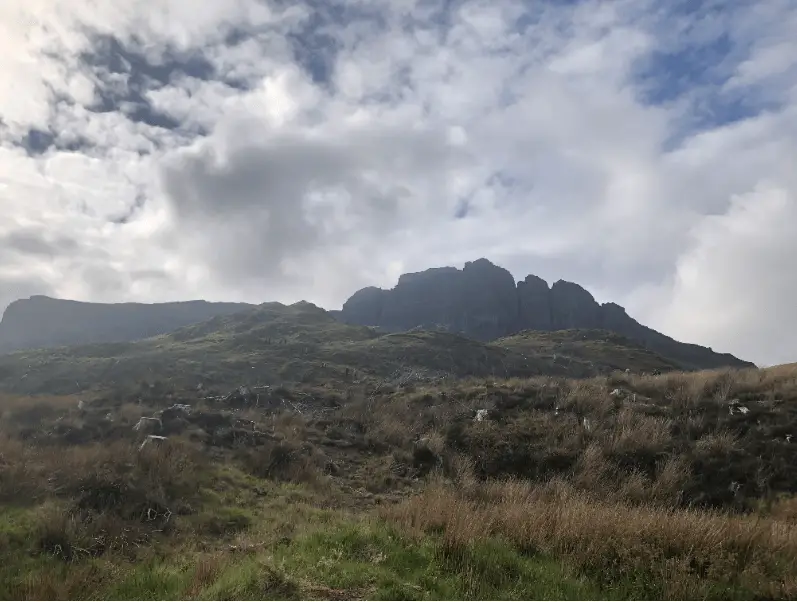 Pro Tip: If this is a must-see for you, consider visiting toward the beginning of the day and allow for a couple of hours!

Day 2
On day 2 of our trip to the Isle of Skye, we decided to focus our attention on the west side of the isle. We were blessed with gorgeous, sunny weather all day and loved moving at a slow pace.
Neist Point on the Isle of Skye on the Isle of Skye
If I had to choose my favorite spot on the Isle of Skye, I would have to say Neist Point! The walk to the Neist Point Lighthouse (which was built in 1909) was nothing short of amazing. The sun was shining, the water was exceptionally blue, and the green hills were covered in cute, friendly sheep.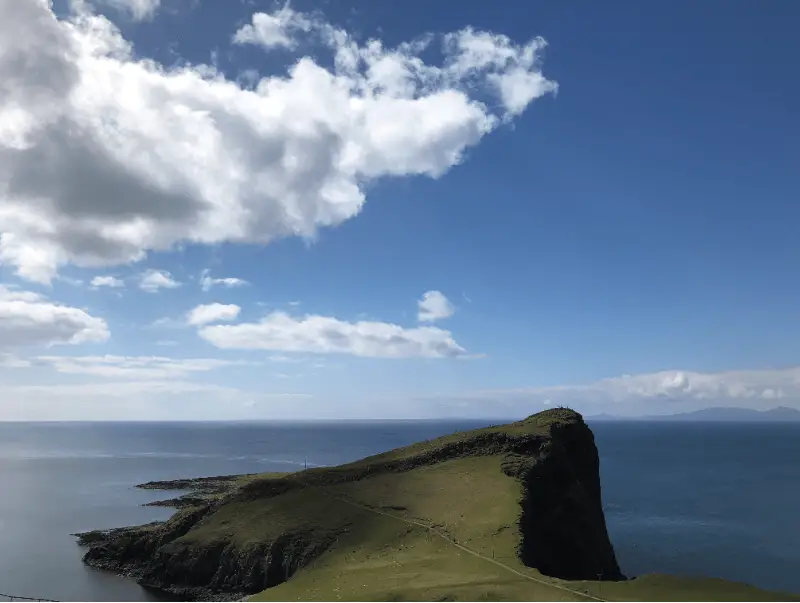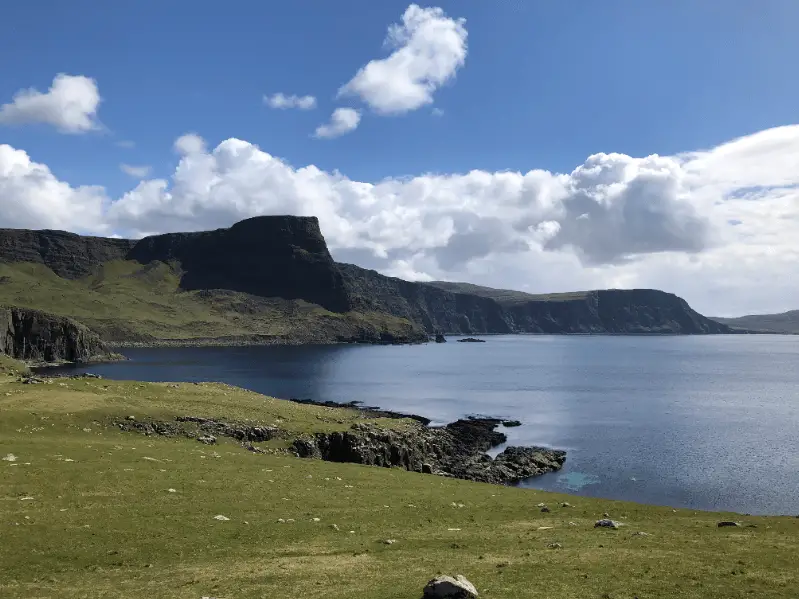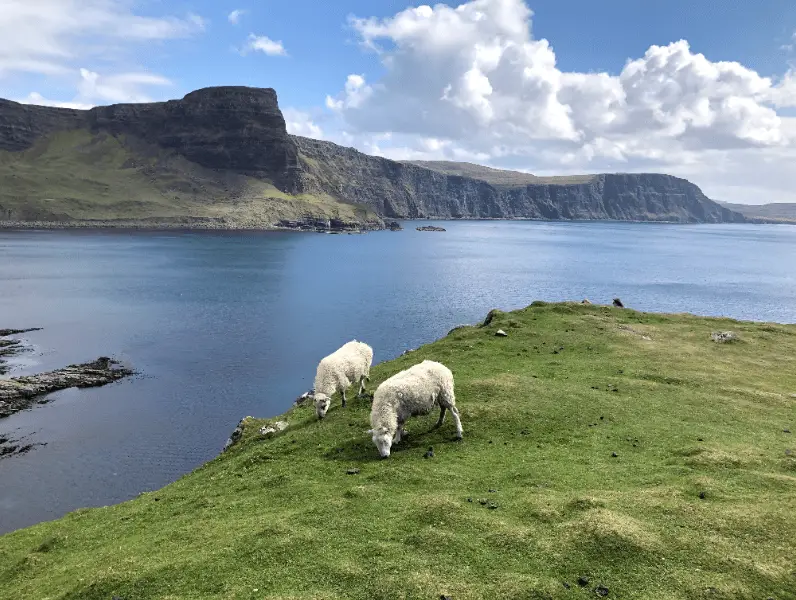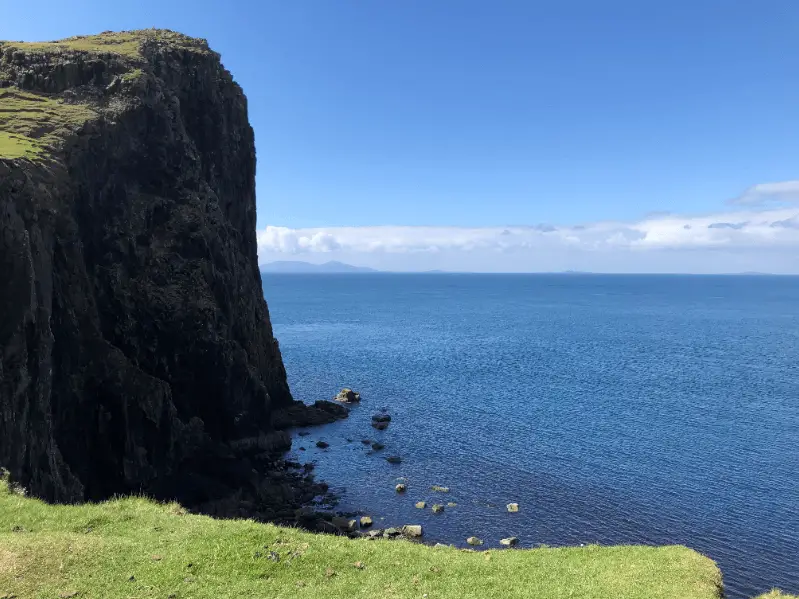 It is important to note that the walk to the point (and the lighthouse) is steep at times. It is well-paved, but there are also a lot of stairs. The walk is over a mile each way, and like most spots on the Isle of Skye, is not stroller-friendly. The lighthouse is no longer in operation and the buildings are now privately owned, so you'll want to be respectful and stay in the designated areas.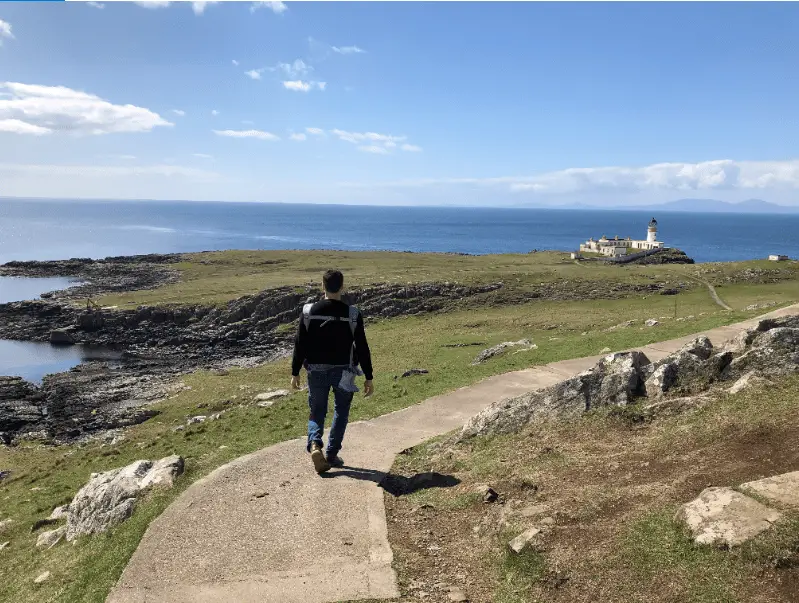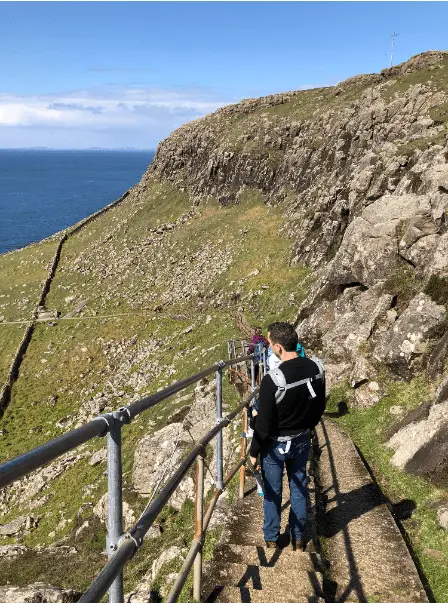 Pro Tip: Plan to stay here awhile! It was windy, so bundle up, but it was absolutely gorgeous! The car park is small but parking is allowed along the road. Check out this post for more tips!

Dunvegan Castle & Gardens on the Isle of Skye
Dunvegan Castle and Gardens was fascinating! It is the only castle in the Scottish Highlands that is still a private residence to its original family- the chiefs of the McLeod clan. How cool is that?
Our daughter was ready for a nap when we arrived, so she slept in her carrier while my husband and I explored the inside of the castle. We loved reading up on its fascinating history and learning more about the McLeod family and the rest of the Isle of Skye.
We then spent the remainder of the afternoon in their beautiful gardens! They were extensive and offered a large variety- liked a woodland walk and rose garden. We were in no hurry to leave!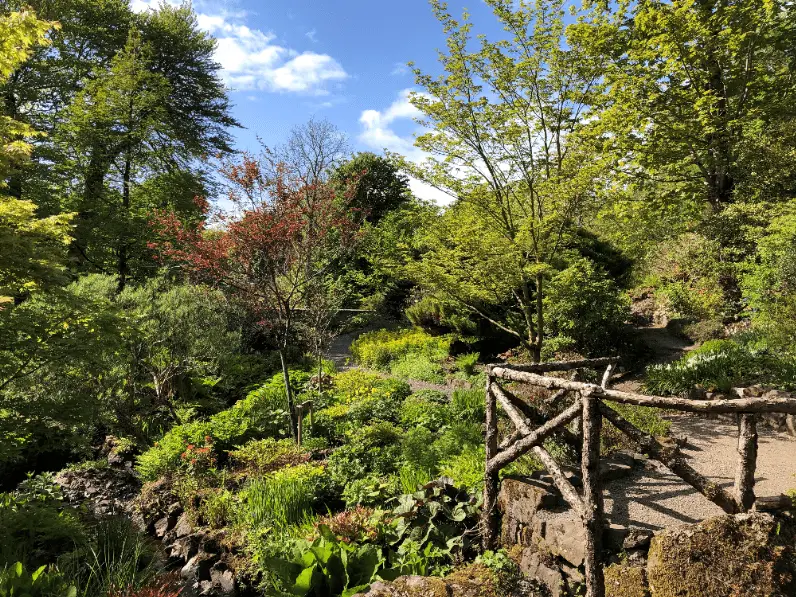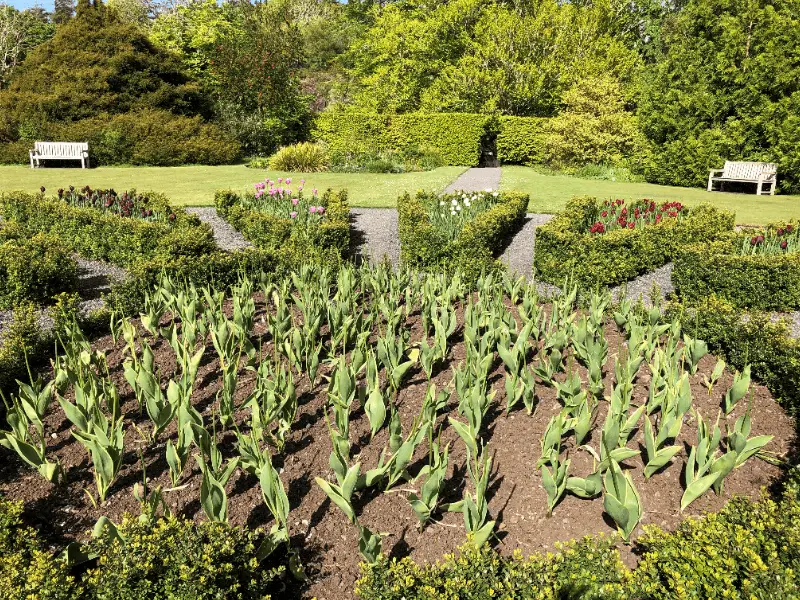 Where to Stay & Eat on the Isle of Skye
A majority of travelers stay in the town of Portree when visiting the Isle of Skye. Portree is a lovely little coastal town (the biggest on the isle) that has an abundance of lodging options. It is conveniently located near the Trotternish Loop, and has several grocery stores and restaurant options. You will need to pay for public parking downtown. If you like to stay in hotels, hostels, or B&Bs when you travel, I highly recommend looking in Portree for great options. When we stay in hotels, we like to use Expedia or Hotels.com, as they offer amazing rates! We didn't stay in Portree but did our grocery shopping there. There is a small Co-op downtown on Bank Street that is open late. We preferred the larger Co-op on Woodpark Road (just a couple minutes away), as they had more options.
If you would like a more remote experience, away from the "tourist" areas, I recommend booking a VRBO outside of Portree. We stayed in an amazing vacation home in Edinbane, which was a 20 minute drive from downtown Portree. Unfortunately, this particular vacation home is no longer listed, but there are several other amazing options available, from stone-built cottages to cottages built in former grain mills and in old post offices. Initially I was a little hesitant to book a home outside of Portree. I worried that we would spend too much time in the car, but it actually turned out to be a much better location for exploring the Isle of Skye as a whole. We were conveniently and centrally located right in between the Trotternish Loop and the west side of the isle, making it easy to access the spots on both day 1 and day 2 of our itinerary. We loved eating dinner at the Edinbane Inn after our long days of exploring. My husband decided to eat like a local and enjoyed his haggis pie!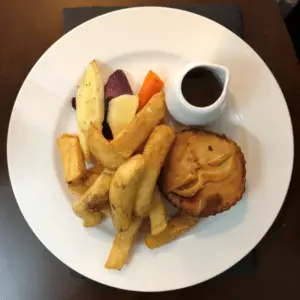 Now, back to the Edinbane, because I highly recommend staying there if possible. Oh my goodness- the view! Edinbane is stunning, has a remote feel, and is surrounded by beauty! We had the most amazing views of the Scottish Highlands, and the sunset was just incredible. The farm animals were adorable and friendly (visit in the spring to see the baby lambs). The home was remodeled with beautiful, homemade, wooden furniture, and it was completely spotless (a must for us!). Our hosts made sure we were comfortable and went above and beyond in terms of hospitality.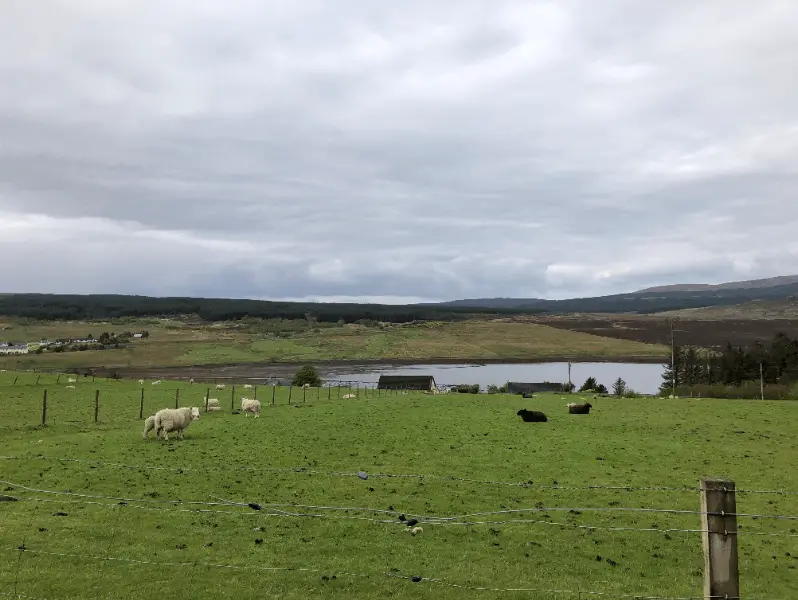 Looking for lodging inspiration? Here are a few lovely vacation homes to stay in on the Isle of Skye with various price points:
If you would prefer to stay in a hotel, the Isle of Skye offers several lovely options:
Pro Tip: Book early! The Isle of Skye is an incredibly popular place, and accommodations fill up months in advance. We booked our vacation home 8 months in advance and were shocked to find that our options were already quite narrow.
Bonus: What to Pack for a Trip to the Isle of Skye
I hope you're feeling ready and excited to explore the Isle of Skye! I am often asked what items were a must to pack for the Isle of Skye, so I decided to include some more tips here. If you are traveling to the Isle of Skye with a toddler or baby, you can check out my dedicated post here. Here are a list of items that we packed and were grateful that we had:
My hope is that you have found our Isle of Skye 2 Day Itinerary useful and inspiring as you plan your own trip the beautiful Scottish Highlands! I would love to hear from you! Have you traveled to the Isle of Skye? Is it on your bucket list? And please let me know if you have any questions, and check out Things I Wish I Knew Before Visiting the Isle of Skye before you go!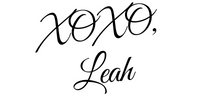 Pin for later: