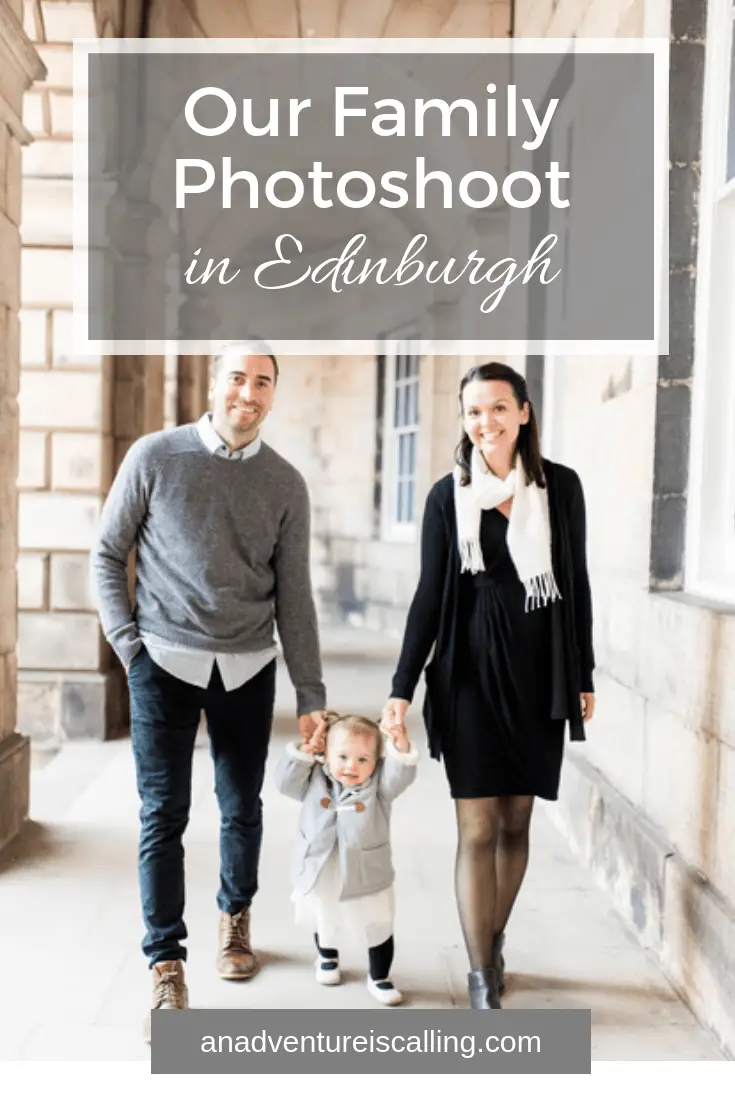 If you have followed my blog for awhile, you might know that we love to capture our travel memories with professional photos. There is something so special about bringing home high quality photos with our entire family in them that perfectly captures our time away and our love for our destination (beyond selfies!). We believe that photos truly make the best souvenirs (perfect for minimalists)! We recently took our daughter on her first international adventure to the United Kingdom, and we wanted to capture our family memories through professional photos in Edinburgh, Scotland. We love how our photo shoot photos turned out, and we are so thankful that these family memories are captured in such a special way using Flytographer!
We may earn money or products from the companies mentioned in this post. We only recommend products and services that we love!
Just interested in the discount coupon code? Sign-up for your account here to receive $50 off your first photo shoot. If you already have an account, you can enter CODE7242 at checkout to receive $50 off!
Our Family Photo Shoot in Edinburgh with Flytographer + $50 Discount Coupon Code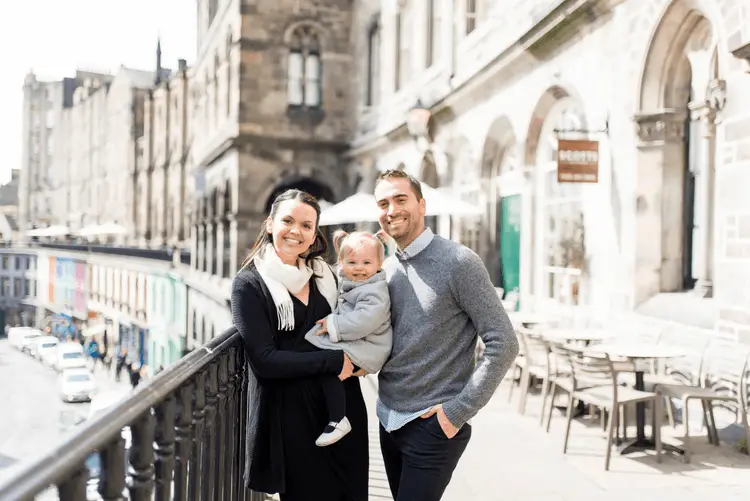 When we planned our babymoon trip to Paris, we discovered Flytographer, a company that connects travelers with local, professional photographers. We wound up booking a maternity photo shoot with them, and we loved our photo shoot experience in front of the Eiffel Tower (you can read more about our maternity photo shoot experience in Paris here). We had a positive experience and knew that we would use them again in future. Flytographer works with photographers in over 200 cities around the world, so we were excited to book a local photographer in Edinburgh.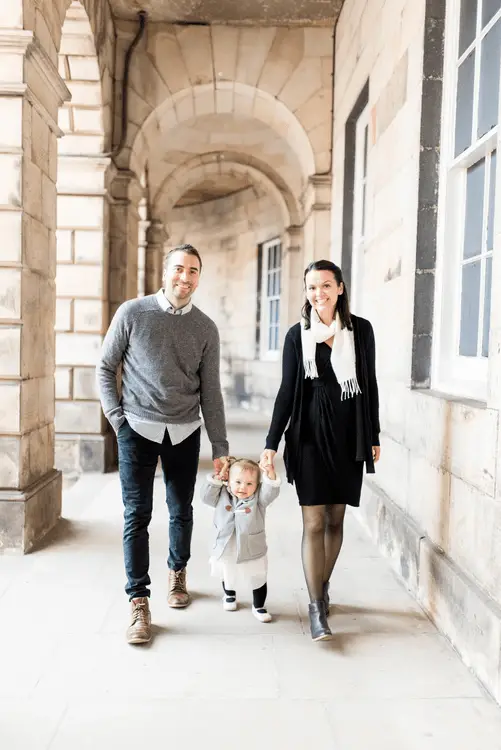 Our photographer, Jilli, was amazing with our daughter. Our very active, very strong-willed, one year old loved getting her photos taken with her. Jilli went out of her way to make her laugh (with a lot of games of peek-a-boo from behind the camera), and when our photo shoot was over, our daughter even fussed and begged for more photos.
You might also be interested in: Traveling to Scotland with a Toddler or Baby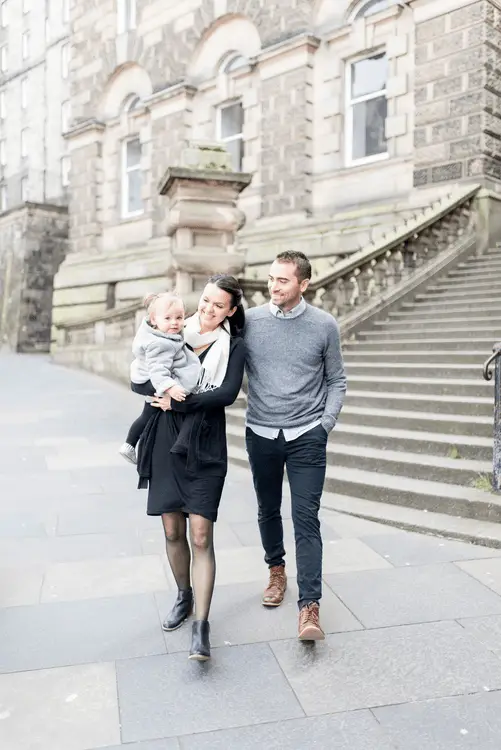 We chose  to do our photo shoot on the Royal Mile, which is a beautiful stretch in Old Town Edinburgh. It begins at Edinburgh Castle, and is filled with gorgeous cathedrals, quaint streets, and gorgeous buildings. We opted for a 30 minute photo shoot (we didn't think our daughter would be patient enough for a longer photo shoot), and Jilli was able to capture so many photos in so many different locations. We were truly impressed with the variety of our photos! And even though we had walked the Royal Mile several times by this point in our trip, Jilli showed us several new spots that we hadn't discovered yet. We loved getting a little tour from a local! Jilli provided us with over 40 photos, and we loved them all! We have photos in front of Edinburgh Castle, St. Giles Cathedral, the Scott Monument, and several beautiful, quaint spots (in front of doors, arches, etc.).
You might also be interested in: 15 Reasons to Book a Photoshoot with Flytographer on Your Next Vacation: Review + A Discount Coupon Code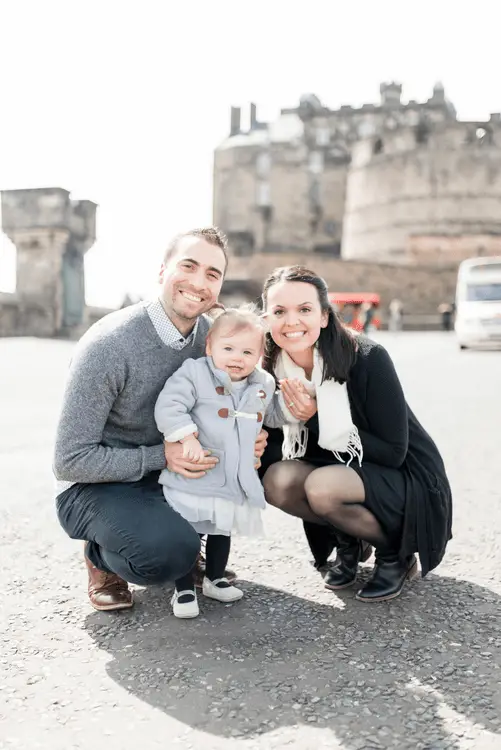 I could go on and on when it comes to our appreciation for Flytographer, but I've already written a blog post about why we love them: 15 Reasons to Book a Photo Shoot with Flytographer on Your Next Vacation. Read that post here if you're interested in learning more about this amazing company and why they are so great, no matter how big/small your group is, where you're going, or what you're hoping to capture!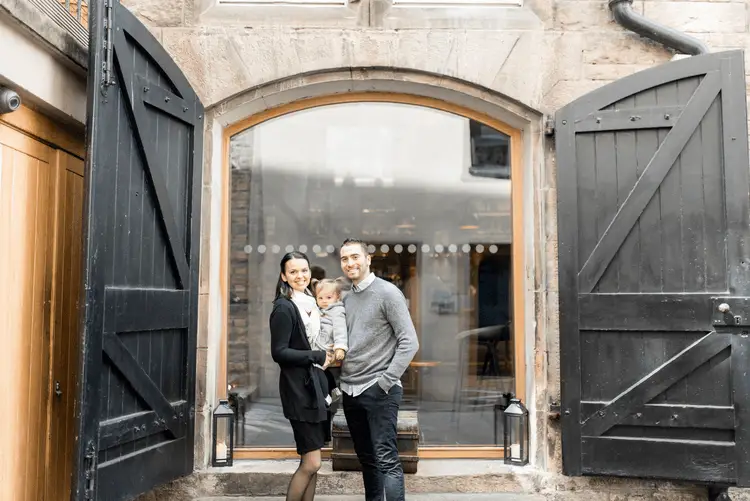 Flytographer Coupon Code
If you're interested in booking your own photo shoot with Flytographer, feel free to use my referral link to earn $50 off your first photo shoot. If you love this idea but aren't ready to book a photo shoot quite yet, you can sign-up for an account through this link now, and your $50 credit will wait in your account until you're ready to make your arrangements or enter CODE7242 at checkout!
I would love to hear from you! Have you ever booked a professional photo shoot while traveling? Or would you ever consider capturing your memories in this way on a future trip?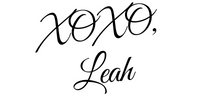 Pin for later: