We may earn money or products from the companies mentioned on this page.
Welcome to An Adventure is Calling's Travel Resources!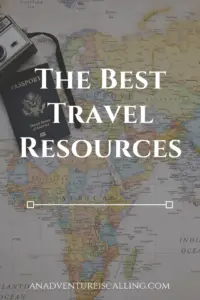 As you know, I love adventure! I love traveling internationally, within the USA, and to nearby destinations. I love taking my tent and kayak to the mountains, but I also love relaxing in the city. Because I love variety, I'm excited to share a [simple] list of travel resources that I have compiled. I'll continue to add resources to this list, but only if I use it and truly love it.
Flights
We have used several deal sites to book inexpensive flights. We always seem to come back to Cheapoair. They work with a large variety of airlines, and we usually find the best deals and options on their site. We have booked several flights (both international and domestic) through them and will likely continue to in the future!
Accommodations
Airbnb is our family's go-to when it comes to travel. We use Airbnb more than any other resource for lodging. We love booking private homes through the company. It allows us to select conveniences like our own kitchen for cooking meals (great for budget-travel and traveling with food allergies), a washer/dryer if we're packing light on an extended vacation, and even a crib for our daughter. Airbnb is great for also finding private rooms and shared rooms to stay in. Overall, it is great for families, large groups, and solo travelers.
Booking.com is our go-to for finding great deals on hotels. We love how easy it is to use this website to search for nearby hotels, nearly everywhere! But they don't just offer hotels- they have also great deals on vacation homes, villas, and resorts!
Transportation (on Land)
When we travel to major cities and need a break from public transportation, we love using Uber. The app is really use to use, and it is convenient when you're traveling in another country because it helps with potential language barriers. You simply type in your destination, so your driver will know where to go even if you don't speak the same language. It is usually easier to use than a traditional taxi service, and depending on the time of day and the city, it can be cheaper.
Activities/Entertainment
It is no secret that I am a huge fan of Flytographer! We have used their services in Paris, Edinburgh, and Oahu. They are an awesome company that partners with local photographers around the world. They set up the logistics for an incredible photoshoot and make everything so easy. You can get $25 off your first Flytographer photoshoot by using my referral link.
I already mentioned that Airbnb is our favorite resource for accommodations, but they also have a great section of their website dedicated to "Experiences". Airbnb Experiences offer a variety of activities and are a great way to experience the local culture. You can find opportunities to participate in local cooking classes, bike rentals, or hire a personal tour guide/photographer. Experiences vary by destination and are a lot of fun to look through and participate in (you'll most likely find opportunities for activities that you wouldn't have thought of on our own!).
Groupon is great for a few reasons! First, you can use it to search for deals on activities, entertainment, and dining while you travel. We often use Groupon locally and when we travel within the USA, but they do have Groupon in other (limited) countries, so it is worth checking out if you're traveling internationally. Second, Groupon offers deals on trips! We have never purchased a trip through Groupon, but I have a few personal friends who have and enjoyed their vacations. They offer all kinds of travel packages, including group tour packages, cruises, etc. It is worth checking out if you enjoy packages. Third, Groupon offers deals on travel products, including luggage, tents, active wear, etc. If you use my referral link to sign-up, I might receive a little bit of credit from them (they offer a limited Refer-A-Friend program, which you can use too after you sign-up with them). They usually offer bonus cash for new customers, so you might score an extra great deal!
Earn Extra Money On & For Traveling
Ebates is awesome! It will help you make money on and for your travels! Ebates partners with companies to give you cash back on your online purchases. I recently earned money back on international flights that I booked! Sometimes you'll earn 1% back, sometimes 6%, and sometimes more! It is completely free to sign-up, and your money arrives in the form of a check delivered right to your mailbox!
You can use my referral link to earn an extra $10 back after you spend at least $25 on your first purchase through Ebates. You can install their button to your internet browser so that Ebates will notify you when you're using a website that will give you cash back. I highly recommend this, because it will ensure that you never miss out on making money. Use it when you book flights, hotels, and rental cars. But don't stop there! Use it as often as possible for your online purchases and put your big fat check right into your travel savings fund!
Tip: Several of the websites I've link on this page offer cash back through Ebates! Sign-up and download the button ASAP so you don't miss out! 🙂
Travel Guides
Lonely Planet offers a wide variety of travel guides and eBooks- and they are all awesome! Whether you have a specific destination in mind or are just looking for travel inspiration, check out their online store! I love the photography and detail they put into their products and services. I am always inspired to travel new parts of the world after flipping through their products.
Rick Steves is the ultimate traveler, and he has SO much advice to share. He has put a lot of resources out there to help others travel, including DVDs, books, forums, and apps. My husband and I like to use his travel books to help us plan our vacations abroad. I can personally vouch for his books on England, Ireland, and Paris. He includes a lot of insider tips, such as side-door entrances you should take at busy museums and the best times of day to visit certain attractions.
We always include a Rick Steves' book in a couple of our travel photos to show our appreciation for his work. 😉 Here is Rick Steves' Paris making an appearance with the Severed Heads of Notre Dame at the Musée de Cluny in Paris: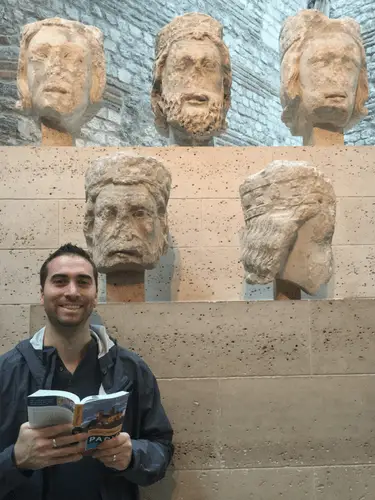 Enjoy! Feel free to contact me if you have any questions about these resources. I look forward to adding more resources as we continue to travel and explore the best travel options.