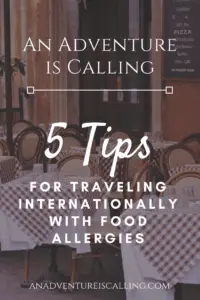 Food allergies… they are a pain. Many people (myself included) get nervous when traveling (especially internationally) when food allergies are a part of their everyday concerns. But they don't have to get in the way of your travels! And they certainly do not need to stop you from going on an amazing adventure!
We may earn money or products from the companies mentioned in this post. We only recommend products and services that we love!
As someone who deals with this, I can attest to the fact there are few things as stressful as being in a foreign country, hungry, with no idea what to do about it. I've been in this situation too many times. Should I just go hungry? Should I cheat and eat something that I know will make me sick?
It really doesn't have to be this stressful. I have found that many countries have safe food options. Just plan ahead and all will end well. Here are my 5 tips for traveling internationally with food allergies.
5 Tips for Traveling Internationally with Food Allergies
1. RESEARCH safe restaurant options BEFORE you go!
My first tip is to do your research BEFORE you go! Trust me- you do not want to be frantically searching for a safe lunch option while you're on a vacation (especially if you're hungry and looking for something quick in between two timed commitments!). Google and Pinterest make life so much easier these days. Before you leave, do several searches for the specific city you'll be visiting (keep it simple, like "Gluten free restaurants in Paris"). Check out their website, reviews, etc. Browse their menu if it's available online. Make a list of these places, along with their addresses, hours, and (if possible) specific dishes you might be interested in trying. I also recommend organizing these places by location/neighborhoods you'll be visiting on specific days, so that you have options nearby and do not find yourself taking the metro to the other side of the city unnecessarily. (I have blog posts on eating gluten-free in Paris and London!)
2. Download a dictionary app to help you translate menu items.
I recommend having a dictionary app downloaded for multiple reasons, but this is a MUST if you're traveling with food allergies. There are so many great, free apps out there that do not use data (in Paris, I used the French Dictionary & Tran + app). Look through them before you leave so you're not trying to deal with finding one you like and figuring it out on the spot. Find one that translates from English into your desired language and vice versa. I also try to find apps that provide an audio pronunciation key, so I have a general idea of how to pronounce the word(s) if I need to ask a question about an ingredient.
3. Make a list of foods you cannot have (and a list of foods that you can!).
This goes along with my 2nd tip. Make a list (can you tell I'm a list person?) of words (for example, gluten) that you think you'll need to be able to recognize. A list of phrases will also be helpful if you're hoping to be able to ask questions about menu items. This is also helpful if you're trying to read ingredient labels in a grocery store.
4. Rent a space with kitchen access.
Although this is 4th on the list, it's arguably the most important tip. When we travel, we almost always book a home with kitchen access (especially if it's longer than just a couple days). I cannot stress this option enough. When you have a kitchen, you have the freedom to cook your own meals. There will be days where you cannot find a safe place to eat, or you accidentally ate something that didn't set well and you just need to give your body a break from rich restaurant food. (Preparing some of your own meals can also save you money if you're traveling on a budget!)
There are so many lodging options out there that include kitchen access. My husband and I typically like to rent our own small home or apartment with a private kitchen through Airbnb, but you certainly do not have to rent your own place. You can rent a single room or a bed in a hostel with shared kitchen access (note that hostel kitchens often have "open" hours- we learned this the hard way when we had to leave our hostel at 6:30am to catch our train in Killarney, Ireland).
It is possible to book a hotel with a small kitchenette. I've done this a couple of times, but never outside of the USA. Note that having a mini fridges in hotels are not the norm in many other countries, so keeping ready-made foods cold might not be an option. So do your research on wherever you're staying so you can prepare ahead of time.
5. Take some snacks with you!
Last, but certainly not least, purchase some travel snacks to take with you before you leave. If you're going on a two-month backpacking trip through Europe, I realize that it isn't possible to take enough snacks to get you through your entire trip, but you can definitely pack enough snacks to get you through your airport journey and the first day or two before you find other local options. Let's face it…finding food in airports when you have allergies is tough. Several airports have come a long way, but it's still hard. And airplane food? Forget about it. Stock up before you go, to avoid getting hangry (or possibly worse, sick) while you travel. I personally buy a majority of my allergen-friendly snacks through Amazon. Stock up on bars, nut butter, candy… whatever floats your boat and can satisfy your hunger in a pinch.
I hope you found this list helpful! If you eat gluten-free and are traveling to Europe soon, you might be interested in these other blog posts: 10 Places to Eat Gluten-Free in Paris & 10 Places to Eat Gluten-Free in London.
Do you have a tip to add? I'd love to hear it in the comments below!
Enjoy your adventure!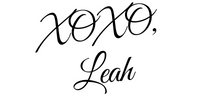 Pin for later: