Dreaming of the perfect Irish town? I highly recommend spending time in Killarney, Ireland. My husband and I spent 36 hours in Killarney as part of our two week trip to Ireland and England. It was perfect, and we wish we had allowed for more time there. We did not want to leave, and we have dreamed about going back ever since!
We may earn money or products from the companies mentioned in this post. We only recommend products and services that we love!
Killarney is home to the stunning Gap of Dunloe, Torc Waterfall, Muckross House, Ross Castle, and more. It is a great stop along the Ring of Kerry and is just a short drive away from the Dingle Peninsula loop. I cannot recommend this town and its surrounding area enough!
I'm excited to share how to spend 36 hours in Killarney! If you're interested in reading our full itinerary of our trip to Ireland, check out this post: 4 Perfect Days in Ireland.
How to Spend 36 Hours in Killarney, Ireland
Getting There – Driving from Wexford to Killarney
We arrived in Killarney in the late afternoon, after driving across Ireland from Wexford. (We had arrived in Ireland from Wales the night before; we stayed in Rosslare for the night and then took a bus to Wexford, where we picked up our rental car. I look forward to blogging about this experience in detail soon!)
The drive across Ireland was magical and was even more beautiful than I had imagined. Ireland was just as green as I had envisioned. Photos and videos cannot do it justice. We stopped for lunch in a tiny town where we were the only tourists in the only open pub (the owner even kicked a few regulars out of their seats for us- which was a little awkward but amusing at the same time). We enjoyed our first true Irish lunch (I had bangers and mash) before continuing on our beautiful road trip. Without stops, the drive took 3 hours and 15 minutes. My husband is a total stud and rocked the whole driving a manual on the opposite side of the car/road thing. We passed countless rolling, green hills and few gorgeous castles along the way.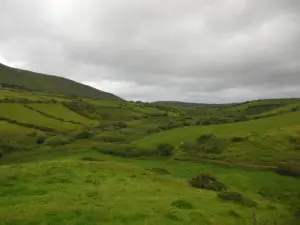 Lodging – The Killarney Railway Hostel
When we arrived in Killarney, it was late in the afternoon and we checked into our lodging- the Killarney Railway Hostel. This was the only hostel we stayed in during our entire trip (the rest of the time we used Airbnb and a couple of hotels). Airbnb pickings were slim during our stay, so we opted for a private room in this hostel, which had great reviews. Parking was tight – they had only a handful of spots and they were tiny. One spot was open and it took my husband awhile to squeeze our rental car in, but we made it! (Note: When we returned to the hostel later that night, after we explored Dingle Peninsula, there were not any spots available. We had to park in a public parking lot in downtown Killarney, which was nearby, and walk back to the hostel.)
We opted for the private double bed option, which slept two and had a private bathroom. The hostel had a very rustic feel, and our private bedroom made it feel like a hotel. The room had two beds- one double and one twin, so my husband and I slept together in the double.

Overall, we were really happy with our stay. In true hostel form, it was loud at night with people walking down the hallway, but my husband and I are both deep sleepers and didn't have any problems with it.
The shared kitchen was nice and spacious, with plenty of refrigerator space. We made breakfast there on our first morning, but we were not able to access it on our second (and last) morning there. The kitchen was locked up at night, and we had to leave before it opened to catch our 7:36am train to Dublin. We couldn't find an open breakfast spot in town that early either, so I had to eat chips for breakfast (I have several food allergies, so allergen-friendly snacks are a must when I travel!).
Overall, I would highly recommend a private room in the Killarney Railway Hostel, if you're ok with a little noise. The staff were all friendly and helpful, and we paid 5 Euro to have them wash and dry a load of laundry for us while we were out exploring. We were thankful for that service!
Dingle Peninsula
By the time we checked into our hostel, it was late afternoon. A lot of the major Killarney attractions were closing soon for the day, but we were ready to explore! We headed out for a couple hours in our rental car for the Dingle Peninsula. (The drive around Dingle Peninsula is about 30 miles, and you must drive it in clockwise direction.)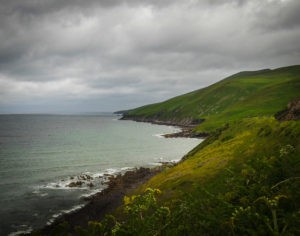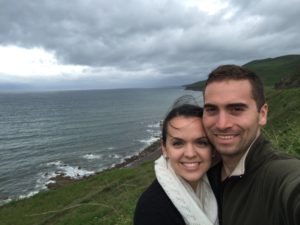 It was so fun. Because it was later in the day, almost all of the tourists were gone. We didn't see any tour buses, and we only saw 1 or 2 cars on our drive. We loved having the tiny little roads to ourselves!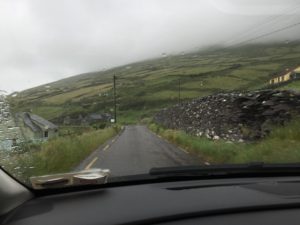 It started raining, which made our experience that much more fun. We stopped several times to take in the beauty of Ireland and enjoyed the scenery with awe. We fell in love with the view!
Gap of Dunloe
We began the next day by driving to the Gap of Dunloe, which turned out to be the most stunning destination that I have ever traveled to. I really mean it. It was absolutely gorgeous, and it left us breathless. We never wanted to leave, and we wound up spending several hours here (longer than we expected and planned for), because we could not pull ourselves away.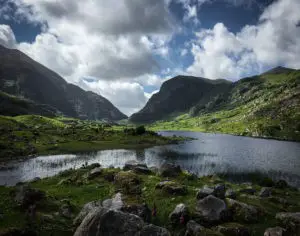 The Gap of Dunloe is a narrow mountain pass in Killarney. There are several lakes, countless rolling green hills, adorable sheep, and authentic cottages in the area. Although it is considered a popular tourist attraction, I have found that many people skip this when visiting Killarney. Please, do yourself a favor, and do not skip it! If you only visit one destination in Killarney, pick this!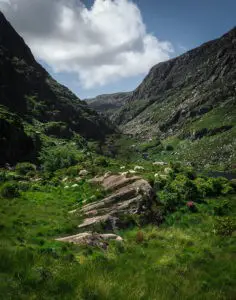 You can rent a jaunting car (a horse-drawn cart with a guide- called a ponyman), but we chose to walk the gap. We took our time and explored as much as we could. We relaxed by the streams, enjoyed walking alongside the friendly sheep, and took in as much beauty as possible. We got lucky with perfect, sunny weather.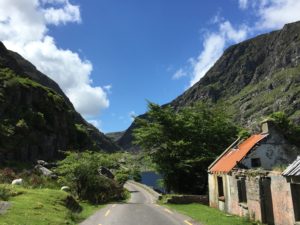 We ate a late lunch at Kate Kearney's Cottage, which is located at the entrance to the Gap of Dunloe. It's been family-run for 150 years. We loved their cheesecake! It was difficult to leave the Gap of Dunloe, but there were a few other sites in Killarney that we wanted to see, so we managed to pull ourselves away. (You can enjoy more of our photos from the Gap of Dunloe in this post.)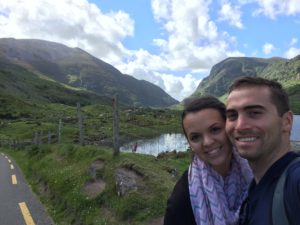 Ross Castle
After lunch we drove to Ross Castle, which was beautiful! It was built in the 1400s, and it is open the public now for guided tours. We are really glad we decided to go inside – we learned so much about Killarney history and life for all the social classes. (Spoiler alert- even the wealthy didn't live very glamorous lives!)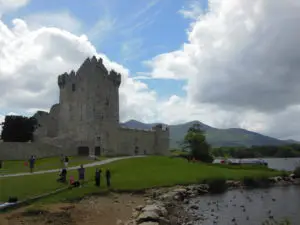 The grounds are stunning and it was well worth our time to explore the outside of the castle. It is right next to Lough Leane (also known as Killarney's lower lake). We saw several people out on the lake on hired boats, and we decided that we need to make time for that next time we go to Killarney!
Torc Waterfall
Torc Waterfall is a beautiful waterfall at the bottom of Torc Mountain. We did our research and knew that the best views were from the bottom, so we opted out of doing the hiking trail to the top of the mountain (we knew we wouldn't have enough time in the day to do it all- sadly!).
The waterfall did not disappoint! It was pretty crowded compared to the Gap of Dunloe, but we still had a great experience. People often see red deer here. We didn't, but I imagine that it would make the experience that much more beautiful!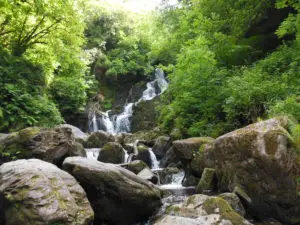 We originally planned to visit the Muckross House as well, but we decided to skip it after arriving at the Gap of Dunloe. We wanted to see it all, but we knew we would enjoy ourselves much more if we took everything slowly and truly enjoyed our experiences, rather than rushing from one place to the next.

That evening, we returned our rental car (which turned out to be a very difficult task- I'll blog about it soon!) and then enjoyed dinner at a local pub. My husband drank Murphy's Irish Stout here for the first time (a bartender's recommendation), and it has been his favorite ever since (thank you, Trader Joe's, for selling it here in California!). We were excited to visit Dublin the next day but we were so sad to leave Killarney! We agreed that 36 hours wasn't enough time, and we will absolutely return again!
Have you been to Killarney? I would love to hear about your experience in the comments! If you're planning your first trip there, please let me know what you plan to visit. It's the perfect Irish destination – enjoy your adventure!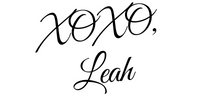 Pin for later: