Looking for National Park inspiration for your baby's nursery? Looking for an amazing, high-quality, farmhouse-style crib? I am so excited to share our baby boy's new nursery with you. Keep reading to see how we brought our National Park nursery dreams to life (and keep scrolling to see how we also used Sweetpea Baby's beautiful Rosewood convertible crib in our daughter's nursery before our son was born)!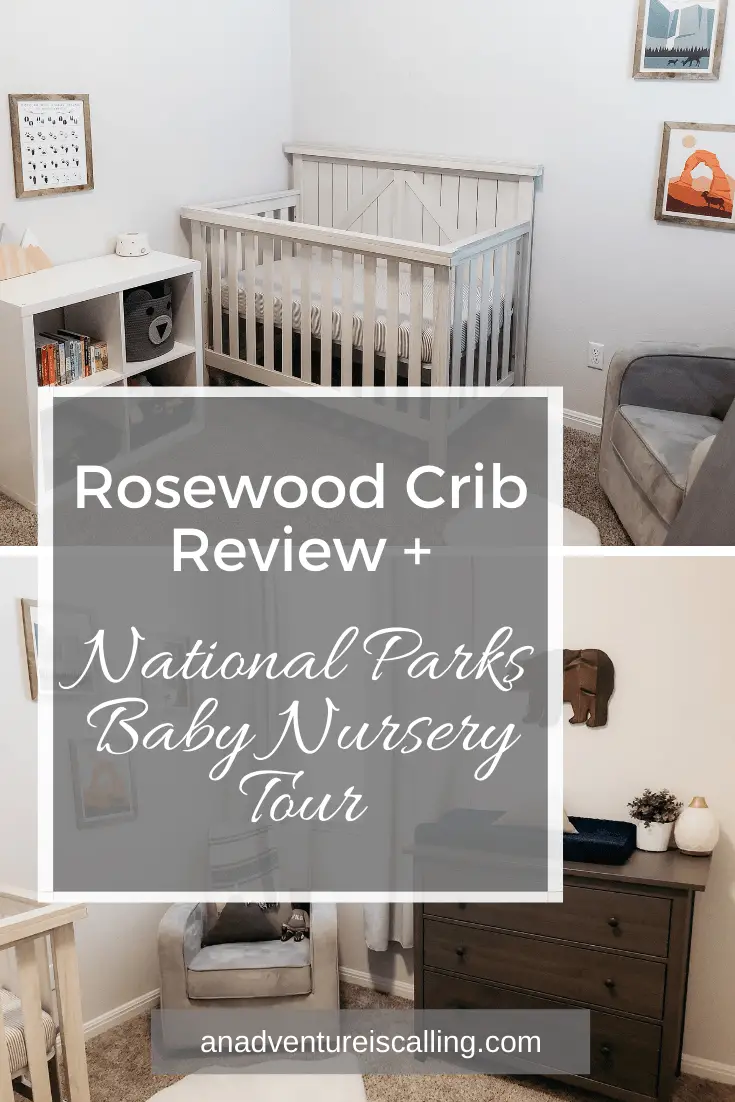 We may earn money or products from the companies mentioned in this post. We only recommend products and services that we love!
National Parks Baby Nursery Tour + Rosewood Crib Review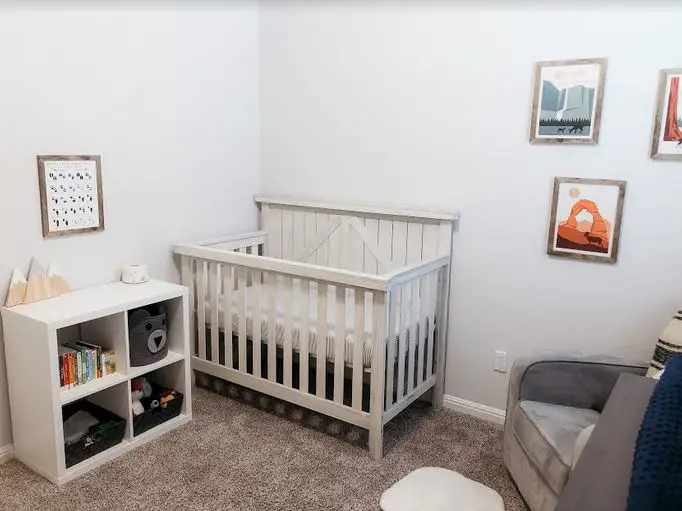 When we found out that we were pregnant with our baby boy, I immediately knew that I wanted to style a National Park nursery for him. Our family loves camping, backpacking, and exploring the outdoors; many of our favorite memories as a family have been made in National Parks, so the theme just seemed to fit!
Crib Review: Sweetpea Baby's Rosewood Crib
It was easy for us to fall in love with Sweetpea Baby's Rosewood crib. Made from solid wooden panels, it's designed with farms and the woods in mind. We loved its beautiful design and knew it would have a timeless beauty that we could use for our baby boy and girl. It only took my husband 22 minutes to build from start to finish! Amazing, right?
We went with the "weathered white" finish and love how it pairs so nicely with a variety of white, gray, and brown tones. It's a 4-in-1 convertible crib, which means that you can set it up as a traditional crib, toddler bed, day bed, or full-sized bed (with a a conversation kit). This rustic-style crib can truly grow with our baby!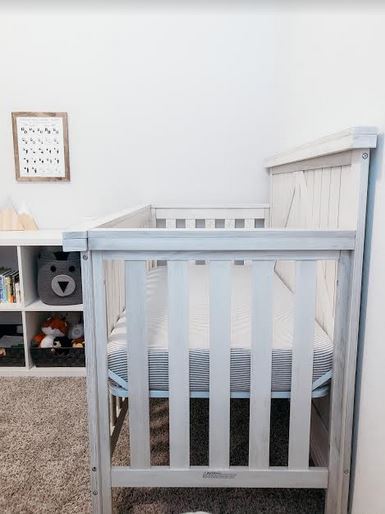 Scroll to the end of this post to view our installation video or view it here!
Where to Buy the Rosewood Crib
Buy this beautiful crib on Amazon! You can also check out other Sweetpea Baby Cribs for more inspiration.
National Park Themed Nursery Decor
National Park Prints (we have Sequoia, Yosemite, and Arches): Etsy
Animal Tracks Print: Etsy
Wood 11×14 Frames (carbonized black): Amazon
Wooden Mountain Cut-Outs: Etsy (similar)
Large Wooden Bear on Wall: Etsy
Mountain Pillows: Made by my sister! Inspired by these on Amazon
Bear Basket (in cube shelf): Amazon
Dream Catcher: Amazon
Essential Oil Diffuser (desert mist): Young Living
Organic Crib Sheet: Amazon
"Wild" Stuffed Cuddle + Kind Bear: Amazon
Personalized Name Sign (not pictured, because we prefer to keep our children's names private, but this is usually hanging above the crib): Etsy
Personalized Name Puzzle (also not pictured, but highly recommended!): Etsy
How We Used the Rosewood Crib In Our Daughter's Nursery
When we first received the Rosewood crib, I was 9 months pregnant with our son. We knew he would be sleeping with us for the first few months of his life until we moved to a new state, where we would set up his National Park nursery in our new home. Since he didn't need it right away, we set up the crib in our daughter's room. She loved this beautiful crib and enjoyed it for several months before transitioning to a big girl bed.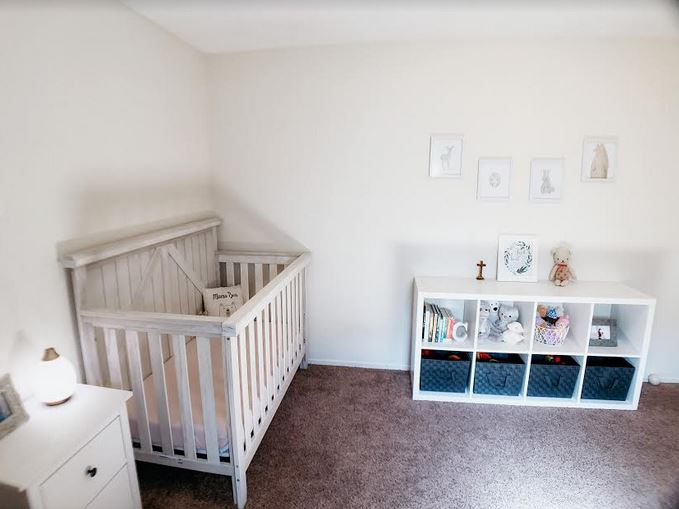 Installing our Sweetpea Baby Rosewood Crib
Sweetpea Baby provided me with a crib in exchange for an honest review. I selected the Rosewood crib.  All thoughts and opinions are my own. I love this crib and believe that you will too!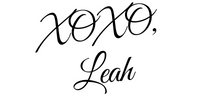 Pin for later: