Here for the $50 coupon code? Create an account through my referral link to receive $50 off your first photo shoot, or enter code CODE7242 at checkout.
We may earn money or products from the companies mentioned in this post. We only recommend products and services that we love!
My husband and I love to capture memories on vacation, so having a Flytographer photo session done in Paris was perfect for us. Who doesn't love capturing photo memories? Whether you use a fancy camera or your iPhone (which are also pretty fancy these days), capturing moments is something that you most likely find valuable too.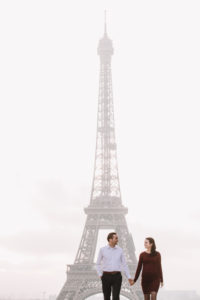 A few months before our babymoon trip to Paris, I came across a mention of Flytographer on Facebook. I had never heard of it but was ecstatic when I realized that they are a company that arranges photo shoots for travelers around the world. How cool is that? I immediately started dreaming of doing a maternity photo shoot in front of the Eiffel Tower, and my husband agreed that it would be amazing. I always liked the idea of doing to photo shoot on vacation but the logistics seemed difficult to arrange.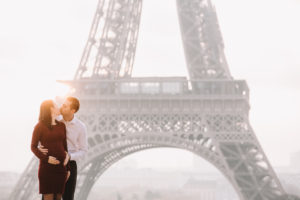 Flytographer makes everything really easy. You simple choose your destination, preferred photographer(s) (if you have a preference), and preferred dates. They also ask questions about the style of shoot you're hoping for. Flytographer has set prices based on the length of your photo shoot, and they do not vary based on your photographer or location. Flytographer sets up communication between you and your photographer and you finalize everything online. You can communicate before your photo shoot as much or as little as you would like.
You might also be interested in: 15 Reasons to Book a Photoshoot with Flytographer on Your Next Vacation: Review + A Discount Coupon Code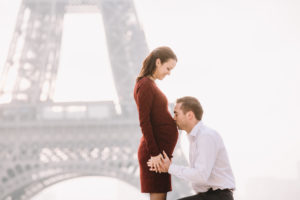 My husband and I looked through the photographers in Paris and knew we wanted Kirill to capture our photos. We also knew that we wanted the Eiffel Tower in some of our photos but were hoping for some variety as well; Kirill suggested meeting at the Trocadéro, which wound up being an excellent choice for the type of setting we were hoping for.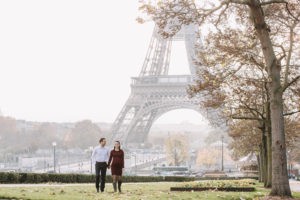 We met Kirill and his assistant by the metro station at 8:30am. I was a little worried about the time, because I was dealing with morning sickness, but he said it would be the best time to meet to beat the crowds. (Note: We are so glad we went with his suggestion! We walked through the area at 10:30am the next day, and it was full of people, even in the off-season of late November). Keep in mind that we traveled there in November, so you might need to book a photo shoot even earlier if you're traveling at a peak time of year.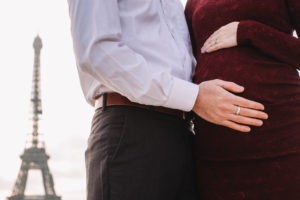 The Trocadéro was almost entirely empty, with just a few other photo shoots going on around us. It was really cold (36 F) with a chilly wind (something these Orange County residents were not used to!), and Kirill's assistant was kind enough to hold our coats and hand them to us to put back on in between poses. I had originally planned to wear my dress with heels but decided the night before that I needed to skip the heels and wear tights and boots (thank goodness for Monoprix and their knee high tights, which made the last-minute wardrobe change possible for this pregnant traveler!).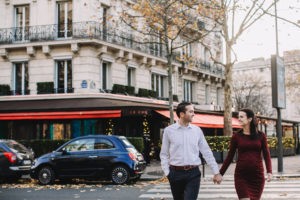 We opted for a 30 minute photo shoot, the smallest photo package option, because I wasn't feeling well and wasn't sure if I would be up for a longer photo shoot. It wound up being more than enough time. Kirill did an excellent job making the most of our 30 minutes. We took photos in front of the Eiffel Tower and then walked around the Place du Trocadéro to take photos by the metro station and an adorable Parisian cafe.
You might also be interested in: 5 Days in Paris: A Perfect, Relaxing Itinerary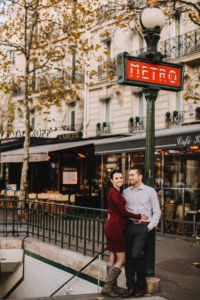 My husband and I love the way our photos turned out. We got them within a few days, even before we left Paris (Flytographer has a fast turn around!). He perfectly captured our love for each other and our growing family.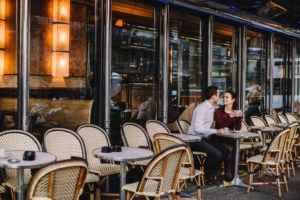 We cannot wait to use Flytographer again. There is something so special about having gorgeous photos to remember our beautiful trip. The fact that I was pregnant made the photos even more special. While selfies are great, nothing compares to having someone else, with artistic talent, to take photos to capture those special moments.
You might also be interested in: Planning a Babymoon in Paris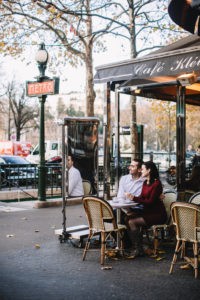 Flytographer doesn't just cater to couples. It's an excellent company for arranging solo shoots and large family shoots as well. If you're interested in booking a photo shoot for your next vacation, please feel free to use my Flytographer referral link. When you sign up here, you'll receive $50 off your first photo shoot (I'll receive $50 in credit as well). You can sign-up for an account now, and your credit will be waiting for you whenever you decide to book. If you already have an account, you can enter CODE7242 at checkout to receive $50 off. A great deal! 🙂
If you enjoyed reading about our experience, you might want to check out my blog post where I discuss 15 reasons to book a photo shoot with Flytographer on your next vacation.
You might also be interested in: Our Family Photo Shoot in Edinburgh with Flytographer
Please feel free to ask questions about my experience in the comments below!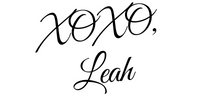 Pin for later: