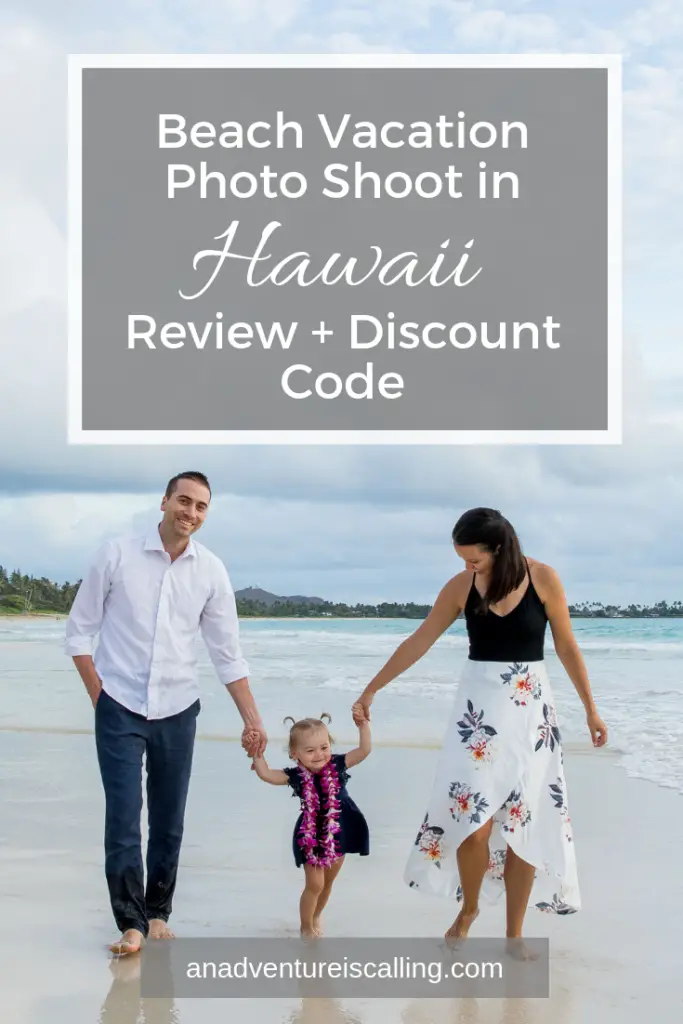 Dreaming of your next beach vacation? Or maybe you already have it on the calendar and now you're dreaming of a beautiful vacation photo shoot! It is hard to beat the beauty of professional photo sessions on stunning sandy beaches next to gorgeously clear water. Our family recently had a beach vacation photo shoot done in Hawaii with Flytographer, and we love the memories that were captured!
We may earn money or products from the companies mentioned in this post. We only recommend products and services that we love!
My husband and I discovered Flytographer two years ago when we were planning our babymoon to Paris. We discovered that they work with local photographers in over 200 cities around the world, and we immediately began dreaming of a maternity photo shoot in front of the Eiffel Tower. Since then, we've planned Flytographer photo shoots on several of our major vacations, including Edinburgh, Scotland, and most recently… Oahu, Hawaii!
While the islands of Hawaii are among our personal favorite beach vacation destinations, Flytographer also works with local photographers that serve beach destinations in the continental USA, Europe, Africa, and more! So whether you're heading to Maui, Porto, the Almalfi Coast, Laguna Beach, Miami, Hilton Head Island, Cancun, Bali, Sri Lanka, Aruba, Grand Cayman, Phuket, or Barbados (to name a few!), they have photographers for you!
I'm excited to share a few of our beach vacation photos from Hawaii with you. All photos were taken by Tara from Flytographer on the island of Oahu in Hawaii.
Here for the code only? Click here to receive $50 off your first Flytographer photo shoot!
Beach Vacation Photo Shoot in Hawaii
When choosing our photo shoot location, my husband and I decided that it would be best to choose a beach that was close to our Airbnb in Kailua. We were staying in Kailua because of its beautiful beaches (huge shout out to the East Shore), so it seemed like the perfect choice. We also wanted to make things easy on our toddler, and waking her up early for a drive around the island just didn't seem like the best choice.
You might also be interested in: 15 Reasons to Book a Photo Shoot with Flytographer on Your Next Vacation
We also knew that we wanted an early morning photo shoot. We were waking up early anyway due to the 3 hour time difference from California, and we knew the beach in the morning would be beautiful and less crowded. I highly recommend that you do that same!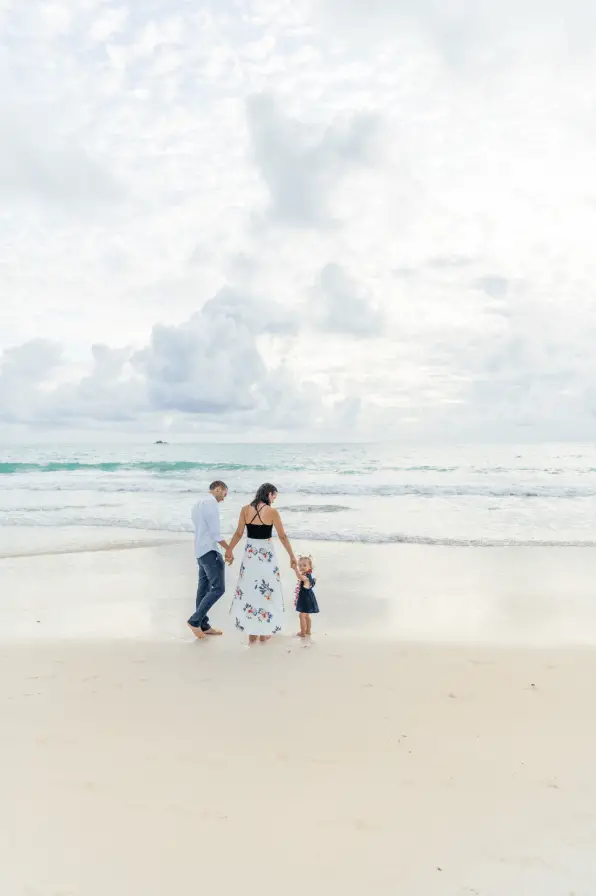 Our photographer Tara suggested that we meet at Kalama Beach State Park, which is part of Kailua Beach. It was the perfect choice for our photo shoot. The water was amazingly blue and the sand was soft. Our photographer described it as powdered sugar- the perfect description! (And after visiting beaches all around the island, we can safely say that the sand in Kailua is the softest.)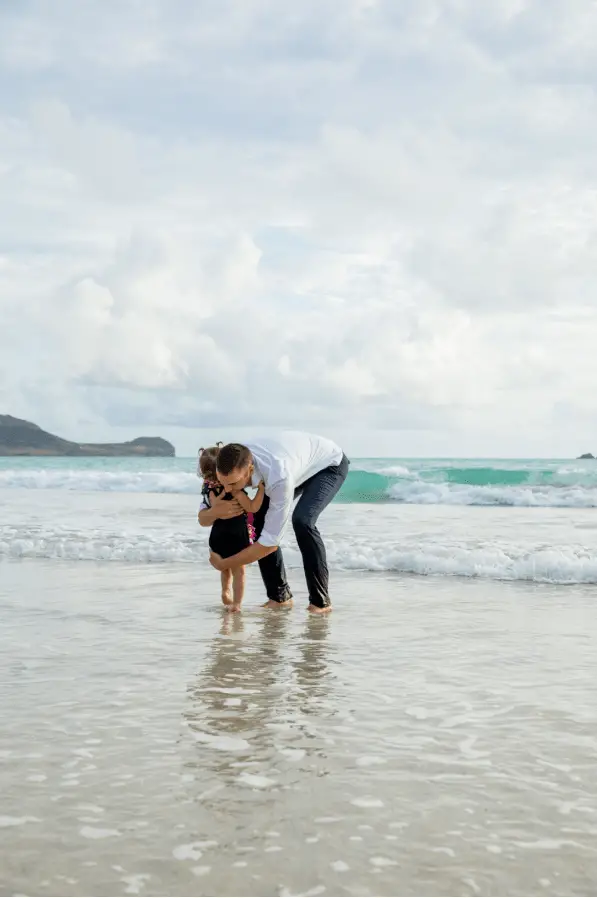 You might also be interested in: Our Family Photo Shoot in Edinburgh with Flytographer
Tara was wonderful with our daughter. She went out of her way to make her smile for our 60 minute photo shoot. She sang songs, played peekaboo, and made silly noises. She pointed out dogs on the beach (our daughter's favorite thing to look at). After posing for some traditional photos, we played in the water. It was so much fun. Tara just snapped away while our family had fun together!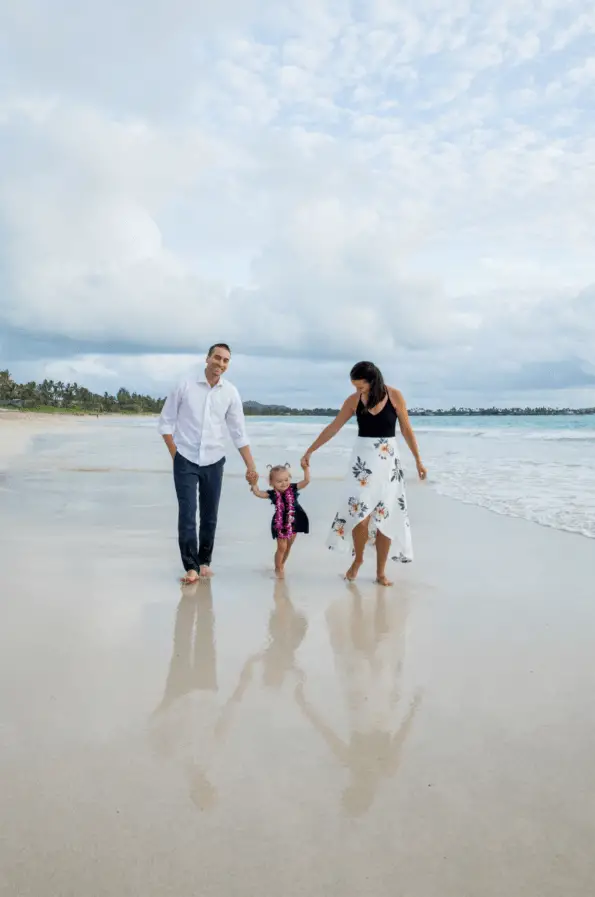 You might also be interested in: Our Maternity Photo Shoot in Paris with Flytographer
We bought a flower lei for our daughter to wear, and she loved it! If you're planning to purchase a lei on Oahu, I highly recommend Longs Drugs Stores. We purchased this basic lei for only $7.99, which was significantly cheaper than other stores we checked out (the second lowest price we found was $14.99). When our daughter did get tired of having her photos taken, Tara managed to get a few photos of just me and my husband. We love them!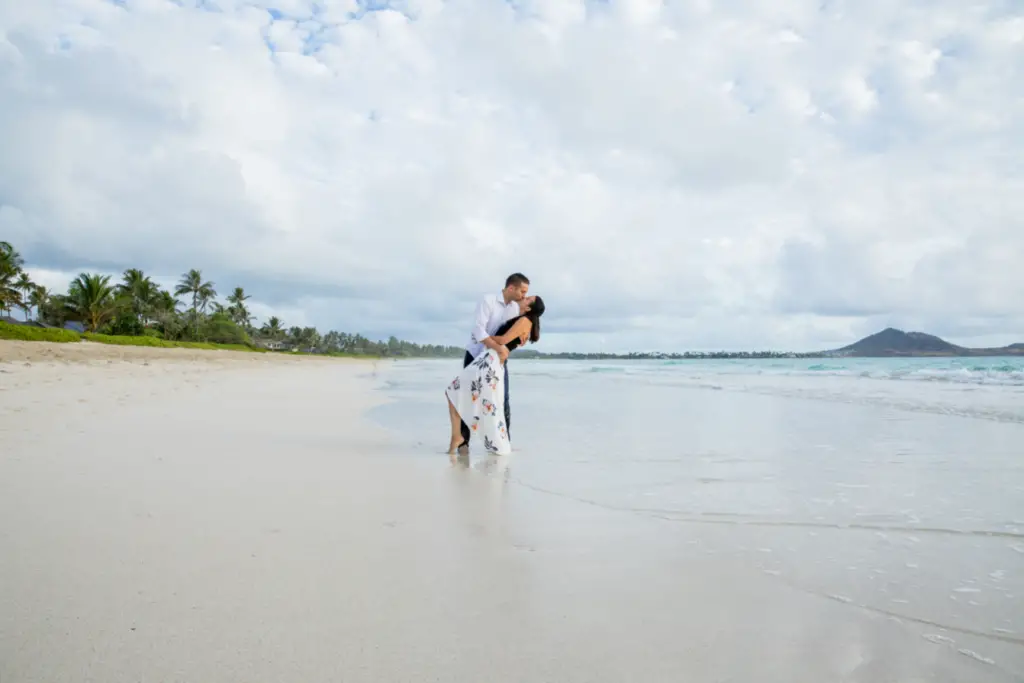 Flytographer Discount Code
If you're here for the Flytographer discount code, you can sign up for your account through my referral link here to automatically receive $50 off your first photo shoot. If you love the idea but aren't read to book, you can create your account now through this link and the $50 will be waiting for you when you're ready. If you already have an account, enter CODE7242 at checkout to receive the same discount.
I hope you enjoyed this glimpse into our photo shoot in Hawaii! We loved our time in Oahu and cannot wait to return to the beautiful islands of Hawaii again soon.
I would love to hear from you! Have you ever booked a vacation photo shoot? Which island are you dreaming of visiting next?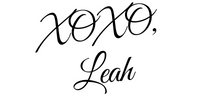 Pin for later: