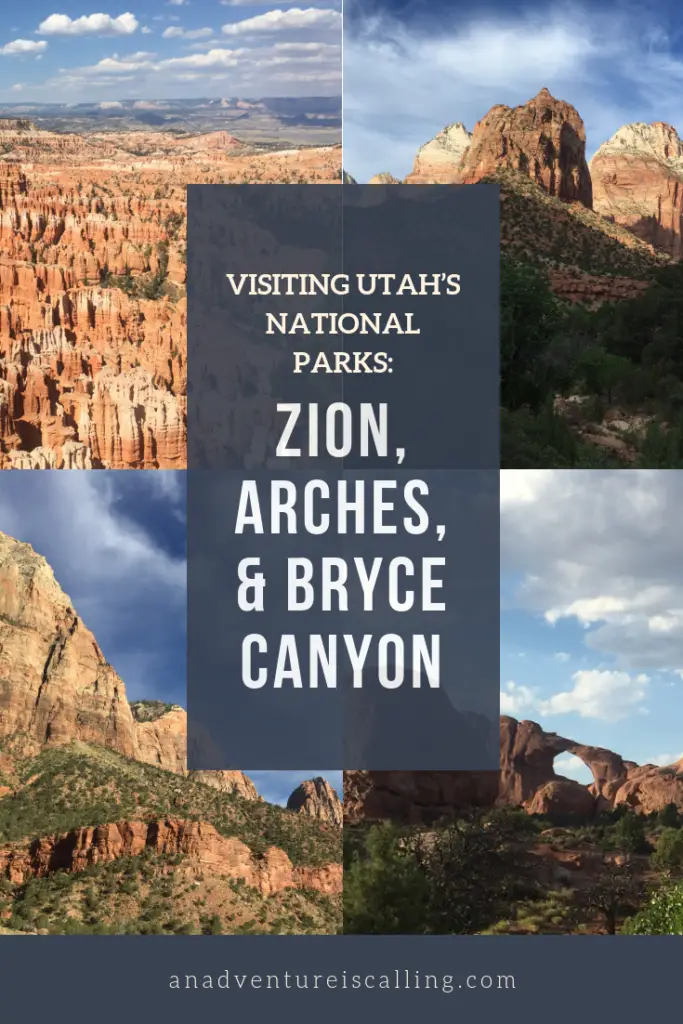 The National Parks in Southern Utah are incredible! They have a unique beauty to them that I haven't experienced anywhere else. My husband and I took an unforgettable, amazing road trip through Southern Utah (and Colorado), where we explored the awesome Narrows at Zion National Park, the perfect sandstone arches at Arches National Park, and the unique hoodoos at Bryce Canyon National Park.
We may earn money or products from the companies mentioned in this post. We only recommend products and services that we love!
We lived in Orange County, California, so we started our road trip from home. We left in the evening after work and drove to Las Vegas for the night before driving to Zion National Park the next morning. We spent a couple of amazing days there, headed to Colorado for a few days, and then headed back to Utah to experience the beauty of Arches & Bryce Canyon National Parks.
I'm excited to share our complete itinerary with you! I've included information on where we camped (and whether or not I'd recommend those campgrounds to you!) and some general tips and tricks. If you are only visiting one of these parks, feel free to check out each individual park's blog post:
Visiting Utah's National Parks: Zion, Arches, & Bryce Canyon
Zion National Park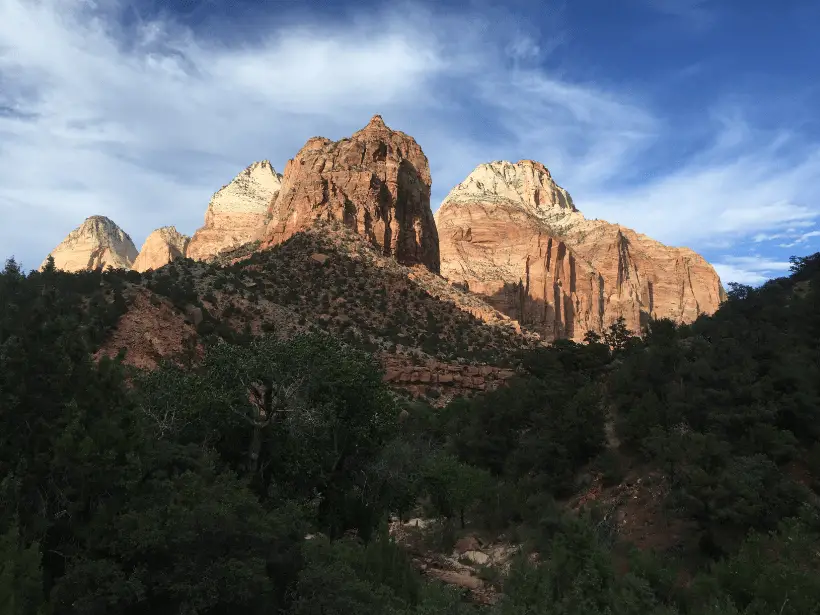 Zion National Park became Utah's first national park in 1919. It's known for its unique sandstone-colored cliffs (it's incredible how beautiful those red rocks are!). It is a huge park, filled with countless activities and hiking trails. It would be easy to spend an entire week (or more!) in this beautiful park! We visited Zion in June, and it was hot! It was over 100 F on both days, but it was so beautiful, and we did not care! I am excited to shared the details of how we decided to spend our 36 hours in Zion National Park.
Camping- Where We Stayed
We had discussed taking a road trip through southern Utah for awhile, but we didn't make our final decision until the spring, just a couple months before our June trip. Camping in Zion National Park was out of the question- it was completely booked up, so we started looking elsewhere. My husband found a private campground called the WillowWind RV Park in Hurricane, Utah. It was a short 30 minute drive to Zion, which felt very short, because the drive was beautiful!
I highly recommend it! A majority of the campground was filled with RVs (not surprising, considering its name!), but they have plenty of tent sites (and a majority were empty- which was crazy, considering that June is a big tourist month!). Now, when we first arrived, it didn't look like the campgrounds we usually stay at. We pitched our tent on a patch of grass next to our paved parking spot. It felt a little bit like a "luxury" camping spot, but we knew we would be happy and comfortable here! We drove by several other private campgrounds and RV resorts in the area, and their conditions didn't look very desirable!
If you are tent camping, I highly recommend requesting a tent spot hear the back of the campground. Before going, we read some reviews stating that the highway noise was difficult to sleep by. We can only assume that those reviews were written by people who stayed at the campsites near the front of campground, closer to road. Those tent spots were also very close together. Our spot near the back was quiet, spacious, and shaded (thanks to the trees!). We cooked dinner and breakfast on the grill, and took advantage of the free WiFi to make travel plans! We also loved that it was close to town, so grocery shopping was easy and convenient. The campground restrooms were incredibly clean (probably the cleanest I've ever experienced!). It seemed like hardly anyone used the toilets and showers (probably because most campers were in RVs). They have an air-conditioned lodge that you can relax in (we were too busy exploring Zion National Park, but I imagine that it was a lovely place to relax and cool off!).
There is just one "negative" worth noting- cockroaches! They were everywhere at night when we went to bed. I would imagine that cockroaches live in every campground in the area, but just be aware! They crawled all over the outside of our tent. Thankfully, we couldn't see them after we turned our flashlights off and managed to get great, full night of sleep in our zipped tent!

If you prefer to skip the tent and sleep in a bed, there are numerous hotel and vacation home rentals in the area! Booking.com has great deals on hotels in Hurricane (a great location for visiting the park during the day!), and Airbnb has several beautiful affordable accommodation options!
Pa'rus Trail
After checking into our campground that afternoon and setting up our site, we drove 30 minutes to Zion National Park, where we were excited to spend the evening. We stopped by the Visitor's Center and asked a ranger for advice on what to do. We wanted to see something and enjoy Zion's beautiful sunset, but we knew our time was limited. He handed us a hiking guide and suggested the Pa'rus Trail and told us that sunset is the perfect time to walk it.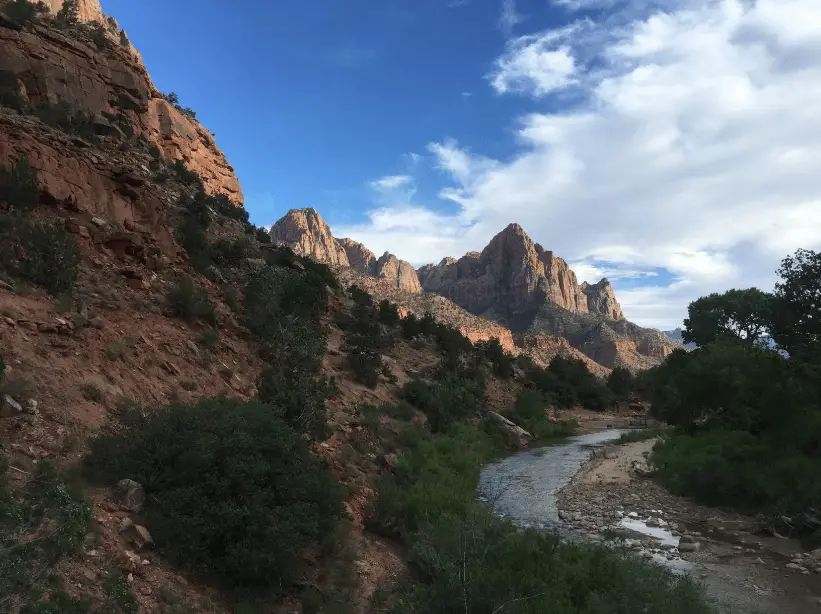 The Pa'rus Trail was stunning and did not disappoint. The trailhead was near the Visitor's Center, so we didn't need the shuttle that evening (Zion has a great, free shuttle service!). Pa'rus means "bubbling, tumbling water" – and we love water, so we knew it would be a hit! It runs alongside the Virgin River, and for awhile, we walked through the campground. But then it became more isolated, surrounded simply by the views and gorgeous colors of the red rocks!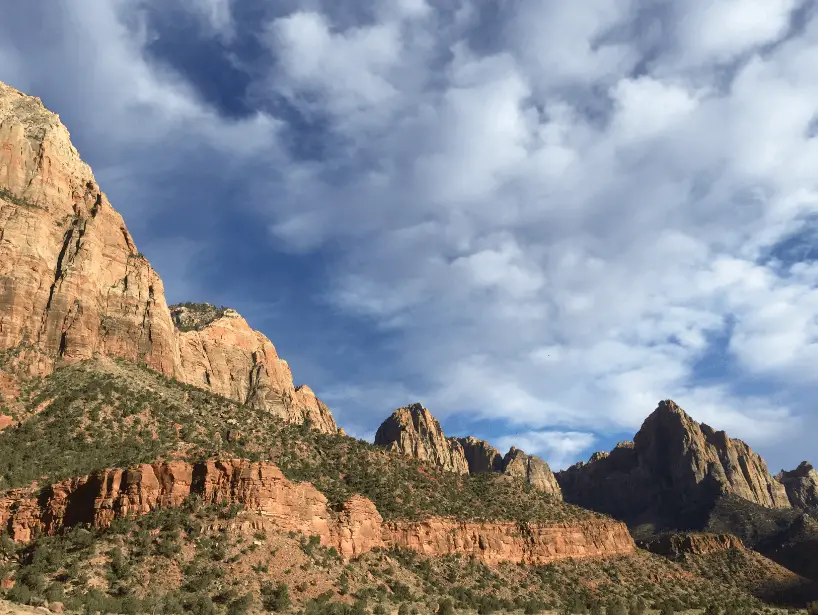 We took our time and stopped often. We didn't have anywhere else to be that evening, so we soaked in the sights and sounds.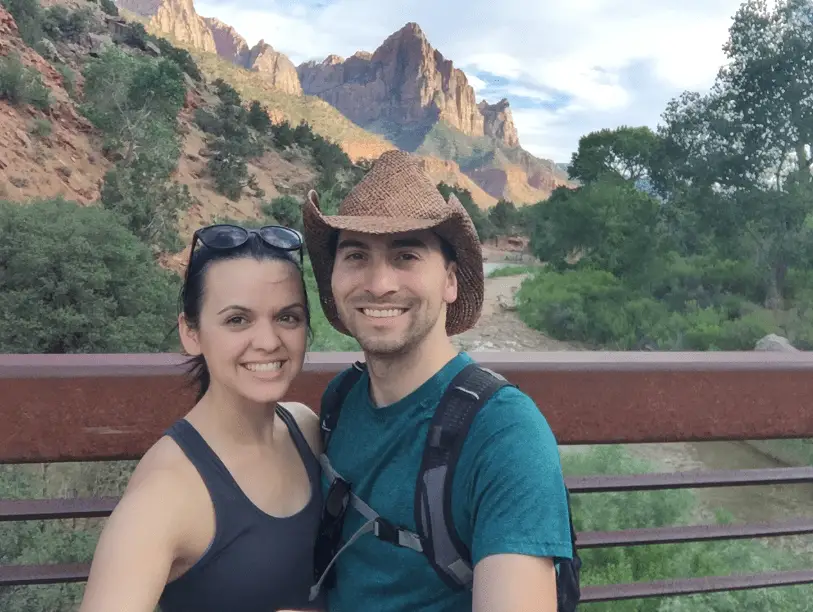 Note for families: We went to Zion before our daughter was born, but we would absolutely take her back! The Pa'rus Trail is perfect for little ones, as it is paved and stroller-accessible (most trails in Zion are not). You can also bike this trail as an entire family! It's a great option for families looking for a leisurely option, while still providing beautiful views!
The Narrows
We woke up early on our second day, ready and eager to hike the Narrows at Zion! The hike was what initially inspired our road trip through southern Utah, and it turned out to be the highlight of our entire trip. The Narrows is a hike through Zion's narrow gorge, where we waded through the Virgin River between canyon walls that were a thousand feet tall. The entire hike is 10 miles round-trip, and we opted to hike about 8 miles.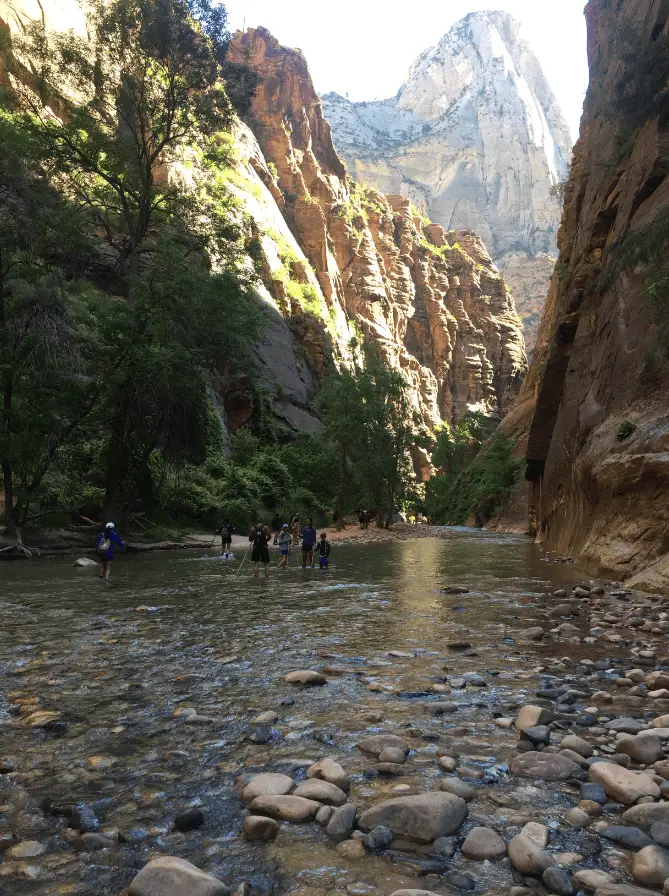 We drove to Zion early that morning and caught a 7am shuttle to the Temple of Sinawa. From there, it was a one mile hike to the start of the Narrows. This portion of the hike is paved (and stroller friendly!) and will allow you to grab a glimpse of the beautiful gorge, even if you don't plan to hike further in.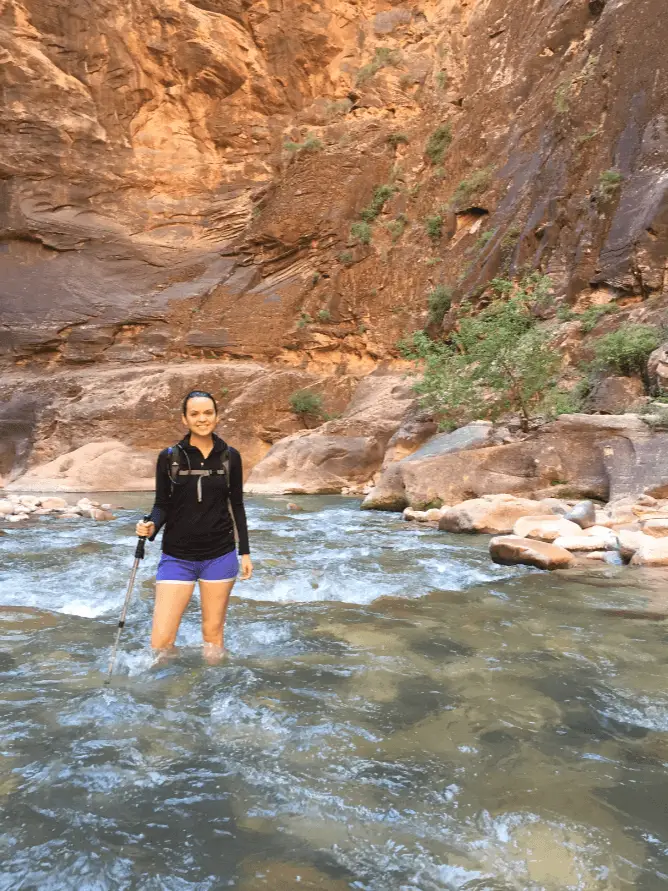 The hike took up a large majority of our day, and we loved every minute of our adventure. It was 108 F that day in the park, but it was cool and perfect in the Narrows (we both wore long sleeved shirts for a majority of the hike).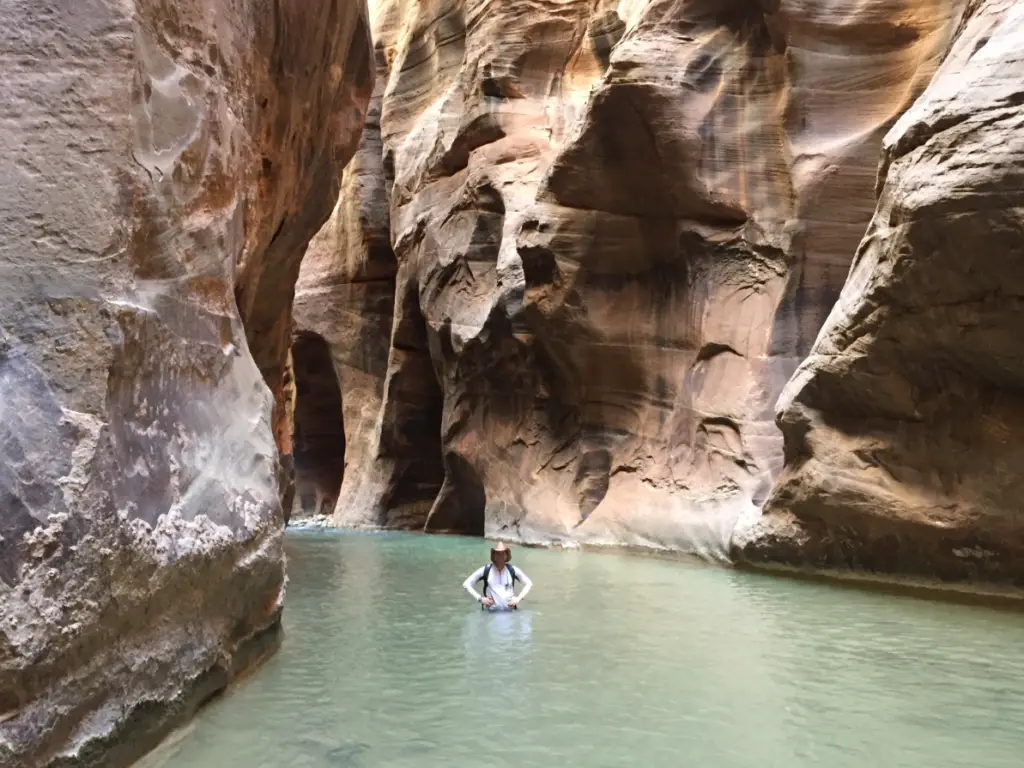 I have an entire post dedicated to hiking the Narrows! Click here to read the details of our experience and my tips on how/when to arrive, what to wear, and what to bring!
Note for families: It is definitely possible to do this hike with kids (and even babies, for the short time near the beginning). Click here to read my detailed post on this hike, and scroll to the bottom for my tips for families!
Arches National Park

Arches National Park was truly the most unique national park that I have ever visited. It's red stone arches took my breath away! The temperatures got up to 109 F. It was insanely hot (especially against all the stone!), but enduring the heat was beyond worth it for the amazing scenery, stunning views, and priceless memories. If you're traveling during the summer, be sure to pack plenty of drinking water. We went through more on this day than we did on any other day of our road trip! Because of the high heat, we stuck primarily to the easier hikes and took it slow. We loved exploring the rocks, moving at our own pace, and relaxing in the shade from time to time! We chose to spend a majority of our time in the Windows Section, which is home to several major arches. Many consider this it to be the most beautiful part of the park! I highly recommend checking out the park's map before you leave to determine which places are must-sees for you, so you can plan your day accordingly!
Camping- Where We Stayed
We decided to do this road trip a little late in the season, just a couple of months before summer hit, so camping in the National Parks was not an option (everything was booked up well before we made our decision!). My husband looked into several private campgrounds and came across Up the Creek Campground in Moab, Utah. I'll admit that I was initially a little hesitant, because it was a walk-in campground. But it had excellent reviews, and my husband was ecstatic about it, so I agreed! It turned out to be an excellent choice!
We were worried that we would have to haul our camping gear pretty far in the heat, but we were pleasantly surprised by how tiny the campground was. Our spot was just a short 1 minute walk from the parking lot, and the campground provided several wheelbarrows to help haul gear back and forth. If you're interested in this campground but are worried about walking in, request a spot near the parking lot. The campground had showers and toilets that were pretty standard. They had an outdoor sink available for washing dishes and filling up your water (safe to drink!). They sold ice (on an honor system), which was great because we were purchasing ice non-stop during this road trip, with the crazy high heat, so we appreciated having ice nearby!
The campground was totally family-friendly, and most of our neighbors had kids running around. Overall, it felt very small and safe. We will absolutely stay here again when we return to Moab! It is considered a "downtown campground", but it is tucked away!
If camping isn't for you, or you simply want to escape the heat while you sleep (I wouldn't blame you!), there are several great hotel and vacation home rentals in Moab! Booking.com has great deals on hotels in Moab (a great location for visiting the park during the day!), and Airbnb has several beautiful affordable accommodation options!
Balanced Rock
After setting up camp, we were excited to head into Arches National Park! Once we hit the entrance, the views did not disappoint. We used our car to drive from point to point, and then hiked around each area. We knew our first stop would be Balanced Rock. Also known as a "teetering giant", it is 128 feet tall and amazing to see in person! The hike is nice and short- just .3 miles round-trip and is stroller-accessible (although most sections of the park are not, so I recommend bringing your baby carrier, if you have a little one!).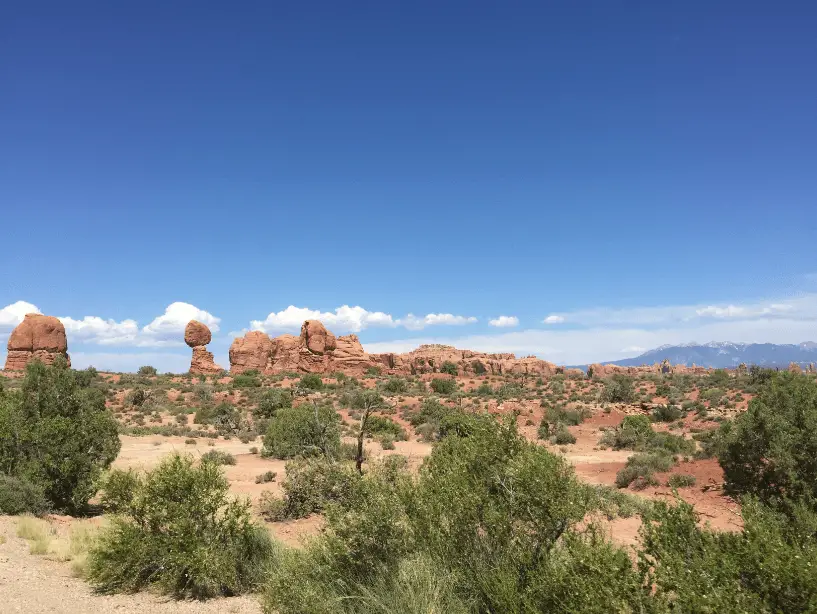 The view from this area is breathtaking! Take time to enjoy the views between each stop!
Turret Arch
The Turret Arch was one of our favorites. It isn't the largest or the most popular, but we loved walking right through it! Located in the Windows Section, it's easy to hike from this fun arch to the next few on this list (a total of 1 mile).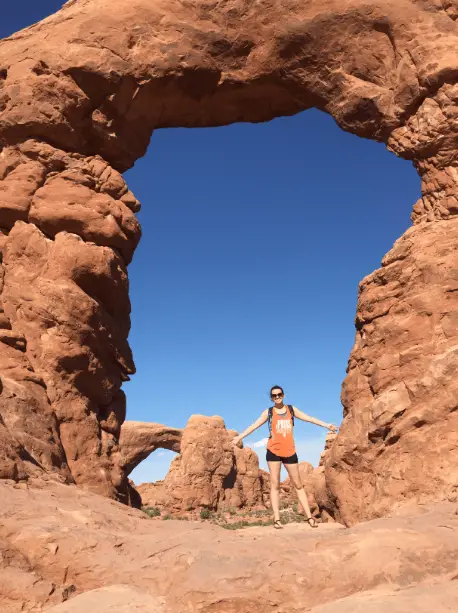 The North & South Window Arches
These next two, beautiful arches can be seen side-by-side, but you'll want to enjoy them individually too. We spent a lot of time exploring the area.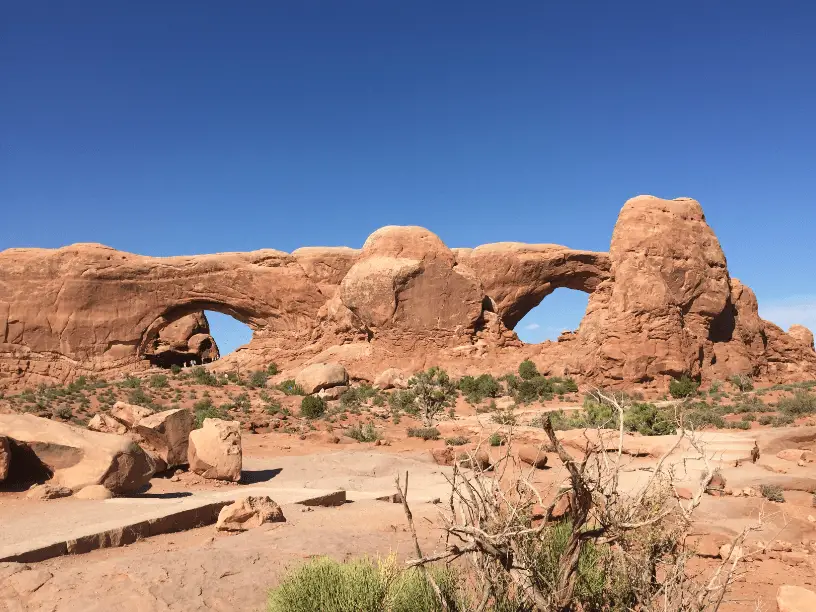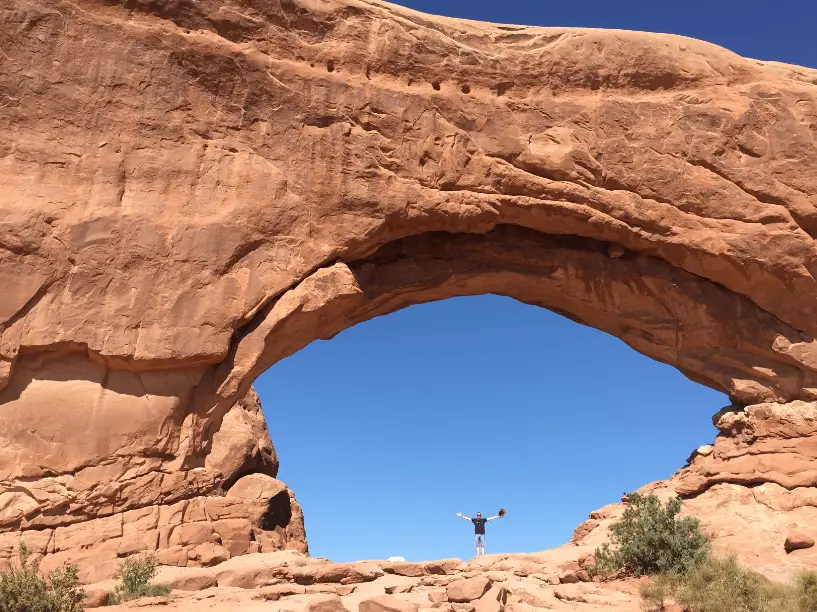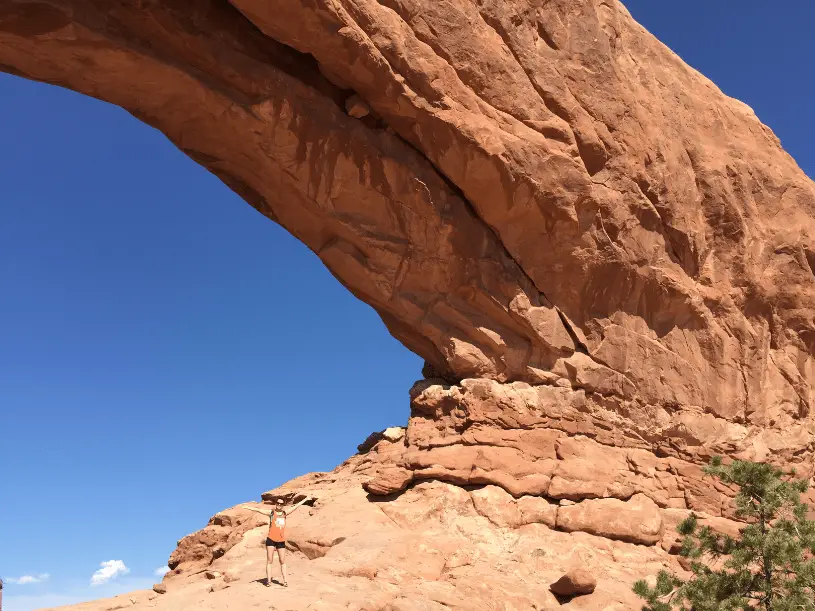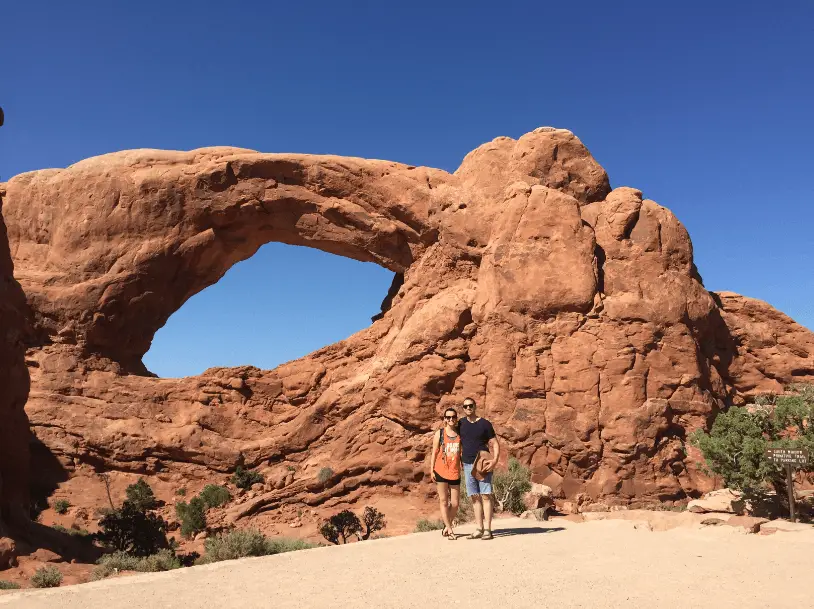 We loved that the view was gorgeous, no matter where we were in the park!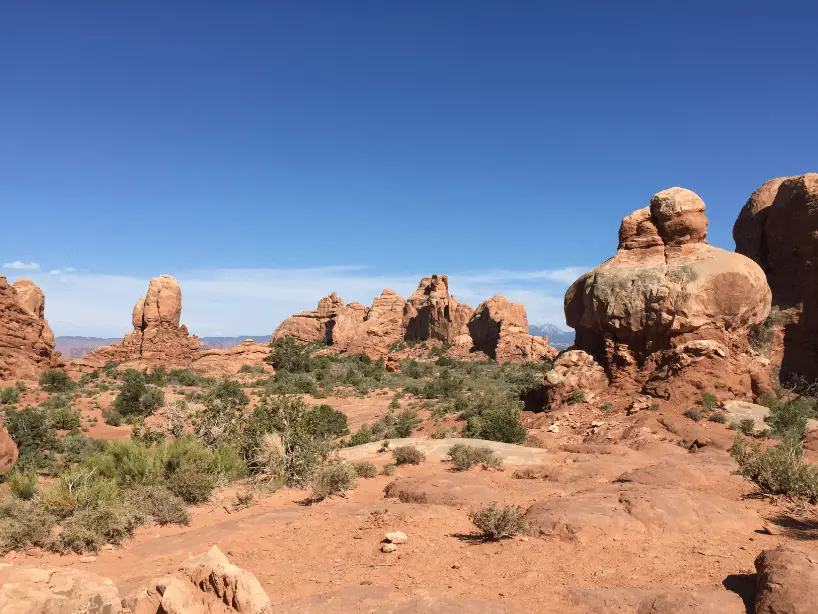 Double Arch
At this point, we were hot, but we were not ready to stop exploring! We made our way to the Double Arch, which is a short .5 mile hike. It was now later in the afternoon, and we were pleasantly surprised by how much shade this arch provided! It was lovely! We were ready to rest a little and take in the sights of this stunning park, and this was the perfect place to do it! This was the most crowded area of the park that we visited (notice all the little people?), but was still so quiet and relaxing!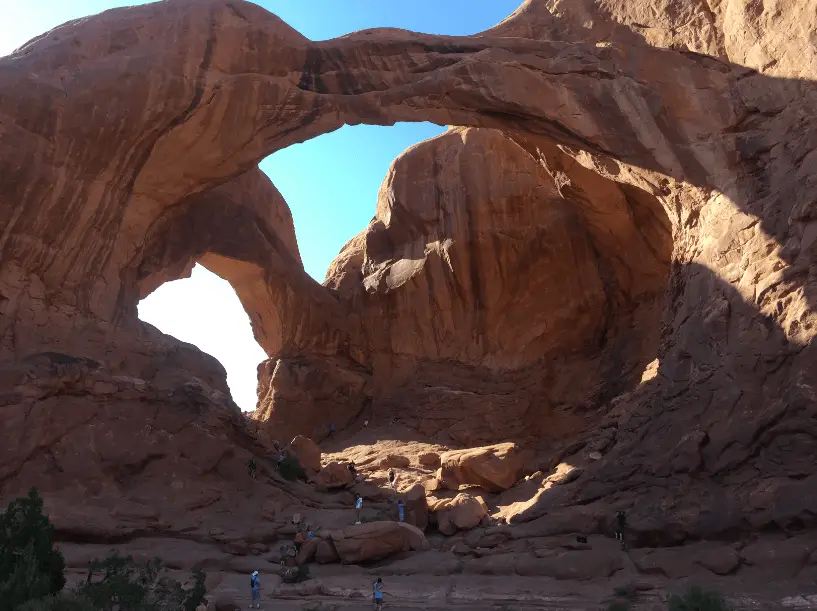 Elephant Butte
Elephant Butte is the highest point in Arches National Park and is home to the Parade of Elephants. These beautiful, sandstone rock formations really did look like elephants with trunks! (If you can't see it, just use your imagination- they are there!) 🙂

Delicate Arch Viewpoint
Delicate Arch is one of the most popular arches in the park, and we found that we were content to view it from a viewpoint. We took time to sit back and enjoy the view.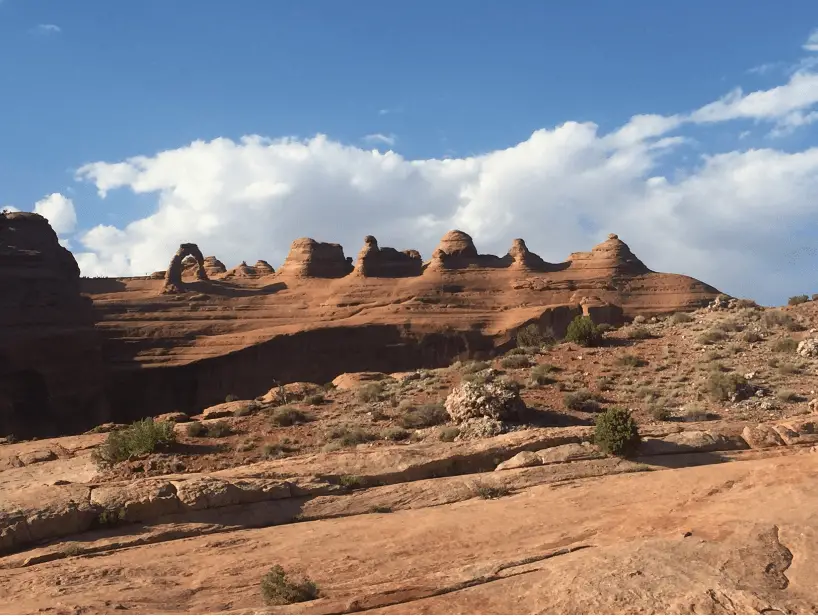 The sun was starting to set and there was an amazing breeze! We could have stayed for hours. We would love to catch the sunrise next time we go!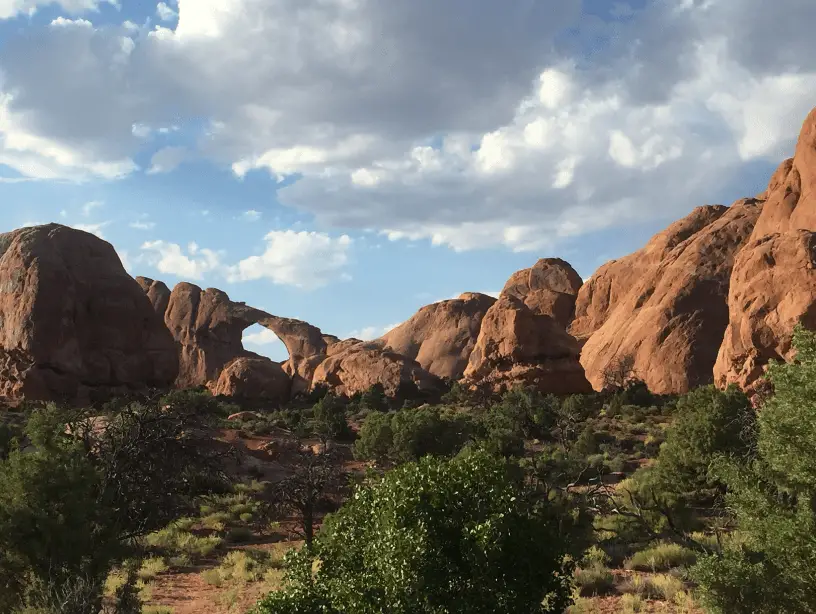 Bryce Canyon National Park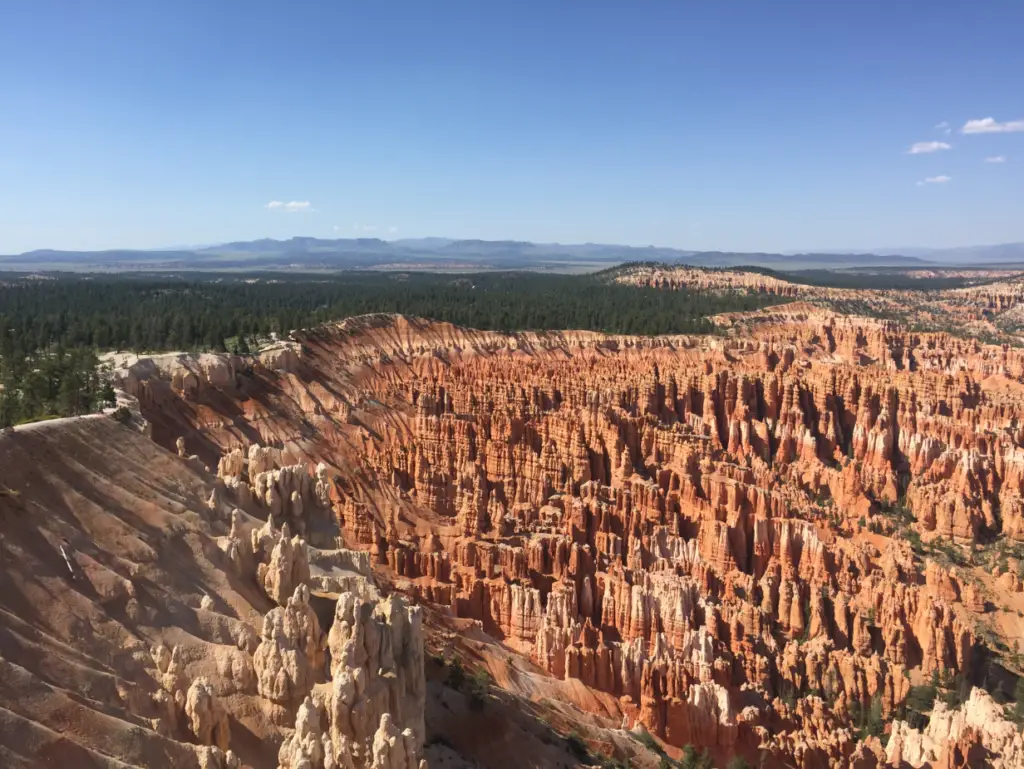 Bryce Canyon National Park is known for its beautiful hoodoos. What is a hoodoo? If you're like I was, you might be asking yourself that question! A hoodoo is an irregular column of rock (sometimes called a fairy chimney). They can be found around the world, but the largest concentration of them in the world can be found at Bryce. And I must say- they are incredible to see in person! Bryce Canyon National Park was the last stop of our amazing trip. By this point, we were definitely tired. When we arrived, we found out that the road past Bryce Amphitheater was closed for the day. This was disappointing news, but we had spent almost two weeks hiking through Utah and Colorado, so we were content to take it easy at Bryce Canyon and stick to some easier trails. It was also a hot 102 F that day, so we were ok with taking it easy.
Camping- Where We Stayed
By the time we decided to take this road trip, camping in the National Parks wasn't an option (it books up months in advance!). My husband took on the task of finding private campgrounds for us, and we were excited to stay at the KOA in Cannonville/Bryce Valley. I would recommend this campground to others, but with reservations. To be honest, this was the only campground that we stayed at during our road trip that we wouldn't return to (at least at the same time of year). I am happy to explain!
I'll start with the positives! The staff was excellent, helpful and friendly. We felt very welcome! The restrooms and showers were spotless, and the kitchen area was too. Although we didn't use it, there was a stove, sink, and refrigerator available for campers to use. It was all well-maintained! The campsites themselves has beautiful views of gorgeous, red rock canyon walls. It was truly stunning! The campsites were also very spacious and well taken care-of.
Unfortunately, there were some negatives to this campground as well. I'll start with the one that wouldn't keep us away: the WiFi didn't reach the campsites. This wasn't a big problem for us. We weren't planning on spending much time online, but they do advertise having WiFi available in the campsites, so we were surprised to find that it wasn't strong enough to reach the tent spots. What will keep us away in the future was the lack of shade in the tent spots. Utah is hot during the summer months, and every other campground we stayed at during our journey provided some sort of shade. These spots were completely empty of trees, and after we set up our tent, it was too hot to hang out there at all until evening.
Sadly, we had to pack up at 2am, because of an intense sandstorm. It started around 10pm, and we went to bed and zipped our tent shut. The winds grew so high that our tent was swarming with sand! When we finally decided to leave, we saw that most of the tent campers around us had also packed up and left. This obviously was not the KOA's fault, but it was enough to make me not want to return for tent camping.
Next time we go to Bryce Canyon National Park, we will likely book a hotel or Airbnb! Booking.com has great deals on hotels near Bryce Canyon (a great location for visiting the park during the day!), and Airbnb has several beautiful affordable accommodation options!
Major View Points
We used Bryce's park shuttle (free with entrance to the park) to get around. After visiting three of Utah's beautiful national parks, we will happily report that Bryce's rangers were the kindest and most helpful! (The rangers at the other parks were amazing too- we have no complaints- but we did feel like Bryce's rangers went above and beyond to give us information and tips!).
As I mentioned earlier, we stuck primarily to the major viewpoints within the Bryce Amphitheater. Sunrise Point, Sunset Point, Inspiration Point, and Bryce Point were all stunning and did not disappoint! Because the road out of the amphitheater was closed, these points were incredibly crowded with travelers. (It was also Bryce's busy season, but with limited options, the crowds were very heavy in the view point areas). We absolutely loved taking in the beautiful views of the hoodoos!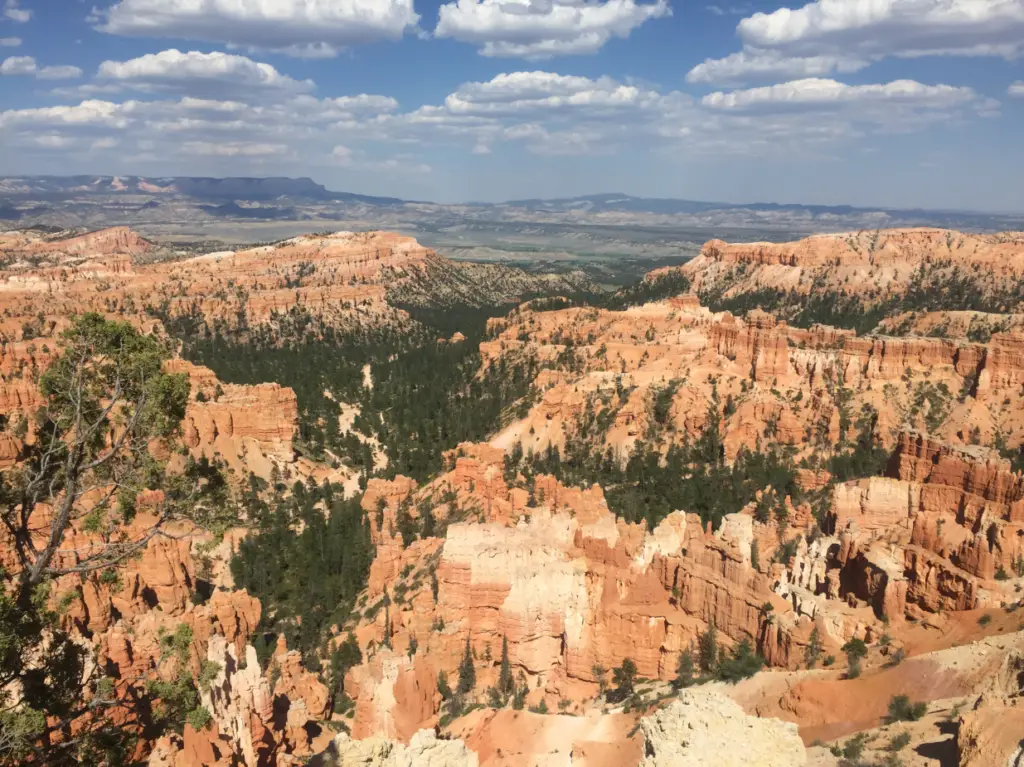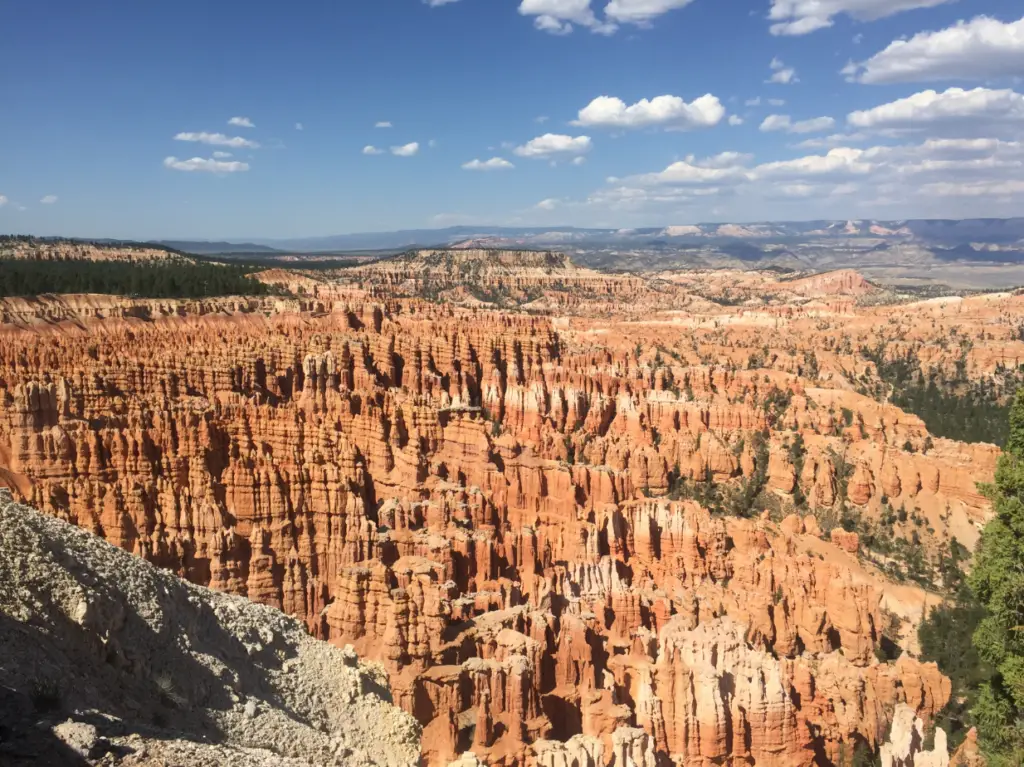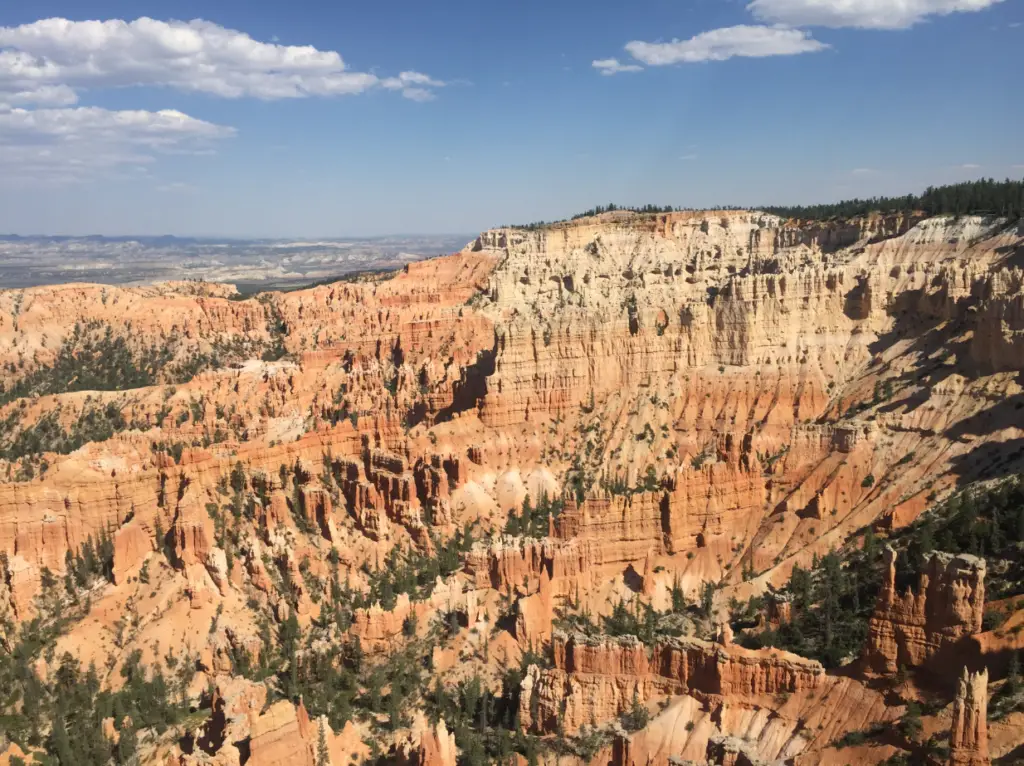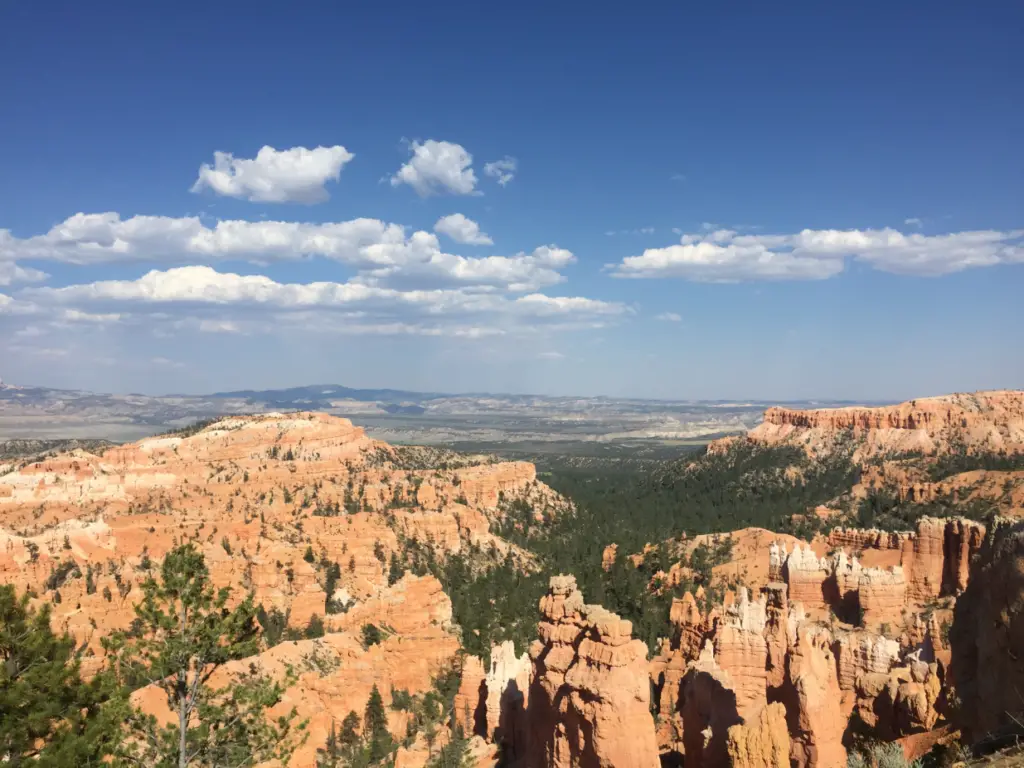 Note for families: A small portion of the Rim Trail (Sunset to Sunrise Points) is stroller-friendly. Otherwise, you will want to bring your favorite carrier!
Fairyland Loop
Although it was a hot 102 F, we did want to hike down into the hoodoos. We headed out on the Fairyland Loop Trail (also located within the Bryce Amphitheater). We were excited to see the hoodoos up close and to escape the crowds. We packed plenty of water in preparation for the heat (our Camelbaks were put to good use on this trip)! We did not hike the entire trail (it was a bit too hot!), but we spent a couple of hours exploring and enjoying the unique beauty of Bryce below the rim!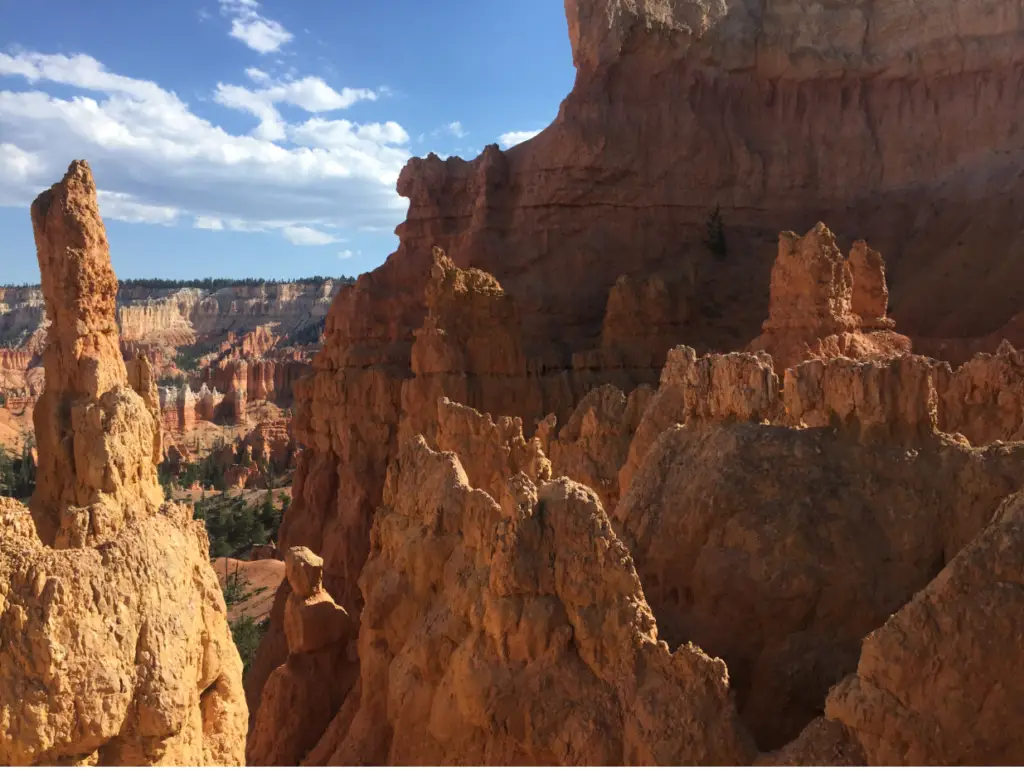 Note: One thing that surprised us was the flies. We hadn't encountered any in the other parks, but they were out and busy in the Fairyland Loop!
I loved this opportunity to share our experience in Utah's Zion, Arches, and Bryce Canyon National Parks with you! If you are planning your own trip to these beautiful parks, I hope that you found this helpful!
If you're looking for another US national park to explore, consider looking into these guidebooks for Yellowstone National Park! You'll find everything you need to create your itinerary, including money-saving tips and packing lists.
Have you been to any (or all) of these National Parks? I would love to hear about your experience in the comments below!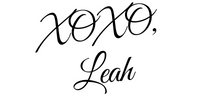 Pin for later: