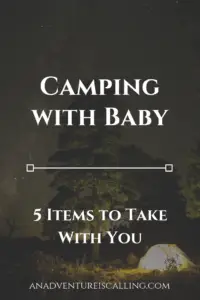 Camping with your baby for the first time? If you're like I was, you might be feeling a little overwhelmed with how to prepare. We took our baby girl camping for the first time when was 4.5 months old. I wasn't really worried about her– I knew she would love it. She was a pretty good sleeper and loved being outdoors, so I knew she would be fine (ecstatic even!). Instead, I was worried about making sure I had what I needed to keep her comfortable and warm at night. The lows were around 40 F, and I was really worried about keeping her toasty for four nights in a tent.
We may earn money or products from the companies mentioned in this post. We only recommend products and services that we love!
Our first camping trip was huge success, and all my fears of camping with a baby totally went away after the first night. To be honest, I slept horribly the first night because I kept waking up to check on her and to make sure she was warm. She was totally fine! I finally relaxed on our second night and enjoyed sleeping in the great outdoors.
It might be tempting to take everything you own with you on that first camping trip. We were tight on car space, so we didn't have the luxury of over-packing. But we had what we needed, and our baby was comfortable and happy the entire trip!
As you plan for your first camping trip with your baby, here are 5 things you will want to take with you! There are other things that you might want to consider bringing, but these are my must-haves that I cannot imagine going without. If you're interested in longer list of my favorite baby items for traveling families, you can check out my recommendations here. You'll find recommendations on travel sound machines, mosquito nets, and high chairs. But this simple list covers the basics.
Camping with Baby – 5 Items to Take With You
Tent
I'm going to start with the obvious- a tent. If you're sleeping outdoors with your baby, you will probably want to sleep in a tent and save the sleeping-under-the-stars experiences for when they are a little older. Really consider your tent situation and make sure you will be comfortable. To be honest, we wish we had a bigger tent for our baby's first trip. We thought we would sleep fine in our 3 person tent, and while we did have enough space, it was hard not being able stand up with her inside. She slept in a co-sleeper on our air mattress (see #2 on this list for details), and the only way we could really make it work was to sleep sideways on the mattress, so my husband and I couldn't fully stretch out our feet. Overall, it worked just fine, but it wasn't super comfortable. We knew we wanted to upgrade immediately after that first trip.
We decided on the Coleman Sundome 6-Person Dome Tent with Darkroom Technology. Oh my goodness- this tent is amazing! My sister and her family bought it first, so we were able to see it in action, and we knew it would be perfect for us too. I could go on and on, but here are the basic reasons why we love it:
Size: It sleeps 6 people, which means the 3 of us have more than enough space. We can stand up inside of it, store our luggage, etc. Even though it's a great size, it's not overly-huge (which can be a big pain if you're staying in a campground with small spots). (Note: They do make a 4-person version, if you want a smaller option or a 10-person version if you have a large family)
Dark-Room Technology: This is really what sets this tent apart from other tents! It blocks 90% of the sunlight! This makes your tent cooler during the day, and your baby won't wake up too early from the bright sun. Perfect for kids! (Or adults who want to sleep in.)
Easy Set-Up: It's a typical fast-pitch tent that you can set up easily in minutes. It's nothing fancy and is easy to pack-up when you're done. It's basically a standard tent with the extra bonus of the dark-room technology.
Bed
Depending on your baby's sleep arrangements at home, this will vary. At the time, my baby was sleeping in a Dockatot (which we LOVED!). This made sleeping outdoors easy, because we could easily take it with us. We put it on our air mattress, and she slept great. If you're using a Dockatot, you might want to consider investing a transport bag to keep it nice.
A lot of families choose to use a pack 'n play when they travel (we are now at this stage). If you go this route, you'll need a larger tent (a pack 'n play fits in our 6-person tent, but didn't fit in our smaller 3-person tent).
Travel tents (we have this one by KidCo Peapod) are an amazing option (something out baby will be transitioning to very soon). These are highly recommended in traveling family communities. They fold up nicely and are lightweight (just a couple of pounds). They are especially great for toddlers who are on the move.
These inflatable travel beds are great for small kids who are past the baby stage but who still need some protection to keep from rolling out. My baby isn't ready for this yet, but my nieces and nephews love to sleep in these beds when they travel. They take them camping, to hotels, etc.
Pajamas & Bedding
I already mentioned that my concern with camping surrounded making sure my baby was warm at night. If you'll be sleeping in warmer weather, this will not be as big of a concern for you. I bought my baby fleece pajamas, a simple cotton hat, and light wool socks. We bought the ergopouch sleep suit to use as her swaddle/sleeping bag, and we LOVED it. We bought the 3.5 TOG, and she stayed warm all night. It was pretty big on her, but she was comfortable, and it will last her at least one more camping season. We use it as a sack right now, but you can zip it into a pants suit if you prefer.
Baby Carrier
We love baby-wearing and rarely leave the house without a carrier, but it was especially necessary on our baby's first camping trip. The days were warm, and it was way too hot for her to take her naps in the tent. We spent time hanging out at our campsite, on hikes, and by the lake, and our baby took all of her naps in the carrier. We are big fans of the Ergobaby 360 (because she loves facing out when she's awake). It's great for her back and ours. When she was younger, we loved our Boba wrap.
Activity Gear (Specific to Your Destination)
This will vary by destination, but you want to make sure you bring any gear that your baby will need for activities. If you forget something, you might not be able to find items in their size when you arrive. We knew we would be spending a lot of time in the water on our baby's first camping trip, so we needed to bring her infant life jacket for kayaking.
I hope you found this list of 5 items helpful! Camping with our baby has been such a joy, and I hope you have the same positive experience. If you have camped with your baby, I would love to hear about your must-haves in the comments!
P. S. If you plan to travel with your baby, you can check out my list of 20 Baby Registry Items for Traveling Families, where I cover all of our favorite travel items (not just for camping).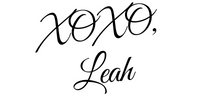 Pin for later: