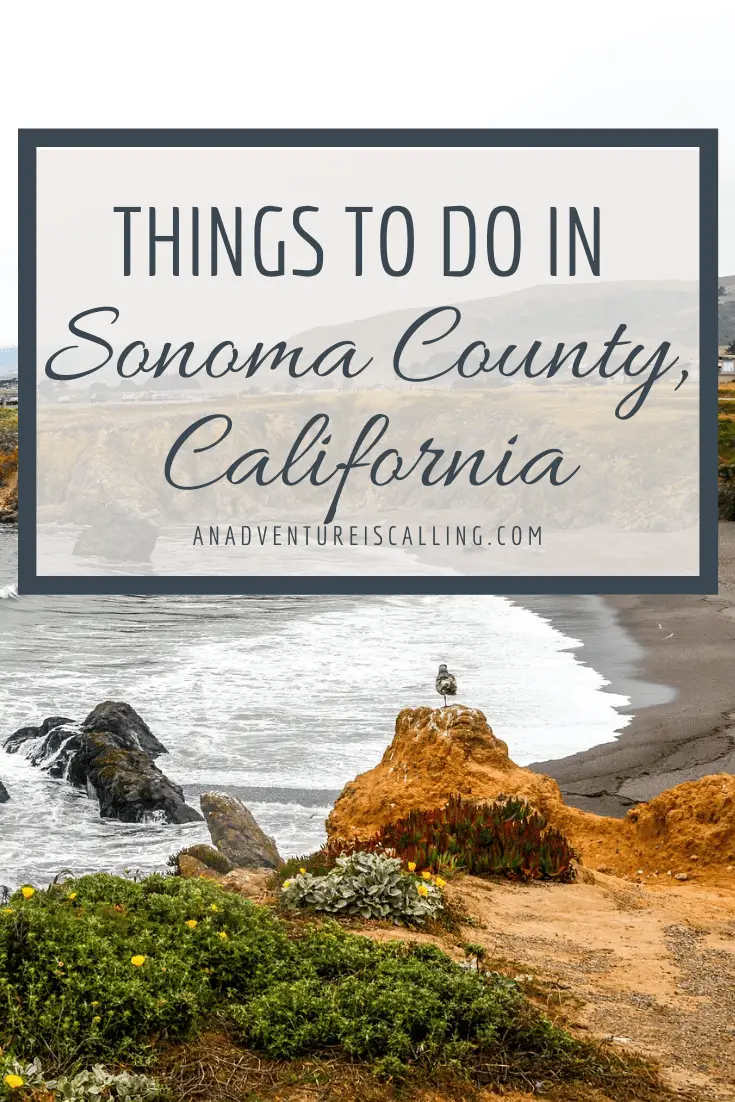 Sonoma County, California, is known for its beautiful vineyards and amazing wineries. You probably do not want to skip wine tasting if you're visiting the area, but there are so many other things to enjoy! I absolutely love living here, and I totally understand why so many people love to visit. Before I jump in, I want to highly recommend that you rent a car if you aren't from this area. Sonoma County is lovely and spread out. Having your own car will allow you to see it all!
We may earn money or products from the companies mentioned in this post. We only recommend products and services that we love!
Here is my list of 10 things to do in Sonoma County besides wine tasting. Everything on this list is kid-friendly and most are also baby-friendly. So don't hesitate to make a family trip to Sonoma County!
10 Things to do in Sonoma County (Besides Wine Tasting)
Zipline at Sonoma County Canopy Tours
I'll start with the most adventurous! Go ziplining at Sonoma County Canopy Tours! There is nothing quite like zipping through the redwood trees at 40 miles per hour! Over the years, I've ziplined here several times (I have family and friends who work there!), and I highly recommend it. The longest zipline is 1,500 feet long and 250 feet high. How awesome does that sound?!
You can experience multiple zips, sky bridges, and rappels. They even have night tour options. Children must be at least 10 years old and weigh at least 70 pounds to join you. They are an amazing company that donates to several causes. People travel from all over for this – be sure to sign their guestbook!
Hotels and Vacation Homes Near Sonoma Canopy Tours: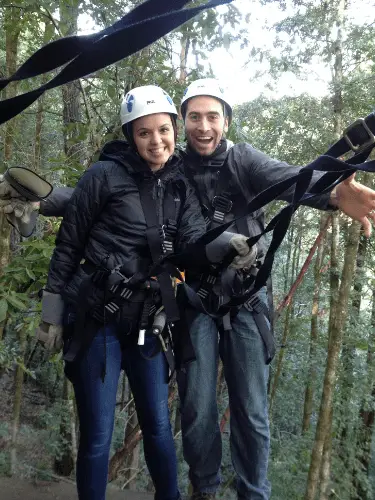 Kayak at the Russian River, Doran Beach, or a Nearby Lake
Sonoma County is home to the beautiful Russian River and several lakes (both large and small). You can kayak in most locations year-round but some regional parks only offer rentals during the summer months. I have an entire blog post dedicated to my 5 favorite places to kayak in Sonoma County that you can check out for my suggestions.
Check out this guided kayaking/hiking tour, if you'd like to explore with a guide!
Hotels and Vacation Homes Near Doran Beach: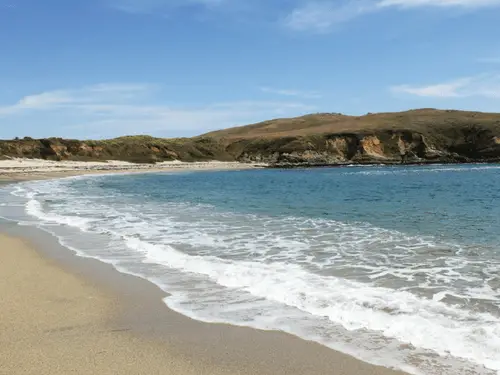 Walk through the Redwood Trees at Armstrong Redwoods
This state nature reserve is home to thousands of gorgeous coastal redwood trees. Many are between 200-250 feet high, and they can live over 2,000 years. Armstrong Redwoods is one of my favorite places to escape to in the area. It is especially nice on hot summer days, because it is always cooler in the redwoods. You can also backpack in this area up near Austin Creek. We have done this and loved it!
Armstrong Redwoods is a gorgeous place to hang out. It has a great picnic area (with grills and picnic tables) for day use. The trails are all stroller-friendly so bring your little ones along. Parking is currently $8 for general admission. Be sure to head to the Colonel Armstrong Tree, which is the oldest tree in the grove (over 1,400 years old). You will almost always find a friendly volunteer here who will happily answer all your questions and give you more information on the area!
Check out this guided redwood hike and kayaking tour, if you'd like to explore with a guide!
Pro tip: If you don't mind an extra walk, you can park directly outside of the park and walk in for free.
Hotels and Vacation Homes Near Armstrong Redwoods: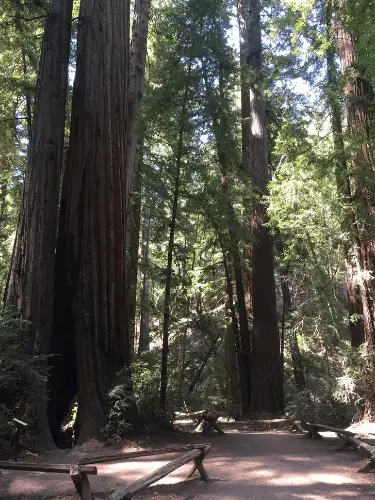 Eat Award-Winning Clam Chowder in Bodega Bay
Bodega Bay is a lot of fun, and there are numerous things to do! You can kayak, swim at Doran Beach, walk along the Birdwalk Coastal Access Trail (stroller-friendly), eat saltwater taffy, and whale-watch at Bodega Head.
One of my biggest recommendations would be to enjoy Spud Point's award-winning clam chowder. The lines might be long (possibly 30 minutes- as shown in my photo below) but it is worth it! I am personally a huge fan of their shrimp and crab cocktails.
Pro Tip: Arrive early! If you're willing to eat 30-60 minutes before lunchtime, you won't have to wait as long.
Hotels and Vacation Homes Near Bodega Bay: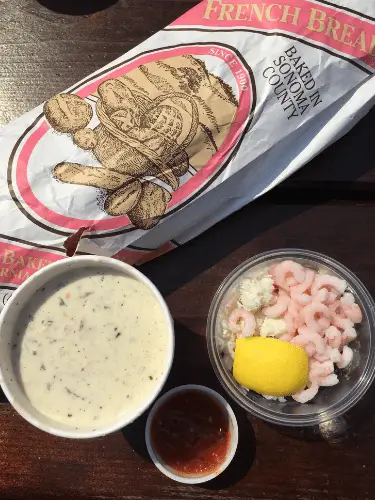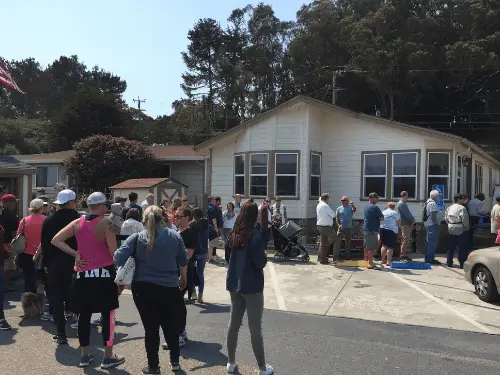 Experience a Local Brewery
Sonoma County is known best for its wine, but its beer is well-known too. Russian River Brewery, home of Pliny the Younger and the Elder, is in downtown Santa Rosa (with a second, larger location in Windsor). There is almost always a wait (a couple of hours in the evenings), but most find that it is worth it! They sell great food too, so don't hesitate to bring the kids along for lunch or dinner. You can check out their website for info on their annual Pliny the Younger release.
Other fun breweries in the area are Hopmunk Tavern in Sonoma and Bear Republic  in Rohnert Park (home to Racer 5). Both also great food and are family-friendly.
Consider taking a Bike 'n' Brew Tour to experience multiple breweries through Sonoma County with a fun guide!
Hotels and Vacation Homes in Sonoma County: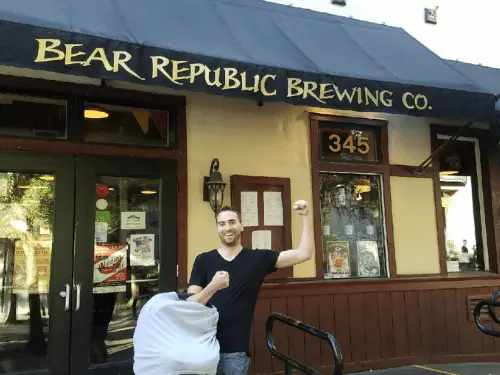 Enjoy Amazing Food and Coffee in Downtown Healdsburg
Speaking of Healdsburg- it is a beautiful little city! I may be biased (I was born there), but there really is so much to do and see. The downtown plaza area has so many amazing restaurants!
My personal favorites are Cousteaux French Bakery and KINSmoke! Cousteaux French Bakery is perfect for breakfast or a delicious french treat. They baked my parent's wedding cake in 1976, and my husband and I went there for breakfast on our last date as an engaged couple (the morning before our wedding)., so it holds a very special place in our hearts! If you visit around the holidays, you can enjoy their huge nutcracker collections (we are talking thousands).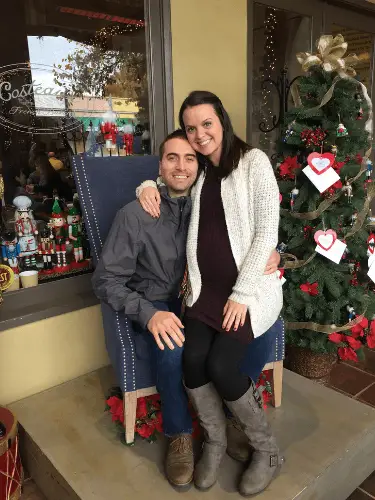 KINSmoke is a delicious California BBQ spot with wide variety of mouth-watering items on the menu. We personally love to order the platters to share.
Flying Goat Coffee is a fun spot to stop for a cup of coffee, tea, or my personal favorite, Aztec hot chocolate.
Hotels and Vacation Homes in Healdsburg:
Visit the Charles M. Shulz Museum and Ice Skate at Snoopy's Home Ice
Any Peanuts fans out there? Sonoma County was home to Charles M. Shulz. The Charles M. Shulz Museum, in Santa Rosa, is a ton of fun for Peanuts fans. Then, have fun ice skating year-round at Snoopy's Home Ice (right next door). I grew up ice skating here, right underneath Charles Shulz's office. How fun is that? We loved watching him work through glass windows as we skated. It is a great place for first-time ice skaters, as they provide buckets for kids to hang on to as they learn to skate (they seem to have an infinite amount that you can stack to the needed height).
It is beautifully decorated at Christmas, but it is a lot of fun to visit throughout the year. It is a great place to cool down if you want to escape the summer heat.
Hotels and Vacation Homes Near the Shulz Museum and Snoopy's Home Ice:
Hike around Spring Lake
Spring Lake is a beautiful regional park in Santa Rosa. The leisurely walk around the lake (around 2 miles) is stroller-friendly (for the most part- there are a few big rocks you might have to battle). You can also kayak/canoe/pedal boat here or rent a campsite. It is great for escaping the "city" and enjoying the redwoods. It backs up to Annadel State Park, which is another beautiful park that you might want to check out.
Hotels and Vacation Homes in Santa Rosa: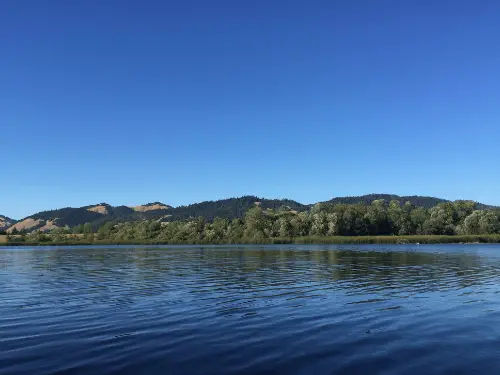 Stroll through the Barlow in Sebastopol
Sebastopol is a fun town (we pass through it all the time on our way to the ocean). It is excellent for apple-picking and Christmas-tree-hunting, but it also has a fun downtown. The Barlow is a neat outdoor market area, full of shops, restaurants, bars, etc. I'm a fan of Taylor Made Coffee. Overall, it is super trendy and a fun place to check out!
Hotels and Vacation Homes in Sebastopol:
Play at the Children's Museum of Sonoma County
The Children's Museum of Sonoma County is perfect if you have kids! They have a special exhibit called Totopia for babies and toddlers (under 35 inches in height) and a ton of fun options for older kids, including an Art Studio, Science and Imagination Center, and an outdoor area with everything from a miniature Russian River Waterway (my personal favorite!) to a tractor to an imagination playground.
Hotels and Vacation Homes Near the Children's Museum:
Where to Stay in Sonoma County
Looking for great places to stay during your visit? Sonoma County has no shortage of amazing lodging options. You can choose to stay in the vineyards, along the river, or at the beach. Here are a few highly-rated options throughout the county.
Hotels and Bed & Breakfasts (Check out Expedia or Hotels.com for more amazing options):
Vacation Rentals (Check out VRBO for more amazing options):
Looking for more ways to explore California? Check out this coastal California road trip itinerary!
I hope you've enjoyed this list and feel ready to explore Sonoma County. If you're from the area or have visited, I would love to hear from you! What are your favorite Sonoma County destinations?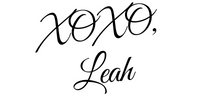 Pin for later: