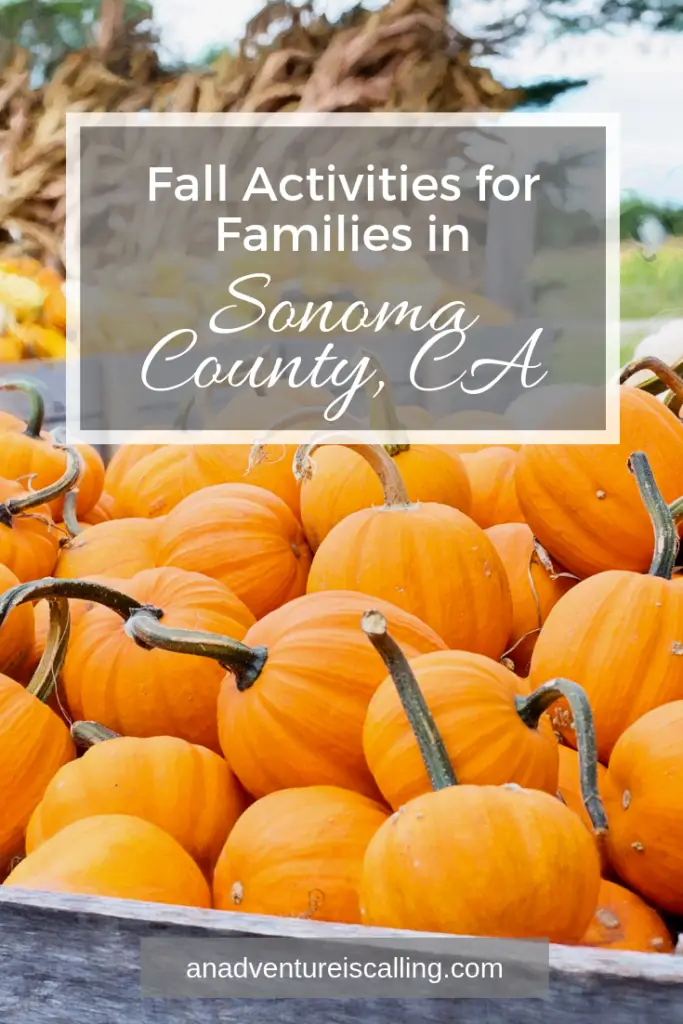 Pumpkin Patches, Apple Picking, Fall Festivals, and more! There are so many Fall activities to do in Sonoma County, California. Fall is my favorite time of year! I love the change in the weather, the beautiful orange and red leaves, and the fun activities that come with the season. Fall in Sonoma County is beautiful, and locals and tourists will find that there's no shortage of fall activities to fill your weeks this fall in Sonoma County. This is our toddler's second fall, and we do not hesitate to drive throughout the county to enjoy the best activities, so you'll find that my recommendations stretch from Sebastopol to Healdsburg to Petaluma. I'm excited to share some of our favorite family-friendly things to do with you!
We may earn money or products from the companies mentioned in this post. We only recommend products and services that we love!
Note: I originally wrote this post in the fall of 2018. This post was updated this year, 2019, with current info!
Fall Family Activities To Do in Sonoma County
Apple Picking in Sonoma County
I'll start with my personal favorite- apple picking! There are several apple picking options in Sonoma County, and Apple A Day Ratzlaff Ranch is our family's favorite apple picking farm. It is located in Sebastopol/Occidental, California. They offer U-pick in September and October, and they often run into November as well (they did last year!). They offer Gravenstein, Golden Delicious, and Roman apples. They offer these awesome apple-pickers on poles, which makes reaching up high into the trees easy. They are super easy for kids to use- my nieces and nephews had a ton of fun using them.
It is free to enter the property, and you will pay $2 per pound of apples that you pick. No minimum, so you can enjoy one apple or a few dozen. It is totally up to you! They have these shoulder bags that you can borrow for picking your apples, and then they weigh them for you at the end. They sell amazing fresh, cold-pressed apple cider (we paid $3 for an organic pint; no added sugar or preservatives) and apple treats (like apple cookies). Do not leave without trying their apple cider. I am not a huge apple juice/cider person, but this stuff is amazing! They typically give out samples too!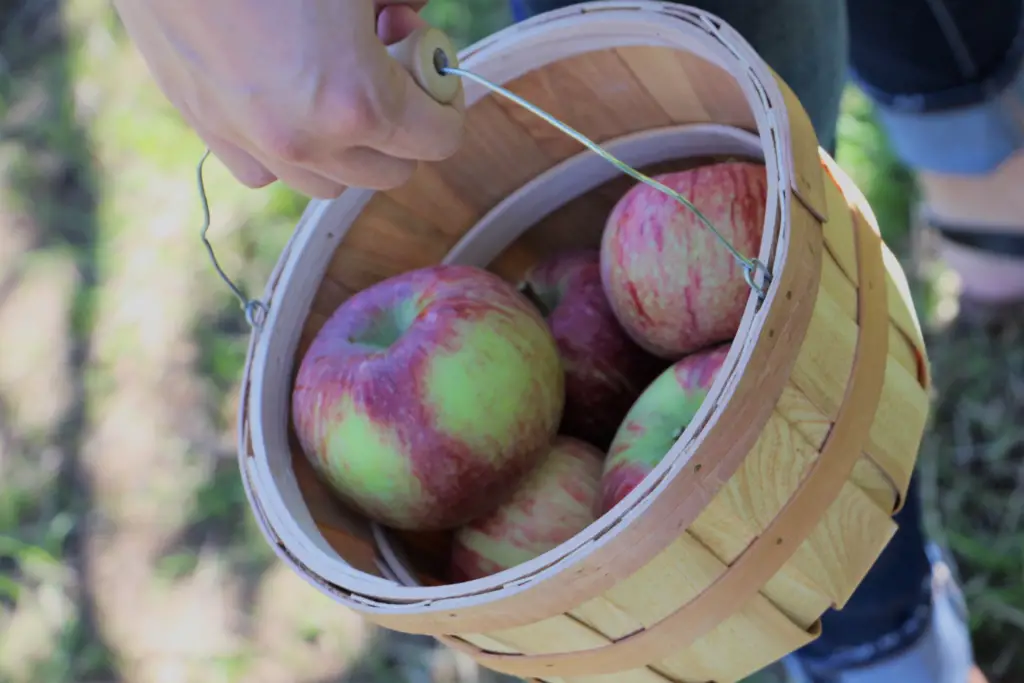 They have a little picnic area with tables and restrooms for guests. The area is shaded by the apple trees, and it is such a peaceful setting for a fun afternoon. During their U-pick season, you can visit 9am-4pm any day except for Thursday and Saturday.
You might also be interested in: The Best Family Holiday Events & Activities in Sonoma County
Pumpkin Patches in Sonoma County
We love a good pumpkin patch, and last year we hit up 3! Sonoma County has a ton of pumpkin patches. We enjoy Grandma's Pumpkin Patch for younger children and babies. It is located in Healdsburg and is family-run. I've come here in the past with my extended family when I've been in town and was so excited to bring my baby girl here for the first time last year. It is small with a lot of traditional activities, like a hay maze, a hay pyramid, and pipe tunnels. They also have a little play structure with swings and slide and a play train.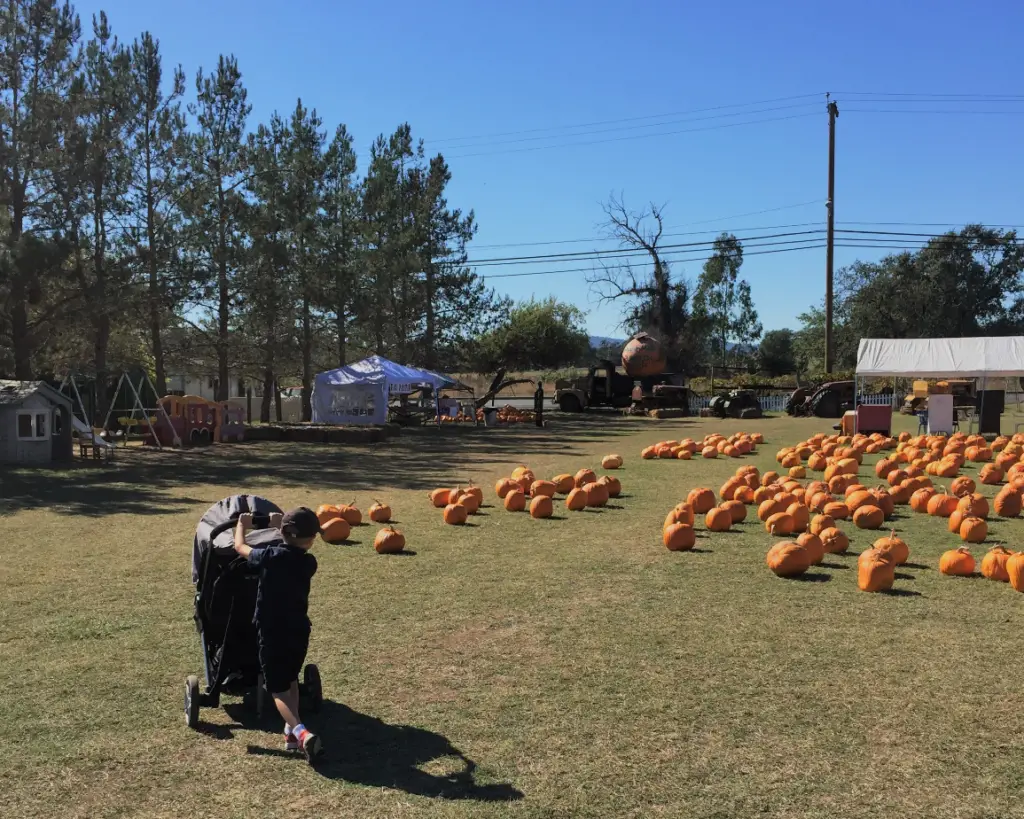 Grandma's Pumpkin Patch has several old tractors to climb on and several cute photo ops (cutouts, hay stacks, etc.). They have a craft area where kids can make colored pasta necklaces and they offer face painting on the weekends. They whole place is cute and simple- in a very good way!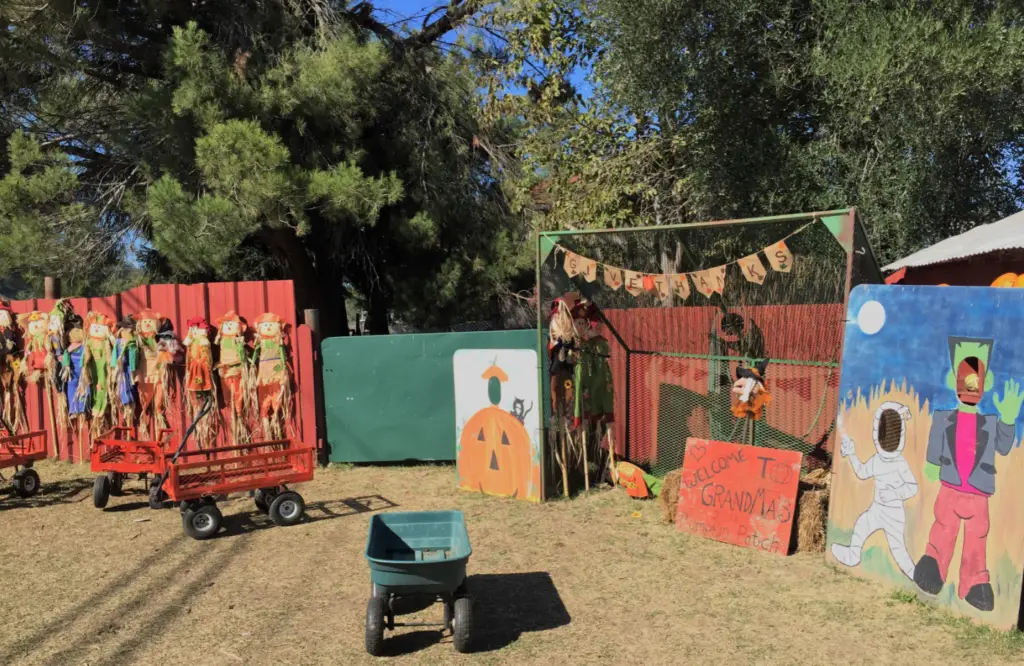 The animals are a lot of fun- we especially loved the goats, turkeys, and rabbits. All activities are free! Just pay for your pumpkins. They have several delicious snacks and drinks that you can purchase. Their nitrogen ice cream sandwiches were a big hit with our family. It is made by the local company who creates special flavors specifically for Grandma's Pumpkin Patch.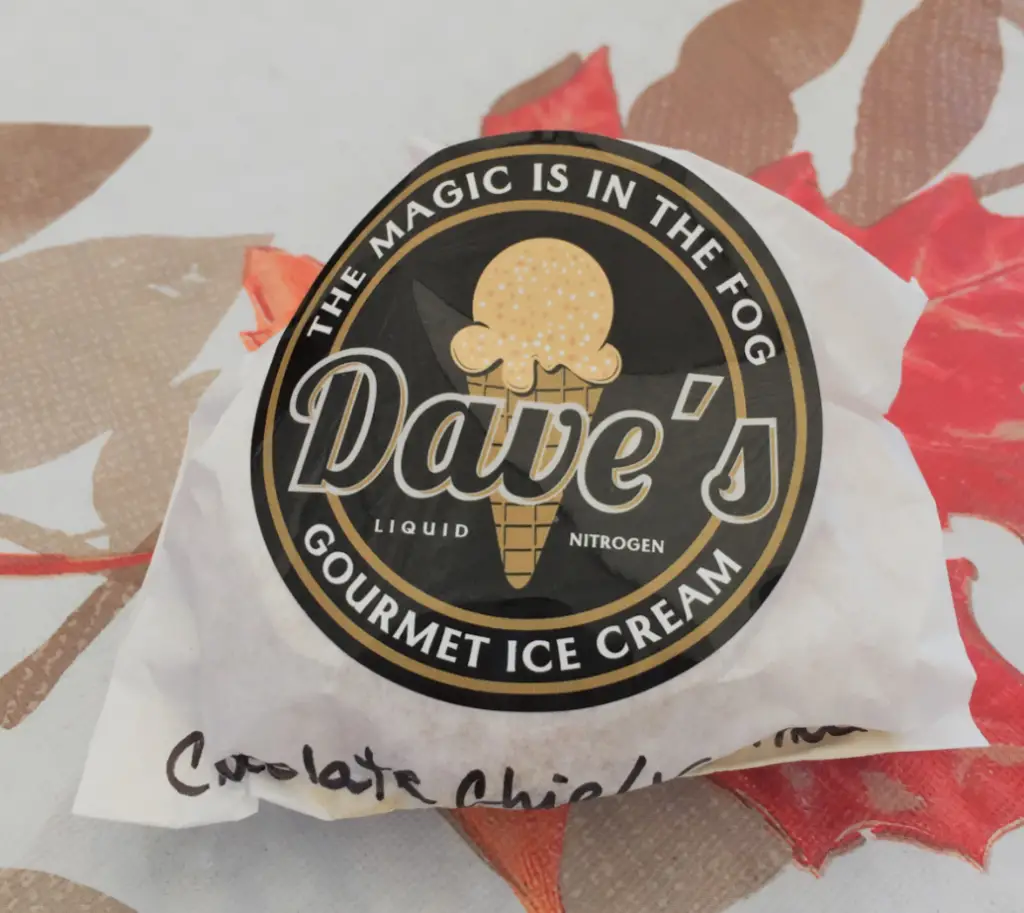 They have a cute tradition of giving babies a homemade bib for their first Halloween. My nephews received theirs five years ago, so it was a lot of fun when they greeted us with one for our baby girl too. They estimate that they give away about 1,000 each year, and they have been doing with for 10 years. How fun is that?! They are open from 10am to 6pm during pumpkin season.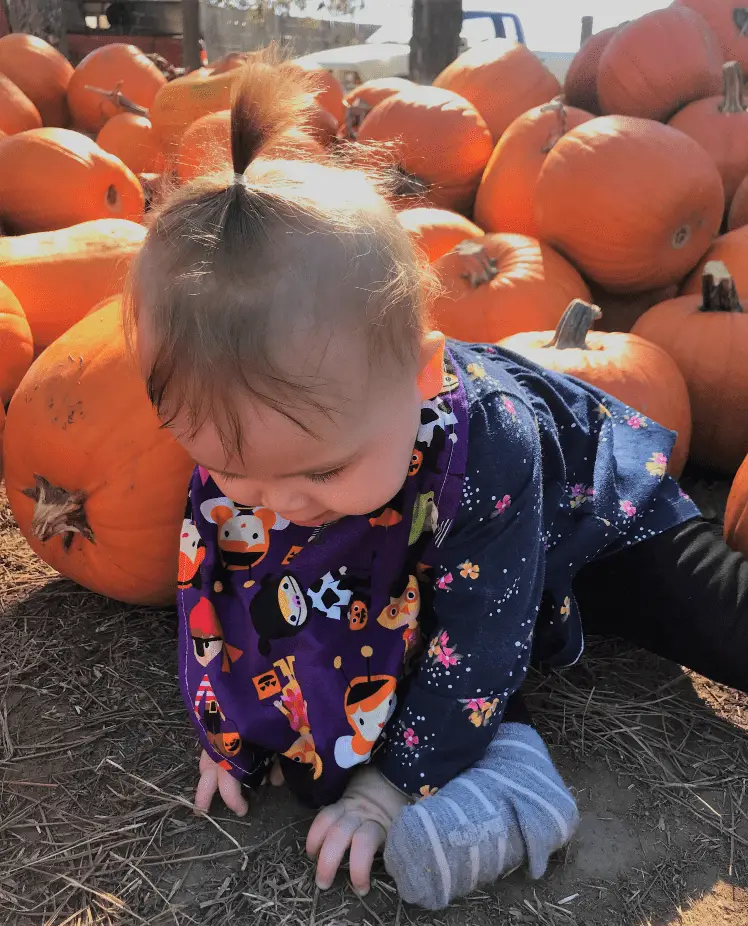 Other Sonoma County Pumpkin Patch recommendations:
Santa Rosa Pumpkin Patch is great for older children/teens who are looking activities such as a corn maze and large jump houses. My baby loved the hay ride last year! You'll pay a few dollars for admission + a few more for activities.

Opening Day: October 4, 2019
Hours: Mon-Thurs: 9am-7pm, Fri-Sat: 9am-10pm, & Sun: 9am-8pm
Petaluma Pumpkin Patch is amazing, and every local knows all about it! (It is responsible for a lot of traffic on the I-101 during October- hah!). But it is popular for good reason! Their corn maze is incredible and a must for families with older kids and teenagers! They have several vendors that are cash-only, but there is an ATM on site if you forget. Admission is free, but you'll pay $7 during the day and $10 at night to enter the corn maze.

Opening Day: September 27, 2019
Hours: Sun-Thurs: 10am-6pm & Fri-Sat: 10am-10pm
Fall and Halloween Festivals in Sonoma County
Fall festivals are fun and typically involve games, crafts, and animals. The Tolay Fall Festival is in Petaluma and is put on by Sonoma County Regional Parks and runs two weekends each October (this years dates at October 12-13 and 19-20, 2019). Regional Parks members get free admission! If you aren't a member, you'll pay $5 per adult and $3 per child 12 years and younger (and $7 for parking). Once you're in, all activities are free (you just need to pay for your pumpkins). Parking can be busy, but there is plenty of space for everybody. When you arrive, there will be an express lane for Regional Parks members, so you can skip the longer lines if that applies to you.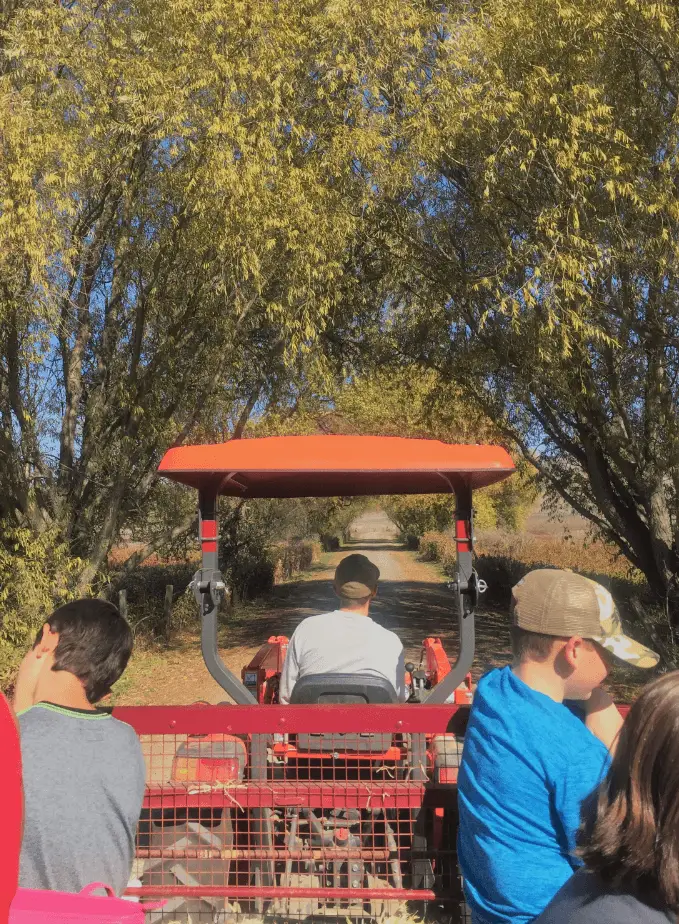 You might also be interested in: Our Outdoor, Fall Wedding in Sonoma County, California

The Tolay Fall Festival is great with so much to do! There is a Nighttime Creatures Barn and Creepy Crawly Room, where you can view live birds, snakes, spiders, etc. (I avoided the creepy crawly room!). You can enjoy live music while participating in fun activities for kids like making corn husk dolls, potato stamping art, noodle jewelry, flag painting, wool carding, candle-dipping, and more. You can pet barn animals, go through a straw maze, practice archery, and participate in gunny sack races. There are some cute structures (like the house in the photo below and teepees that you can go inside). I could keep going- but I think you get the point! There is SO much to do! I love that everything is free once you're inside.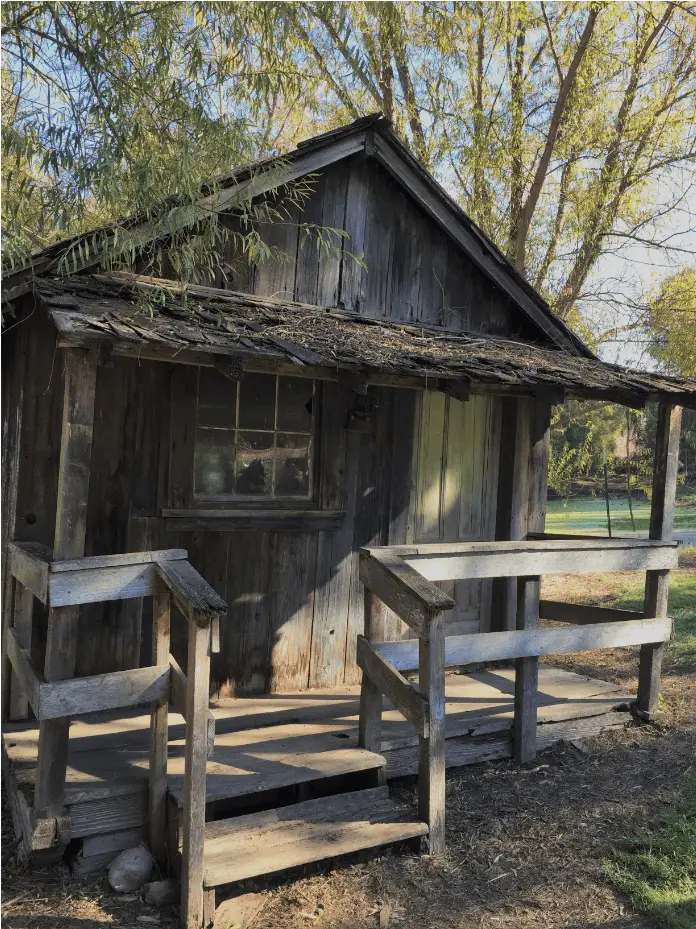 The highlight for us last year was taking a tractor hayride to the pumpkin patch. My baby girl has loved all the hay rides we've taken her on, and this was no exception. We went during the second weekend of the festival, and you can see in the photo below that a lot of pumpkins were already taken. There were still a ton of pumpkins left though. We picked out a small one to take home, and my parents paid only $4 for it. I felt as thought the pumpkin pricing was very reasonable compared to other places I've been.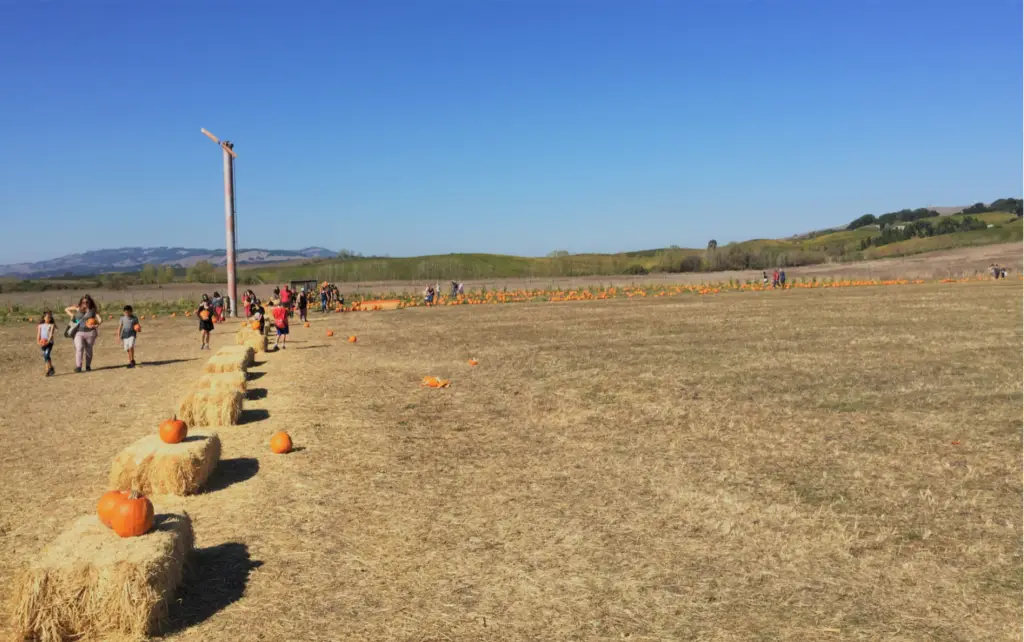 You can bring a picnic or enjoy food from several local vendors, including tacos, organic ice cream, local honey sticks, and snow cones. Overall, this is a really fun fall festival that is great for all ages.
You might also be interested in: 10 Things to do in Sonoma County (Besides Wine Tasting)
Other Sonoma County Fall and Halloween Festival recommendations:
Pumpkin Nights are found throughout the USA, and one can be found in Santa Rosa! It is family-friendly and a spectacular event featuring over 3,00 hand-carved pumpkins and other amazing sights and activities. Admission prices vary greatly based on date and age, so you'll want to check out their website for the most accurate rates. Family rates are available!

Opening Day: October 10, 2019
Hours: Daily from 5:30-10:30pm

There are also numerous church-hosted festivals that take place on Halloween night! They are a great way to enjoy safe play and treats while sporting fun costumes!
Fall Museum Activities in Sonoma County
There are a lot of fun, Fall activities that can be enjoyed at some of Sonoma County's popular museums. Every Monday from 10am-12pm during the school year, Schulz Museum offers Museum Mondays for Little Ones, and they have a few fall themed days throughout the month of October. It costs $5 for children between the ages of 1-5 years old, which covers admission for up to 2 adults.
I hope your family enjoys a wonderful fall season! Fall can be such a fun (and busy) season with all of the family-friendly activities. I would love to hear about your favorite family activities during this season!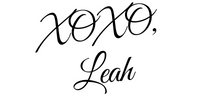 Pin for later: