Are you a traveling parent who is on the hunt for the best backpack for traveling with your toddlers? I'm so excited to tell you all about our family's new favorite travel backpack- the NOMATIC Travel Pack! Our daughter is (almost) 2 years old and is constantly on the move. My husband and I have always preferred to wear backpacks (versus other bag styles) to haul our stuff around, because it is necessary to keep our hands free when we are out-and-about with our daughter. Backpacks are typically easier on our bodies too, as it is more comfortable to disperse the bag weight evenly across our backs, rather than lugging it all around on just one shoulder.
Before I jump in, I just want make it clear that this travel backpack is for adults to carry- not the toddlers themselves. 🙂 We love using this backpack when we travel because it allows us to fit everything we need for a long travel day or day out. It is perfect for families because it has space for it all- and it is comfortable to use! I truly wish that we had come across this travel backpack sooner! It would have been perfect for our family trip to England and Scotland last spring. We cannot wait to take it on all our 2020 family adventures.
We may earn money or products from the companies mentioned in this post. We only recommend products and services that we love!
Although I'm writing this post for families with toddlers, I genuinely believe that this is an excellent backpack for all travelers. It's slim, stylish, and spacious. Its compartments make it so easy to stay organized, and it is water-resistant and durable. So whether you travel solo or with your family, this backpack is likely an excellent choice for you!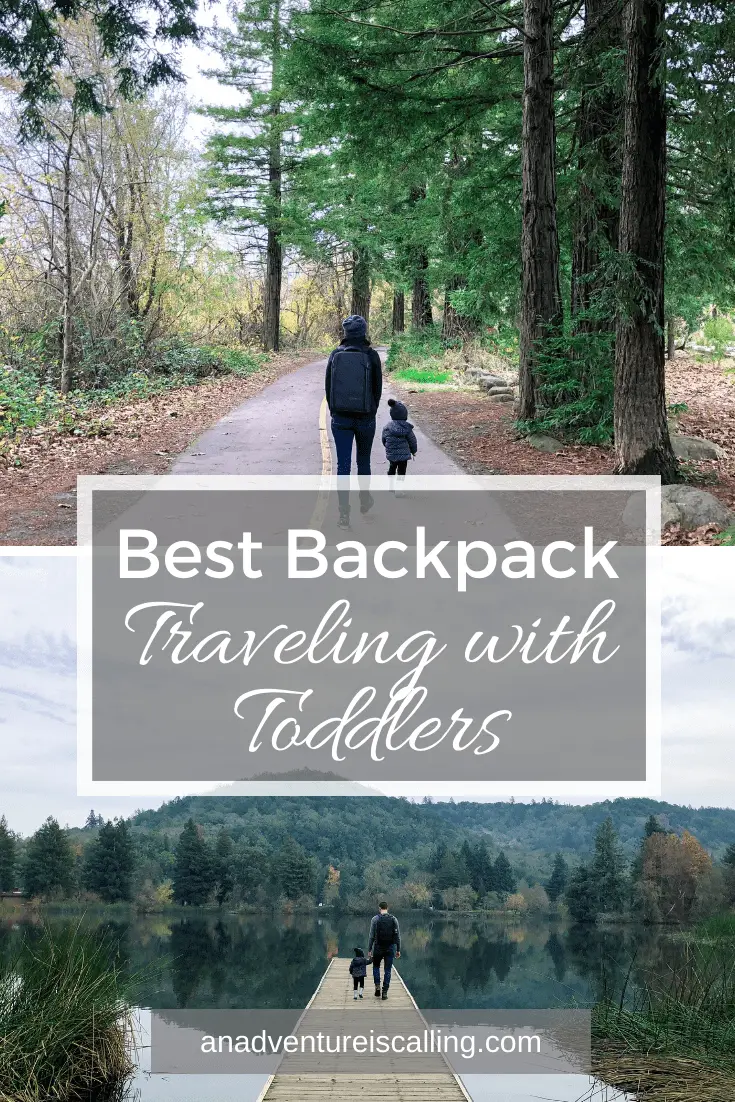 Best Backpack for Traveling with Toddlers + NOMATIC Travel Pack Backpack Review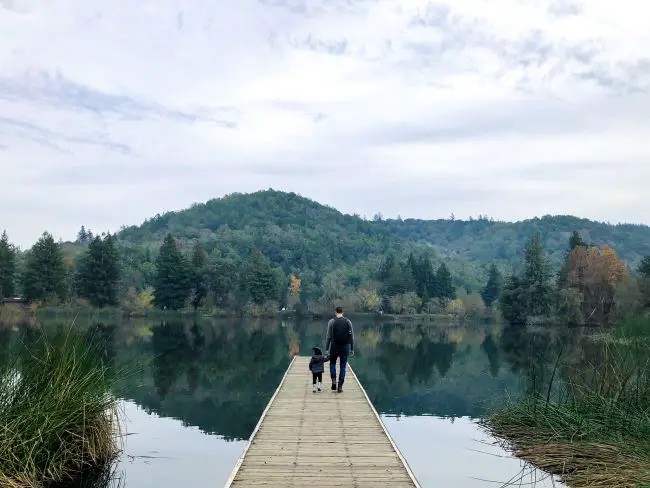 What to Look for in a Travel Backpack
Wondering what you should be looking for in a travel backpack? If you're looking for a backpack to use specifically for travel, you have probably already decided that a typical backpack will not cut it. Sure, a regular backpack can fit a few of your necessities, but will it fit everything you need? When we are out exploring as a family, it's our goal to fit everything we need into just one bag. We refuse to carry multiple bags with us on any given day, so it's important that it's comfortable for both me and my husband- so we can swap the backpack back and forth.
Here is a list of criteria that is important to us (spoiler alert: the NOMATIC Travel Pack Backpack fits our criteria perfectly!):
Comfort! Like I said, backpacks needs to be comfortable for both me and my husband. Since we only ever bring one bag with us on any given day, it needs to be comfortable for both of us.
Slim & stylish! My husband and I both have a preference for slim backpacks. They look stylish! In the past, we've always sought out styles that wouldn't be bulky on our backs and wouldn't weight us down (who wants to feel like they're fighting gravity all day?!). Unfortunately, this often meant that we wound up with backpacks that didn't fit enough stuff for travel days. Once we had our baby, we realized we needed to be practical.
Functional (but still minimal)! Arguably the most important point- backpacks need to be functional. So many backpacks aren't functional at all when it comes to size, layout, organizational compartments, etc….And if they are functional, they often aren't minimal. Thankfully, our new favorite backpack is both!
Carry-On Sized! Most travel backpacks will be carry-on sized and most will fit under the seat in front of you on an airplane (with the exception of large, traditional backpacking bags). However, you should definitely keep airline carry-on dimension regulations in mind when purchasing a travel backpack, because you wouldn't want to count on your backpack for a long travel day and wind up disappointed!
You might also be interested in: The Best Carry-On for Families
Why the NOMATIC Travel Pack is Perfect for Families with Toddlers!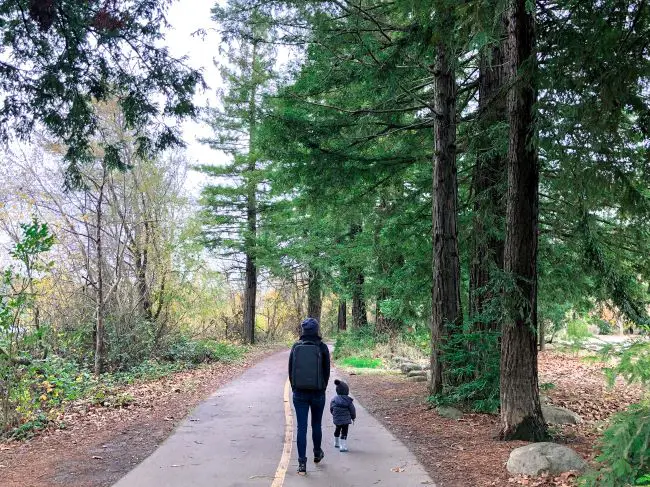 I mentioned this earlier in my post, and I'll mention it one more time: I genuinely believe that this is an excellent backpack for all travelers. As a family travel blogger and traveling mama of a toddler, I'm writing to my biggest audience, but don't be scared off if you don't have toddlers!
I also already mentioned that the NOMATIC Travel Pack meets the our criteria for a travel backpack. It's comfortable, slim, stylish, functional, minimal, and carry-on sized. So let's get into why I think it is great for families who travel with toddlers.
It has space for everything. It is 20L (without feeling bulky at all) but expands to 30L. Isn't that awesome? It's as simple as un-zipping, and before you know it, the backpack is way bigger.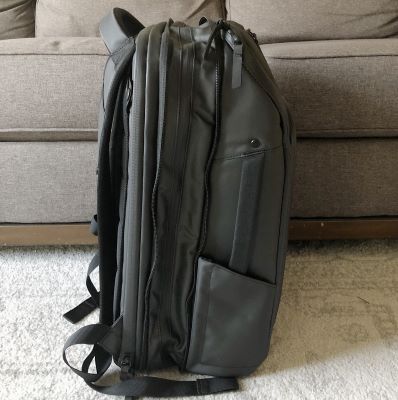 Our toddler was recently potty trained, and her travel potty can easily fit inside the large compartment with a lot of space to spare. There is also plenty of space for diapers and/or pull-ups and wipes, toys, clothes, snacks, etc.!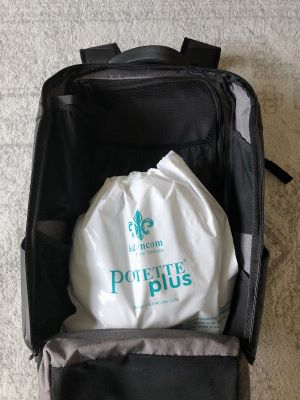 It has organizational compartments for everything. There are so many zippered pouches, mesh pockets, and more. The outside water bottle holders are magnetic, so your stainless steel bottles will stay in place, and the pockets will snap itself back into place when you aren't using them. It'll fit your laptop (in another zippered compartment that isn't shown in the photo above), of course, plus everything else you and your family will need. Oh, it even has a shoe compartment!
It is easy to find everything. Let me explain- the backpack has full perimeter zippers, so you can open up your backpack completely. No need to dig around in a deep backpack for lost items- simply unzip the whole backpack if you need to!
It is durable and water-resistant. This backpack is tough, and it's obviously when you get your hands on it. I cannot imagine it ever tearing or falling apart, even with heavy use, but if something breaks, contact them! NOMATIC has a lifetime warranty (you can read more about their policy here). It's also water-resistant, which we love because we love exploring in all types of weather (and it is nice to not have to worry about toddler-spills!).
It helps keep your stuff safe. It has hidden pockets and a RFID Safe Pocket. Awesome, especially for traveling to major cities.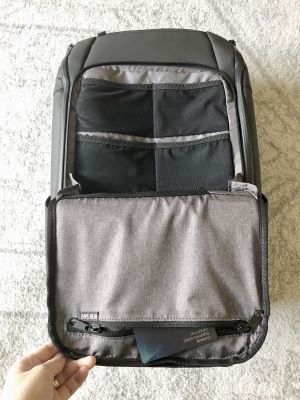 I am all about making mom-life easier, especially when we travel. This backpack helps me stay hands-free, holds everything I need, and has features that just make using it a breeze! I love that this backpack is 100% dad/husband-approved too!
There is a lot more to this travel backpack, so be sure to read more about it online if you think this will fit your family's needs. There are so many features!
Important note: Travel backpacks are different than traditional backpacks, as they should be. If you're looking for a standard, everyday backpack, then a "travel backpack" may be more than you need. It might be heavier than expected (even if it is considered lightweight by travel backpack standards), and it might just have too much room inside. As much as I love our NOMATIC Travel Pack, I wouldn't recommend it for someone looking for something small/compact for their everyday use. I do recommend this for daily use, however, if you have quite a bit to carry with you. It really just depends on your individual or family needs!
You might also be interested in: Minimalist Carry-On Luggage
Where to Buy NOMATIC Products
Think this is the best travel backpack for you? Yay! I believe that you will love it as much as we do! You can find the NOMATIC Travel Pack Backpack, as well as some other awesome NOMATIC travel backpacks (they have smaller and larger options!) in my Storr (where you can grab free shipping!). You can find them here!

I would love to hear from you! What do you look for in a travel backpack?
Storr provided me with credit to purchase a product of my choice in exchange for an honest review. I selected the NOMATIC Travel Pack. All thoughts and opinions are my own. I love it!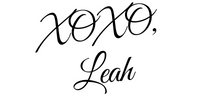 Pin for later: