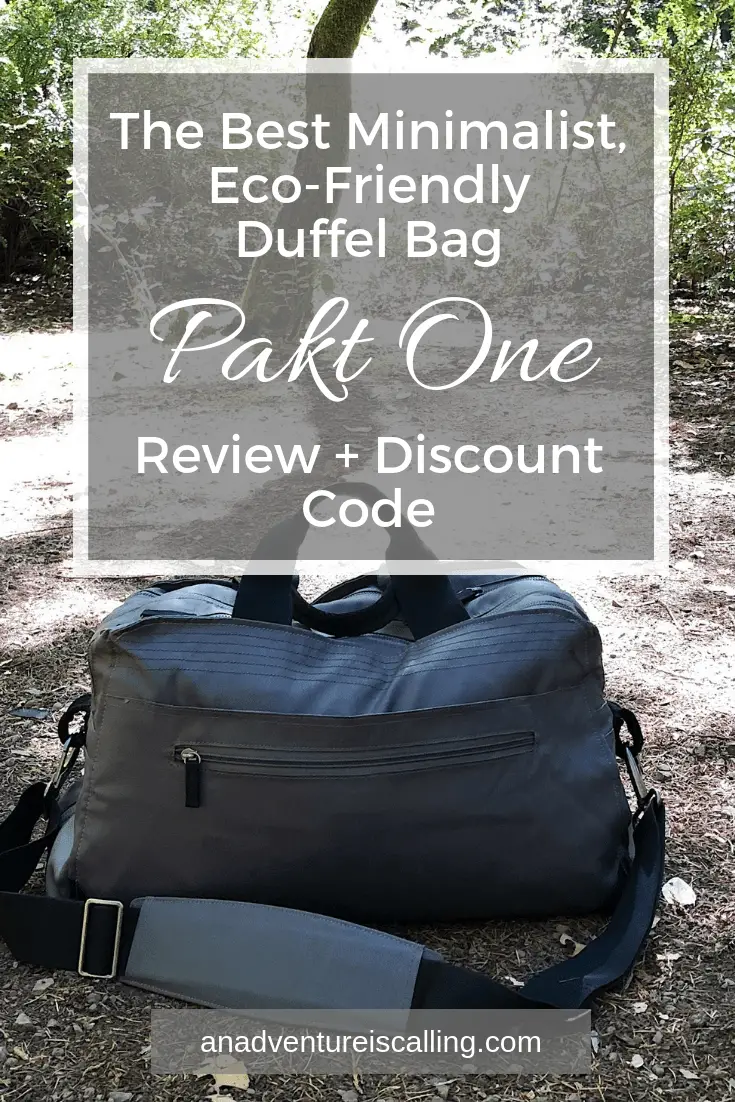 Are you searching for the perfect, minimalist, carry-on duffel bag for travel? Look no further! I'm so excited to share about our new favorite bag with you- the Pakt One! My husband and I are both loving this bag for our family, and I'm excited to share an in-depth review with you!
We may earn money or products from the companies mentioned in this post. We only recommend products and services that we love!
If you have been reading my blog for a while, you might know that we are a family of minimalists. We love the freedom that we have found in minimalism, and finding quality, minimalist, eco-friendly travel gear is always exciting! Awhile back I wrote a blog post on how to pack like a minimalist, and I was encouraged to find that so many people want to start taking a minimalist approach to travel too!
We are a family of 3. Having our first child means we need to travel with more stuff than we used to, but we have found that it is possible to travel minimally with her too! We have taken our new Pakt One bag on two trips so far in last couple of weeks- a one-week trip across the USA (California to Pennsylvania) and a long weekend camping trip in the California Redwoods. It was the perfect bag for both trips, and we look forward to taking it on all of our future adventures!
This bag literally makes me giddy. Keep reading for the details!
Pakt One Minimalist Duffel Bag Review | The Best Carry-On for Families
What Makes it Eco-Friendly?
Before I get into the details of the Pakt One, I wanted to mention that it is entirely eco-friendly. Their bags are only made under safe, legal, and humane working conditions. They are also 100% animal-friendly, use materials with low environmental impact, AND are only shipped in 100% plastic-free packaging. They don't use bubble wrap, plastic bags, air pillows, or styrofoam. They have the SeaHive seal, which means that only use earth-friendly materials to ensure than no extra plastic makes its way into our beautiful oceans. They are also a part of the 1% For the Planet Organization- meaning they donate 1% of all profits to environmental causes each year.
Amazing, right?!
The Incredible, Minimalist Details & Design
The Pakt One is the perfect size, in my opinion! The bag is 20″/50.8 cm (length) by 10″/25.4 cm (width) by 11″/27.9 cm (height). When empty, it weights just 3.25 lbs! It has a 35 liter capacity- which is incredible! My husband and I keep joking that it is like Mary Poppins' bag- it doesn't look big, but it never seems to fill up.
The bag itself is incredibly well-made. The quality was obvious from the moment I opened up the package. The material and zippers/hardware all felt durable. The handles and shoulder strap were comfortable to carry- even when the bag was very full.
There are also no external labels, which we love! It is very apparent that a lot of thought went into every detail of this duffel.
You might also be interested in: How to Pack like a Minimalist
How It Is Different From Other Duffel Bags
To be honest, I've never been a fan of traditional duffel bags. I never cared for their big, open spaces. I never could stay organized (which is a must for me). The Pakt One bag is so different! There are so many well-thought-out pockets and pouches. Staying organized has never been easier (and I'm not just saying that)!
This bag has two large interior pockets, four interior mesh pockets, a padded internal laptop compartment, a zippered laundry bag, accessory loops, and several exterior pockets (including a helpful zippered TSA pouch for storing the items you'll need to grab quickly at airport security). There are several little pockets inside the other pockets, so staying organized is a piece of cake! It's comfortable to carry, so we didn't mind having it with us at the airport and during layovers. Here are a few photos of our Pakt bag hanging out in the Nursing Room at Pittsburgh International Airport!
You might also be interested in: Souvenir Ideas for Minimalists
Why It Is Perfect for Traveling Families
I have already mentioned that the Pakt One is a great carry-on, so you don't need to worry about checking it- ever. But it gets even better! It fits under airplane seats, so you can keep it with you at all times. No need to put it in an overhead bin, unless you want to!
It was perfect for us on our recent flight across the USA. We were able to store everything we needed for our flight in this one single bag. It held our traditional diaper bag items (diapers, wipes, extra changes of clothes for our daughter, etc.), tons of snacks, our water bottles, a laptop, and airplane activities for our toddler. Because the zippers are all top-access, we had no issues getting to everything we needed during our long flights.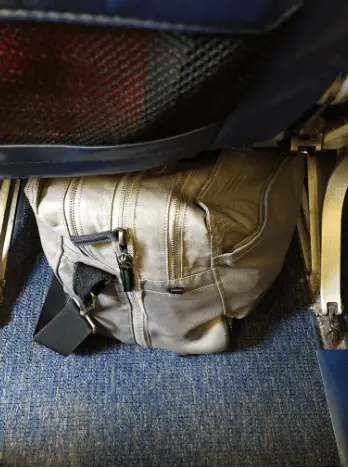 On our recent camping trip, we decided to use our Pakt One for our toddler. We were able to fit all of her clothes (including a few bulky items that she needed to stay warm at night), diapers and wipes, a few small toiletry items, and a few books and toys. We had a lot of room to spare.
Cleaning the bag is simple too. Use a damp cloth for the little spills or a mild detergent for the tougher jobs. You can also machine wash it in cold water on occasion. It is recommended that you don't do this often, but it is nice to have the option (because messes happen)!
Grab a 15% Off Code to Purchase Your Own!
At the beginning of this post, I said this bag made me giddy. I'm not kidding… I LOVE it! My husband does too! We are planning on taking it on our future adventures- big and small. We love that we know it will last for a long time. Unlike other traditional duffel bags that seem to rip and break after a few years, we can tell that this bag was made to last. And that is part of Pakt's mission- to keep things minimal and environmentally friendly. Buying a bag that won't last just doesn't make sense for minimalist travelers.
While this bag isn't cheap, it is amazing quality, and something that is worth investing in, if you're able to. I'm certain that you'll love your bag as much as we do, but Pakt does have a 100% satisfaction guarantee if you aren't happy.
You can purchase your Pakt One bag online- use this link and the code "ANADVENTUREISCALLING" at checkout to receive 15% off!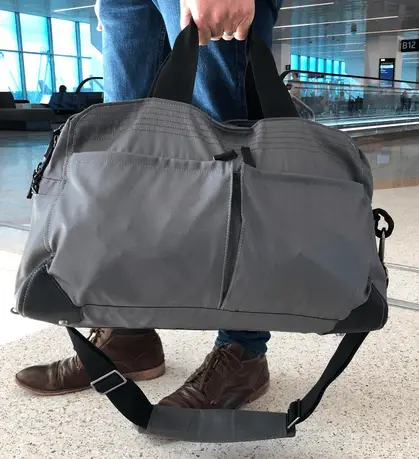 I hope you love your own Pakt One bag just as much as we do! It's the perfect bag for minimalists, traveling families, and those who want to to seek out quality, eco-friendly travel gear. I would love to hear your thoughts! Where would you like to travel with your Pakt One bag?
Pakt provided our family with a Pakt One bag for review. All thoughts and opinions are my own. I genuinely love it!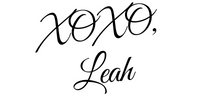 Pin for later: