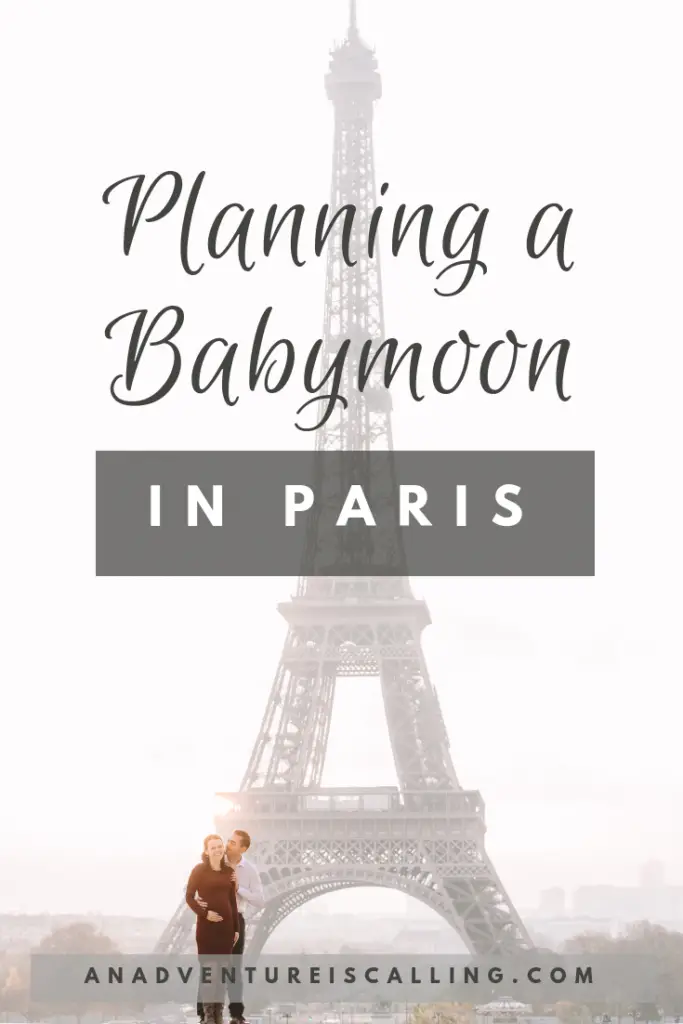 We may earn money or products from the companies mentioned in this post. We only recommend products and services that we love!
Our babymoon in Paris was amazing. It was a wonderful trip filled with beautiful memories. My husband and I knew we wanted to go on a babymoon (I love this trend!) and were open to various destinations. We had just gotten back from Kauai, which we loved, but decided to go with a location that wasn't tropical. We were just looking for variety! We knew we wanted to leave the USA, and we needed to travel in November (I was teaching full-time and had 10 days off over Thanksgiving). We thought we had settled on going somewhere in Canada, but on a whim, I looked up flights to Paris. We were ecstatic when we realized we could fly to Paris for less than we could fly to Canada, so we jumped on the opportunity! (We did wind up spending 24 hours in Toronto after all. It wasn't planned but we made the most of it!)
I'm excited to share some words of advice for those of you who are planning your own babymoon in Paris!
Planning a Babymoon in Paris
The trip there and back : Airplanes!
The airplane trip… this was the part of the trip that worried me the most. Unlike most women, my pregnancy-related sickness did not go away after my first trimester. As our trip approached, I grew more and more concerned about the trip to Paris, but we figured that if I was going to be sick, I might as well be sick in Paris! I did a ton of research on flying while pregnant so that I could be as prepared as possible.
We booked regular economy seats, so I called the airlines (we flew two different airlines) about one week before our trip to let them know that I was pregnant and would need an aisle seat.  One airline was more accommodating than the other, but I was able to secure an aisle seat for me and a middle seat for my husband next to me on all four flights (shout-out to United, who also upgraded us to bulkhead seats for no extra charge!).
Even if you choose not to call ahead, let the airline attendant know that you are expecting when you check in at the airport. They will give you pre-check so you do not have to wait in the crowded line to board the aircraft.

If you're in your second or third trimester, you might need a letter from your doctor or midwife giving you permission to fly. Each airline is different, so do your research ahead of time to make sure you're prepared. I brought a couple copies of my letter, even though I was only 26 weeks pregnant. I did not need them but was glad I had them, just in case.
If you want, you can let the flight attendants know that you're expecting. I chose not to do this, but they all noticed (I had a bump!). A lot of women choose to do this so that they won't get in trouble if they get up when the seat belt signs are on, etc. At one point, I did have to ask for extra sickness bags (ugh). I've heard that they will often offer extra snacks and bottled water to pregnant women.
Wear compression socks! I've tried a few, and these ones are by far my favorite. They were comfortable and worked perfectly. Make sure you get up often and walk around. My midwife recommended walking around every 1-2 hours. Make sure that you stay hydrated. Bring plenty of water and drink it often. I took my favorite Hydroflask and filled it up with filtered water before boarding the place (most airports have a free place to do this now). Bring your favorite snacks to enjoy on the plane, even if a meal is provided (it might not sound good to you). Wear Sea Bands to help with nausea.

Sleeping on airplanes isn't very comfortable, so I brought a neck pillow (I love this one that deflates and doesn't take up space in my carry-on) and wore a comfortable sweater that doubled as a blanket. Most airlines also provide small blankets and pillows on international flights.
You might also be interested in: 5 Days in Paris: A Perfect, Relaxing Itinerary
Home away from home : Hotels and Airbnbs
We stayed at both a luxury hotel and a quaint Airbnb. We liked both for different reasons (I share the pros and cons below).
We spent the first three nights of our trip at the Park Hyatt Paris-Vendôme, which is a short walk from the Place Vendôme square. It was beautiful and comfortable. The hotel staff members were incredible and offered us a little gift of local juice and chocolates in celebration of our baby.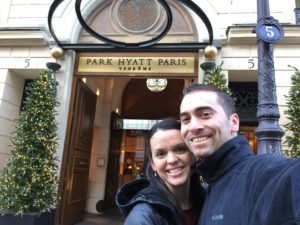 Pros: It was beautiful and comfortable. Although pricey, the breakfast at the hotel was delicious and convenient. The location was gorgeous and decked out for Christmas. We were able to grab taxis easily and were a short walk from the metro station.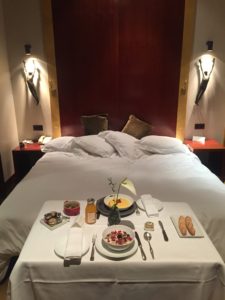 Cons: I wasn't able to prepare any of my own meals (which is to be expected in a hotel, of course), which proved to be difficult because I had such terrible morning sickness (really…all-day sickness). I also have food allergies, so having a kitchen is often a must for me. I did my research ahead of time and knew that the hotel didn't have a mini fridge, etc., so I packed plenty of snacks that I could keep in my room. Most breakfast restaurants do not open early (unless you are able to eat at a bakery- which is a fun, local option), and with the jet lag, I woke up really early in the morning. The food issue was really the only con that made me look forward to moving over to our Airbnb.
Overall, we loved stay at the Park Hyatt Paris-Vendôme , and I would highly recommend it. Here are a few other highly rated hotels in Paris with various price points:
If you would like to stay in another hotel, I highly recommend looking into Booking.com's options in Paris. They have an amazing assortment of hotels in various areas of Paris, and they offer incredible deals!
We highly recommend the
For the second half of our trip, we spent four nights at an Airbnb near the Eiffel Tower. It was a one bedroom flat with a kitchen on a quiet little street. While the hotel was amazing, we felt like we got to experience a little bit more of traditional Parisian culture during our stay here.
Pros: We had our own kitchen! We still ate out often, but we were able to shop and cook several of our own meals. This is typically great for saving money and traveling with food allergies, but I was especially thankful for this option since I had all kinds of pregnancy food aversions and cravings.  We had a beautiful view of the Eiffel Tower (notice it out our window in the photo below). Like the hotel, it was just a short walk away from the metro station. There was a little local grocery store across the street.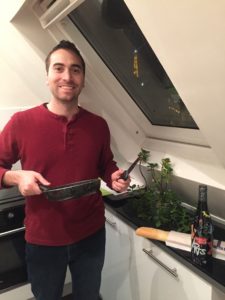 Cons: The bed wasn't very comfortable. I would usually just ignore it, but it was hard to do while I was pregnant. I had a difficult time sleeping and missed the extra pillows that were offered at the hotel (our Airbnb offered two). This wasn't the Airbnb host's fault by any means, and I would happily rent that same flat again. The flat was also on the 6th floor (for those of you from the USA, that's what we would call the 7th floor). I knew this when I booked it, and it turned out to be ok, but some might prefer to look for a hotel option with an elevator if they are worried about their tired, pregnant feet.
If you're interested in staying at the same Airbnb, you can find the listing here. Are a few other fun, private Airbnb options in Paris:
You might also be interested in: 10 Restaurants to Eat Gluten-Free in Paris
The itinerary : Planning your adventures

My biggest piece of advice for planning your babymoon in Paris (or really…anywhere!) would be to take it easy. You can take a look at our Paris itinerary here. If you are like most pregnant women, you will feel more tired than you typically do. We did a lot in Paris, but we did not push ourselves as much as we typically do. We planned a couple of big destinations each day, but stayed flexible and moved things around on our schedule as needed. We slept in some mornings and cut our days short a few times to relax in our hotel room. We enjoyed walking through beautiful Parisian streets at our leisure and sat down on benches for extended periods of time when I needed a break.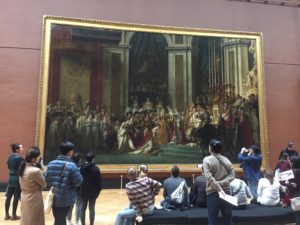 We enjoyed warming up and resting our feet at the cafés- usually with a hot chocolate for me and an espresso for my husband (the café photo below was taken by Kirill from Flytographer). We were flexible and enjoyed every minute of it.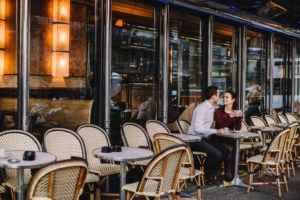 You might also be interested in: 3 Reasons to Visit Paris in the Fall (and 3 Things to Keep in Mind)
Getting around : Transportation within Paris
Getting around in Paris is easy. Some like to walk the entire city, which wasn't the best option for me and my sore, pregnant body. We did our fair share of walking but rode the metro a majority of the time and took a few taxis and Ubers. Because we were there in November, Paris' off- season, the metros were not crowded during most times of day. They were comfortable, and I was usually able to sit down if I needed to rest (and if seats were filled, passengers often offered me their seats when they noticed my bump).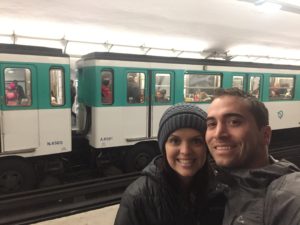 Taking taxis from our hotel was easy with the staff's help. Once we were at our Airbnb, we usually opted for Uber, since it was easy for us to arrange. We had really great drivers in both situations. Our taxi driver gave us a little history lesson on the tragic death of Princess Diana on the way to our early morning photoshoot at the Trocadéro (as we drove the route she took), and our Uber driver entertained us with a Michael Jackson dance party on the way to Charles de Gaulle airport on our last morning.
You might also be interested in: Maternity Photo Shoot in Paris: Flytographer Review + Coupon Code
Dressing for the season : Cold? Hot?
Since we traveled to Paris in November, it was nice and cool. While this might drive some people away, it was perfect for us. I was 26 weeks pregnant (and sick every day), so I would not have done well in a sweaty, warm climate. I managed to (barely) squeeze into my winter jacket, which I had purchased earlier in the year for a trip to D.C., and I felt great the entire trip. I usually wore 2-3 layers on top, pants or jeans on the bottom, and boots. I wore a warm hat or headband a few times.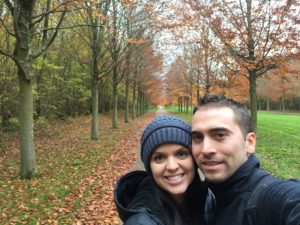 I made the mistake of planning to wear a short dress and heels to our maternity photo shoot with bare legs at 8:30am (it was 36 F!). I realized the night before that I just wouldn't be able to do it. So my husband and I went looking for a pair of maternity tights but didn't have much luck finding maternity clothes in the stores. I was able to buy a pair of knee-high leggings at Monoprix and wore a pair of boots instead of heels (the photo below was taken by Kirill from Flytographer).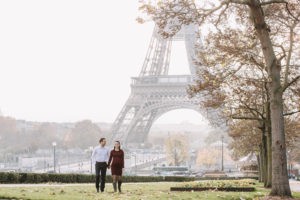 Capturing your memories : Amazing maternity photoshoot opportunities
If you do decide to enjoy a babymoon in Paris (or any other beautiful location), I highly recommend taking advantage of the amazing views and book a maternity photoshoot. You will not regret it! I blogged about our experience with Flytographer here. Flytographer is a company that helps you arrange photoshoots around the world with local photographers. You can read about the 15 reasons why I think you should book your photoshoot through Flytographer here. They are really easy to work with, and we loved our experience. You can use my referral link to receive $50 off your first photoshoot (and I'll receive $50 too). You do not have to book right away. You can sign-up for an account through my link, and your credit will be waiting for you whenever you are ready. It's a great deal!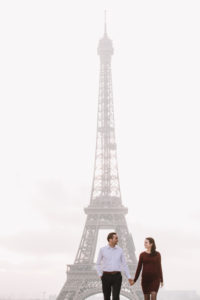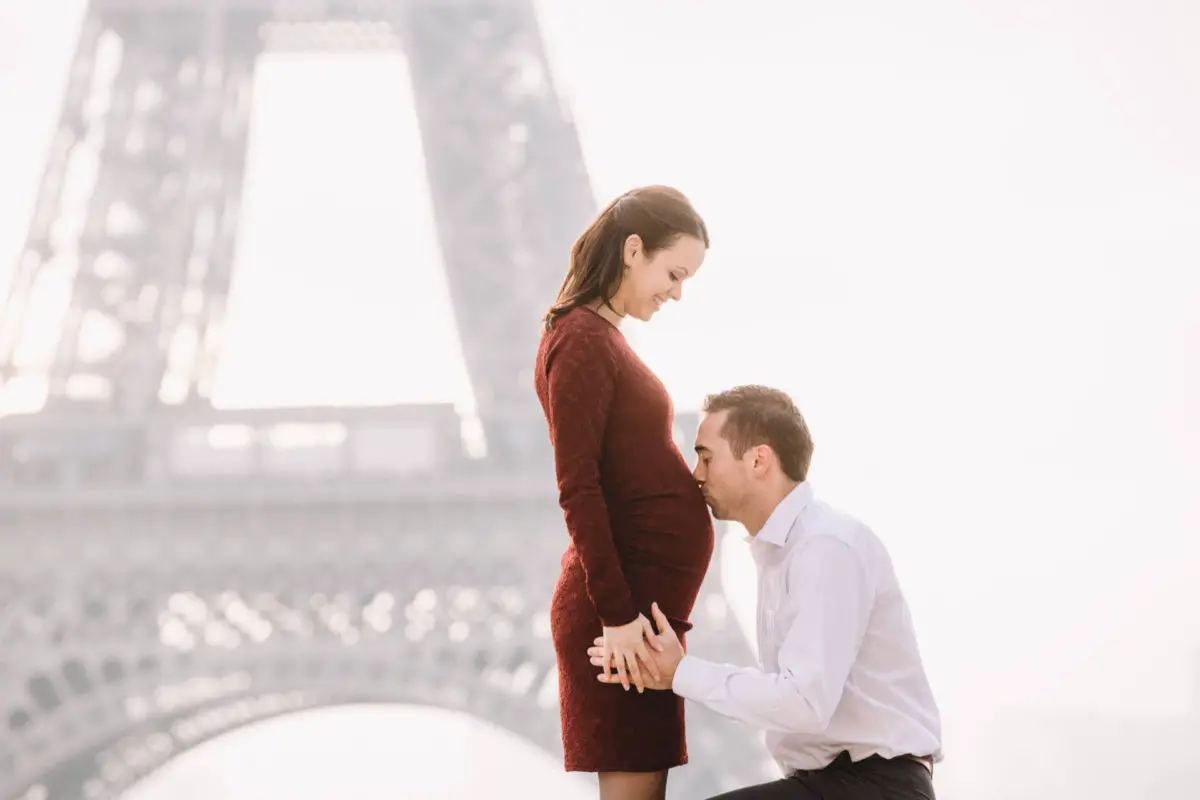 Whether you choose to book through Flytographer or someone else, I recommend that you find a way to capture these special memories with your bump. If you do a photo shoot with a photographer, plan to wear an outfit that makes you feel beautiful! I packed my outfit in my carry-on because I had worried that our luggage would get lost and that I wouldn't be able to find a replacement outfit that fit my bump. Our luggage did not get lost, but it was worth it for my peace of mind.
You might also be interested in: 15 Reasons to Book a Photo Shoot with Flytographer on Your Next Vacation: Review + A Discount Coupon Code
Update: Our beautiful daughter has joined our family! We used Flytographer again when we took her on her first international adventure. You can read about our family photo shoot in Edinburgh here!
I hope these tips are helpful to you as you plan your own dream babymoon. Regardless of where you decide to go (may it be across the world or in your own little city), enjoy the journey.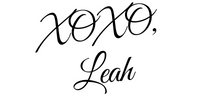 Pin for later: