It is hard to believe that the holidays are right around the corner already! Shopping for the travelers in your life might seem difficult, especially if they seem to always be on the go. Gift guides can be helpful for finding the perfect gifts, so I'm excited to share several ideas for personalized gifts for travelers that were chosen with love and care. Travel-themed ornaments, travel notebooks, luggage tags, passport covers, and home decor maps make great gifts for travelers during the Christmas season and throughout the year. These unique, personalized gifts for both him and her can all be purchased on Etsy, my favorite go-to source for beautiful, handmade, creative, and thoughtful gifts.
We may earn money or products from the companies mentioned in this post. We only recommend products and services that we love!
Personalized Gifts for Travelers
Travel-Themed Ornaments
Ornaments are our family's favorite travel souvenirs. We try to pick one up each time we go on a major trip, and we love decorating our Christmas tree with them each year. They always stir up amazing travel memories and bring us joy as we decorate for Christmas. Here are a few beautiful ornaments that travelers will adore:
Track a loved one's memorable journey through the USA with this beautiful wooden map ornament. Choose customizable options, including destination markers. Track road trips, significant moves, or annual travels on one single ornament. Image: BLOCKSetc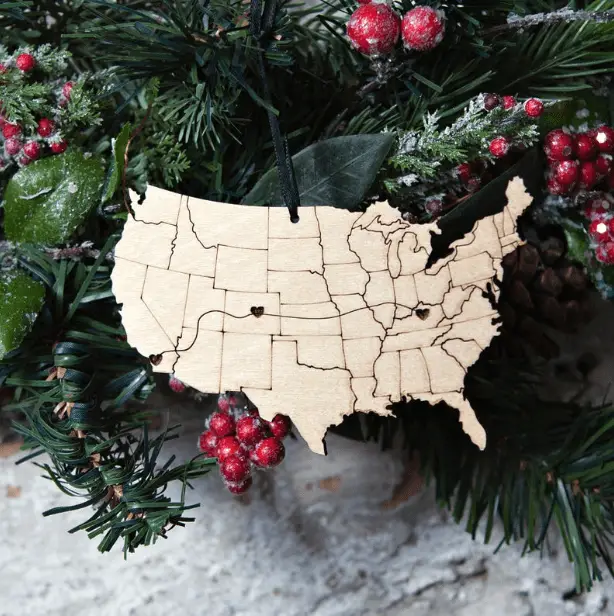 Personalize this adorable little suitcase ornament with your favorite traveler's name and travel dates. This ornament makes a particularly great gift for student's embarking on a grand adventure overseas, families taking a gap year, or any other traveler who will live out of a suitcase for an extended period of time. Image: AdornamentsNY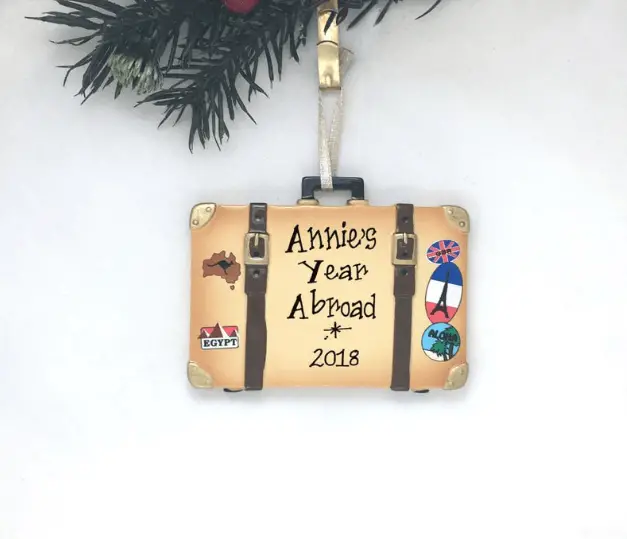 These aluminum ornaments are simple in a beautiful way. The shop offers several country and state options, and you can choose to personalize it with a message up to 8 characters. Consider a country that has left an impression on your loved one during their travels, and customize it with their travel dates. Image: IronMadeArt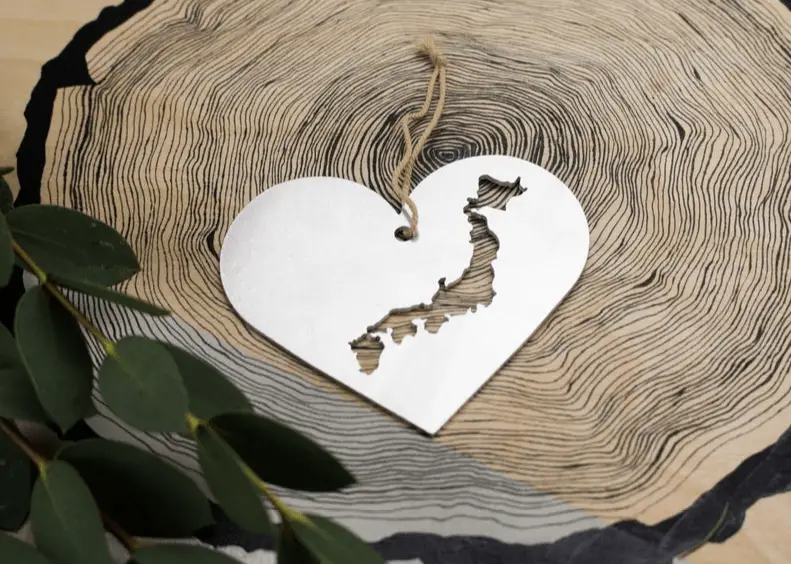 Personalized Travel Notebooks
Travel notebooks are a great way to keep track of memories, funny stories,  itineraries, and lessons learned. My husband always journals for us while we travel, and we are always so thankful to have written notes when we return. Here are a few lovely, customizable options for the travelers in your life:
This wonderful kraft chipboard journal is stylish, sturdy, and the perfect 5×7 size, making it easy to travel with. Customize it with your favorite traveler's name and choose from several notebook paper options. Does your loved one enjoy sketching? Choose a blank paper option. Do they enjoy writing? Choose a lined paper option. It makes a wonderful, sentimental travel gift! Image: TreasuresDelightsEtc
This lovely travel journal comes with a chalkboard cover. How fun is that? Personalize it with your favorite traveler's name and a fun message. If you love the design but don't love the chalkboard cover, choose a traditional white or kraft paper option instead. You can also choose from blank, college-ruled lined, dot grid, or graph paper, making it an excellent choice for travelers who might enjoy sketching over writing. Image: RandomActsofPoetry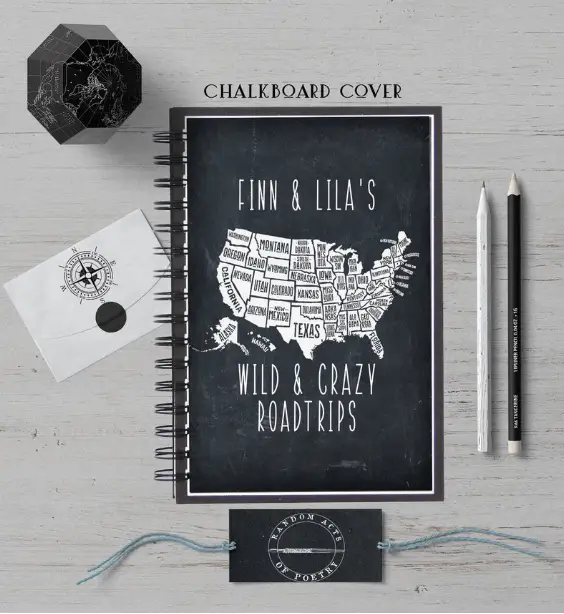 This beautiful, gold foil notebook has a laminated, flexible, soft cover that will hold up on long journeys. Personalize the name and date on the front cover, and allow your favorite traveler to fill the lined pages inside with their travel memories. Image: PoshTottyDesigns
Personalized Luggage Tags
Luggage tags make practical gifts that all frequent travelers will put to use. No one wants to fumble around with those flimsy paper tags that are available at airport check-in counters, and they can rip or fall off easily. Luggage tags do not have to be boring, as proven by these amazing custom-made tags:
These leather luggage tags are perfect for both him and her! Customize it with the traveler's name and address, and choose from several oil-tanned leather color options. I personally love the rustic gray color! The stainless steel cable will ensure that the tag will stay in place when thrown around on conveyor belts. Image: OxAndPine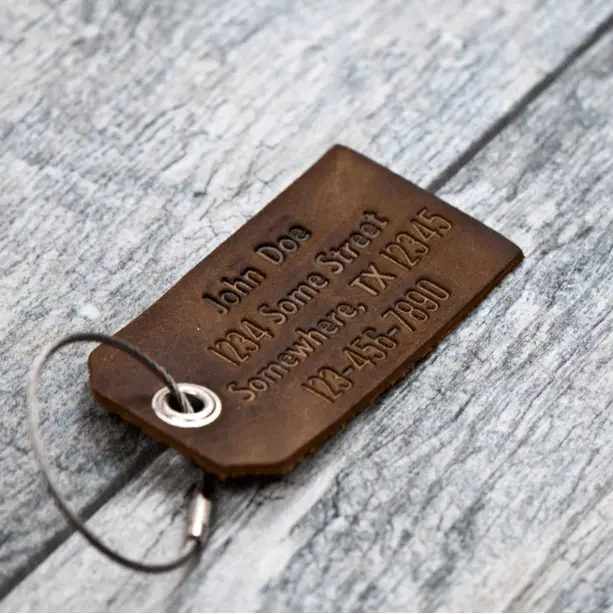 These fun, engraved luggage tags come with several adventure-themed designs and fun color options! Made with sturdy vegan leather, the straps will hold up over time with heavy use. These tags are a great option for travelers who move their permanent resident often or who travel full-time, as the contact information portion of the tag is meant to be filled out by the owner. The other side, however, can be personalized with your favorite traveler's name! Image: CaddyBayCollection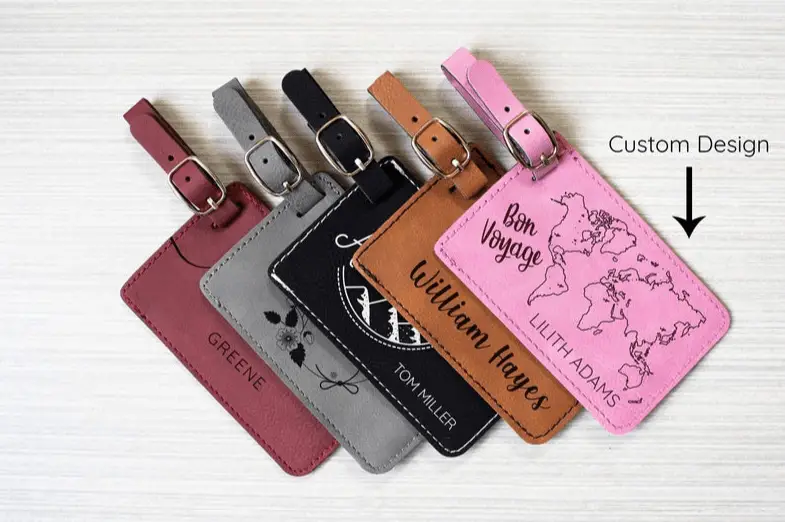 These luggage tags are perfect for adventure-seekers! The bonded leather comes in several colors with several font color options, so you can personalize them with your favorite traveler's favorite colors. They are very affordable and a great option for the entire family, if you would like to order in bulk! Image: LetterandLeather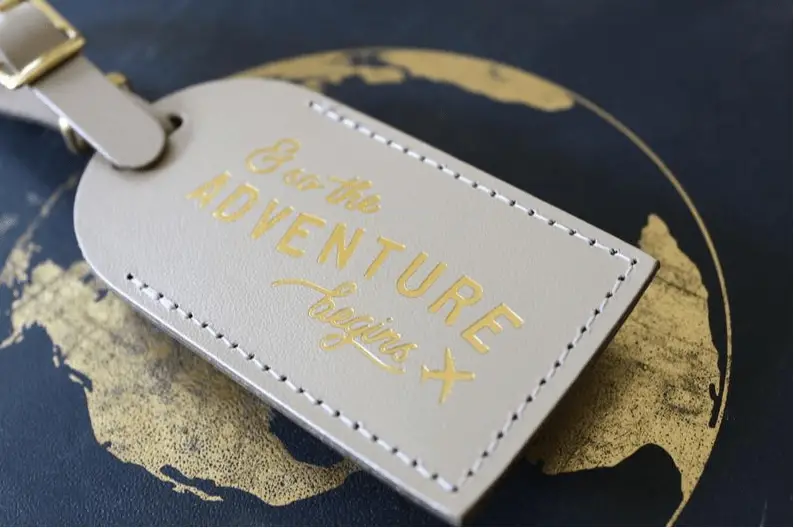 This leather luggage tag can be personalized on both sides! Add a quote under the world map on the front and then add the traveler's contact information on the back. Choose a primary color and font that your favorite traveler will love! Image: JanePersonalized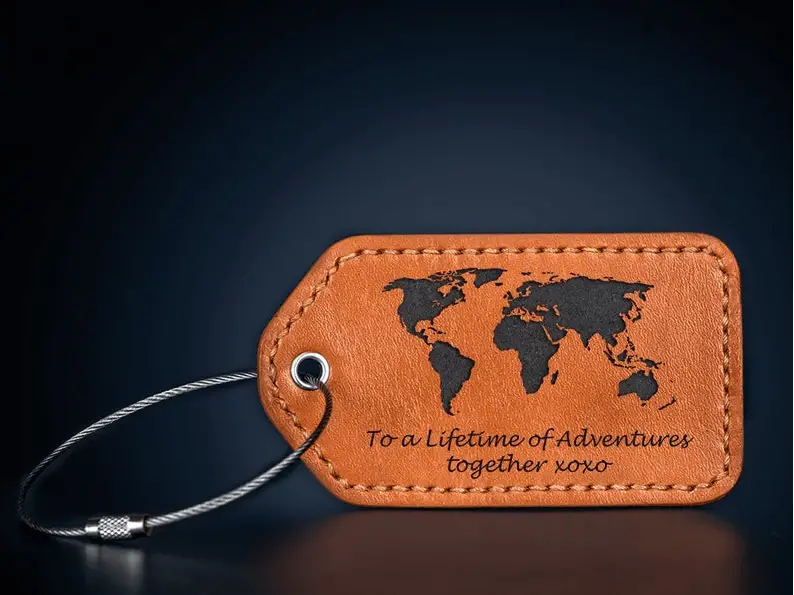 Personalized Passport Covers
Passport covers are a great way to keep passports safe from spills and slight wear and tear. Frequent travelers will appreciate having a cover to keep their beloved passport in during international journeys. Here are a few trendy options that travelers are sure to love:
These lovely faux leather passport covers feature a a fun world map. Personalize the front cover with your favorite traveler's name or initials and choose your font. With over 20 color options, this makes a great gift for a variety of styles! Image: BangkokHandcraft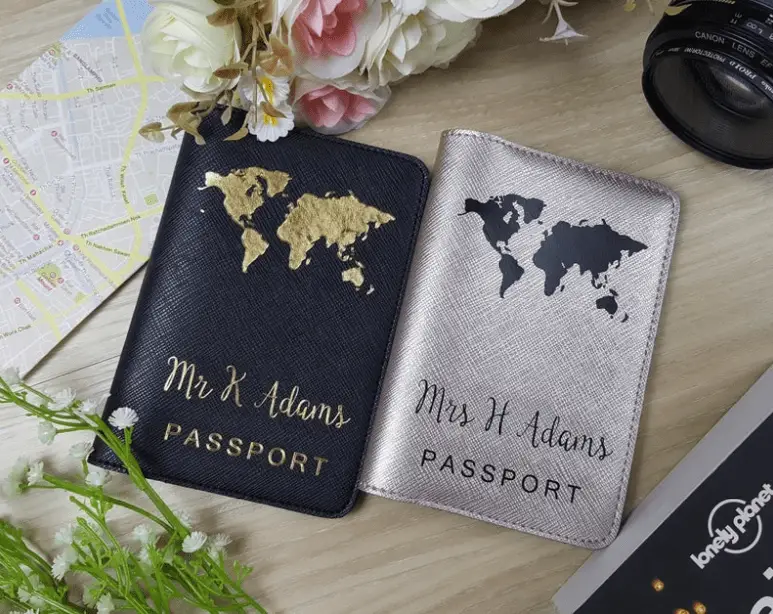 Oh, the Places You'll Go! This passport cover with a sentimental message makes a great gift for wide range of travelers, but I immediately envisioned my daughter's passport inside this one! Personalize the name on the cover and choose from several fun or traditional cover color options. Image: HudsonLace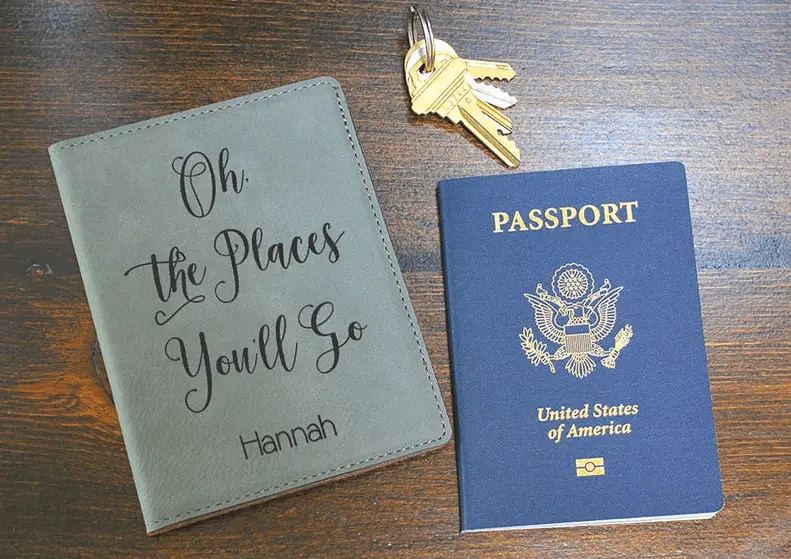 Personalized Home Decor Maps
I'm going to switch gears here for a minute and focus on personalized gifts that travelers can use in their homes. A majority of travelers aren't on the road full-time, so giving them a gift that they can display in their home that will stir up special travel memories and inspiration would be priceless. I am biased as a geography teacher, but I love maps. Here are a few beautiful options will look amazing in any home:
Oh my goodness- isn't this wooden wall map of the world isn't the prettiest thing you that you have ever seen?! Talk about a stunning statement piece. It comes with little push pins so that travelers can mark where they've been. The creators used 6 different shades of wood, and it has a 3D effect. Image: EnjoyTheWood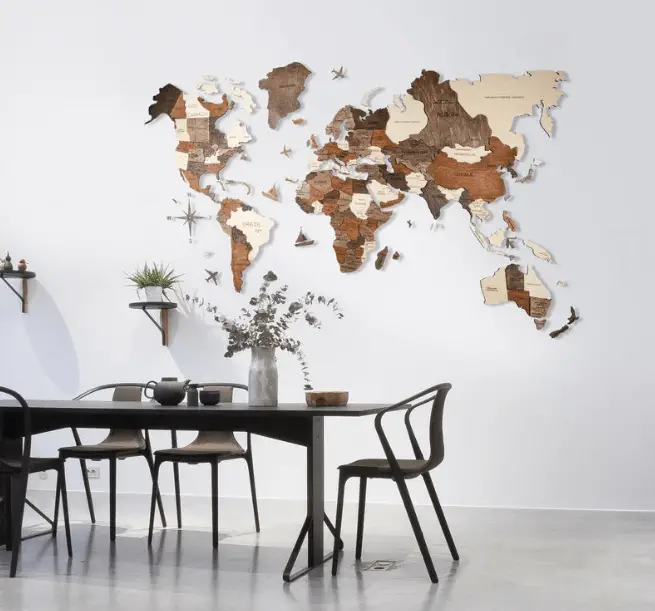 Scratch-off maps have really taken off in popularity over the last few years, and I love how unique this National Parks scratch-off map is. Personalize the title with the traveling family's name and then choose your alignment, font, etc. You can also choose to add-on a beautiful teak wood or vegan leather frame! Image: KUULYS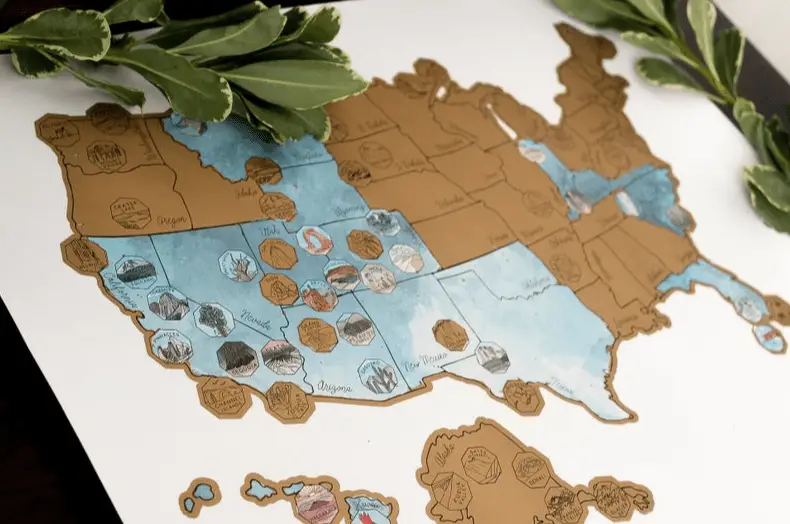 This photo map is on my personal wishlist! Personalize the name at the top of the map and add-on a frame if you would like. Then, the traveler will be able to personalize the map with their own photos as they travel the USA. The creators explain how to personalize this map in a helpful youtube video, making each step of the way a breeze.  Image: ThunderBunnyLabs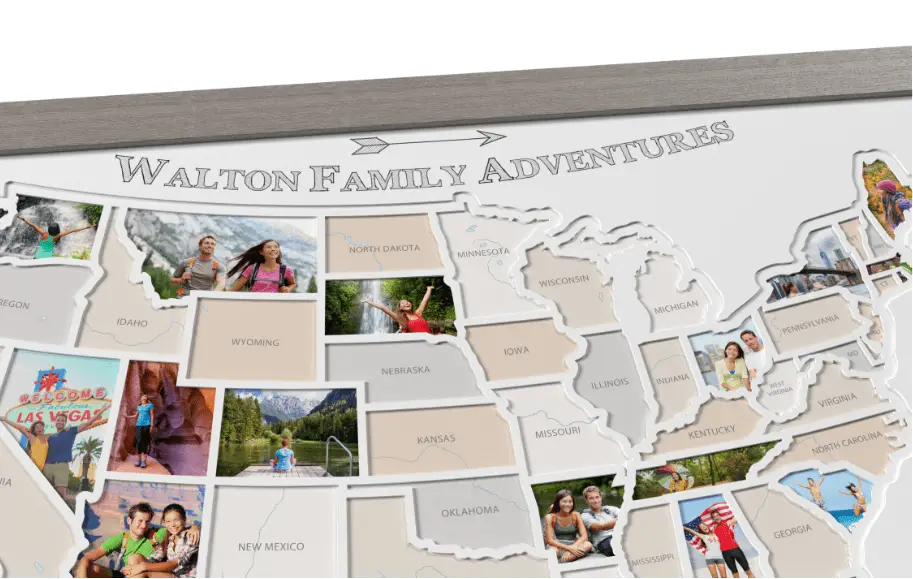 Looking for more personalized gift ideas? Check out Etsy's Personalized Gift Guide for more inspiration!
FTC: All items included in this gift guide were chosen with care! I loved scouring Etsy for my favorite personalized gift ideas for travelers. All images were used with permission from the sellers. When you purchase a gift through a link, I may receive a small commission.
Which personalized gift for travelers is your favorite? What do you plan to purchase for the travelers in your life?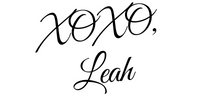 Pin for later: