Looking for stocking stuffers for the travelers in your life? It is hard to believe that the 2019 holidays are right around the corner! In our family, Christmas stockings are a big deal. Every year (since I was six years old), the members of our family have drawn names for stockings.  Our parents thought this would be a fun tradition, and we have loved it from the start. It is so fun to fill a stocking for another family member. We keep it a secret and carefully select fun stocking stuffers  for each other. Now that my sisters and I are grown up, our husbands have joined in the on the fun. We love exchanging stockings so much that we decided to forego traditional Christmas gift exchanges a few years ago (yay for minimalism!), and we now only exchange stockings among the adults in our family.
We may earn money or products from the companies mentioned in this post. We only recommend products and services that we love!
I'm excited to share several socking stuffers for travelers. I'm including stocking stuffers under $25 and stocking stuffers for traveling babies, toddlers, and kids. You can find my other gift guides for travelers here!
2019 Stocking Stuffers for Travelers
Stocking Stuffers for Travelers Under $25
1. Inflatable Neck Pillow–  Most neck pillows are bulky, and it took me years to finally use one because I did not want to have to deal with lugging it around and having it take up space when I wasn't using it. We found these neck pillows and were pleasantly surprised by how small they pack down and how comfortable they are to use on long flights.
2. Packing Cubes – Every traveler needs packing cubes! There are several options out there, and these ones are under $25. They are great for keeping luggage well organized and consolidated.
3. Universal Power Adapter – Power adapters are a must when traveling internationally. Universal power adapters are a nice, minimalist option for those who do not want to collect multiple adapters every time they travel. These are especially nice when traveling to multiple countries in one trip.
4. Silicone Travel Bottles – Reusable travel bottles are a must, and I love these silicone bottles. They have held up for years and have never leaked.
5. Cooling Eye Mask – Eye masks are great for long flights or sleeping in new situations (like hostels or city rooms without shades). These eye masks can be thrown in the fridge for a nice cooling effect, which is great for headaches.
6. Bluetooth Headphones – Headphones are a must for traveling- even if you just use them to listen to music and watch movies on the plane. These are nice because they use bluetooth technology, are noise-cancelling, and are water-resistant.
7. Lifestraw – We love our Lifestraw! It's a personal water filter that is especially great for campers, hikers, and backpackers. It can also be used for traveling anywhere where clean water might be difficult to find.
8. Portable Phone Charger/Battery Pack – This is a must-have, in my opinion. Portable phone chargers (or battery packs) are necessary for making sure you don't get stuck with a useless cell phone while you're out exploring.
9. Quality Notebook – Notebooks are great for keep notes while traveling and so much more. If a traveler carries a notebook, it needs to be small. These Moleskine notebooks are sleek, simple, and a great size (3.5 x 5.5).
10. Crumpled City Map – I love the idea behind crumpled city maps. It is always a good idea to travel with a physical map, just in case your technology fails you (my husband prefers the paper map route anyway). These maps are made to be crumpled, so travelers don't need to be bothered with nicely folding up the maps in between uses. If you're buying this for a loved one, consider their next vacation and buy them a map that they can put to good use.
11. Travel Scarf with a Hidden Pocket – Scarfs are great for traveling, especially in cool weather. These scarfs have a hidden zippered pocket that can fit a phone and other small items. There are several print and solid color options.
12. Travel Wallet – Travel wallets hold everything- your passport, cards, money, boarding passes, etc. This one also has space for your phone, so you can keep everything together.
13. Rick Steves Guides – We love Rick Steves travel guides. He gives such great insider information, so whether a traveler wants to browse his recommendations before their trip or take the entire book along with them (they won't be the only one carrying it around!), these make great gifts. Consider your loved one's next big trip and buy them a guide that will be helpful to them.
14. Portable Luggage Scale – Airlines have a maximum luggage weight limit, so this portable luggage scale is great for checking the weight of those bags before heading to the airport. Nobody wants to be opening their luggage up at the airport to see what can be thrown away, and nobody wants to pay the extra fees either. This one is compact and easy to use.
15. Memory Card Carrying Case – Every traveling photographer needs a way to safely store their beloved memory cards. This memory card carrying case has 22 card compartments.
16. Lightweight, Quick Drying Towel – Microfiber towels are excellent for traveling. They are lightweight and quick drying. They are very compact, so they won't take up a lot of space in your luggage. We have found that these towels are helpful for staying in hostels and other accommodations where the linen situation isn't clear. We also take them camping and backpacking.
17. Lightweight Travel Utensils – Whether you're camping for several nights, hiking for the day, or bunking in a hostel, these lightweight travel utensils are easy to carry, simple to clean, and better for the environment than disposable options.
18. Travel French Press – Travel french presses make it easy for travelers to enjoy their coffee on the go. There are several options out there, but this one is a decent price and makes enough for two.
19. Locking Carabiner Keychain – These carabiners can be used to hold your luggage/backpack closed while out and about, which adds a bit of security to your adventures. They are inexpensive and come in a pack of 5.
20. Luggage Tags – Luggage tags make great gifts for frequent travelers. No more dealing with the filling out the disposable tags while in line at the airport.
21. Travel Cosmetic/Toiletry Case – Cosmetic and toiletry cases are a must-have, whether a traveler is taking only the essentials or their entire make-up collection. This bag has multiple compartments and is water-proof.
22. Luggage Lock – It is wise to travel with a lock, especially if you're staying in shared accommodations like hostels or room shares. These locks have a retractable cable and can be used both indoors and outdoors.
23. Water Bottle – Hydroflask water bottles are stainless steel and will keep liquids cold for 24 hours and hot for 6 hours. They are great for all kinds of travel and are perfect for people who avoid plastic. The smaller sizes (12 oz) are under $25.
24. Dry Bag for Cell Phones – I am a fan of dry bags and use them for several purposes, and this one is perfect for keeping cell phones dry. I use mine on hikes that involve water and when I kayak. I've also used it on catamaran tours, whale watching excursions, and more.
25. Wine Bag Protectors – I live in Sonoma County (wine country!), and these wine bag protectors are great for travelers who want to take local bottles of wine home. They come in a pack of 12 with an inflatable air pump.
You might also be interested in: Personalized Gifts for Travelers
Stocking Stuffers for Traveling Babies & Toddlers Under $25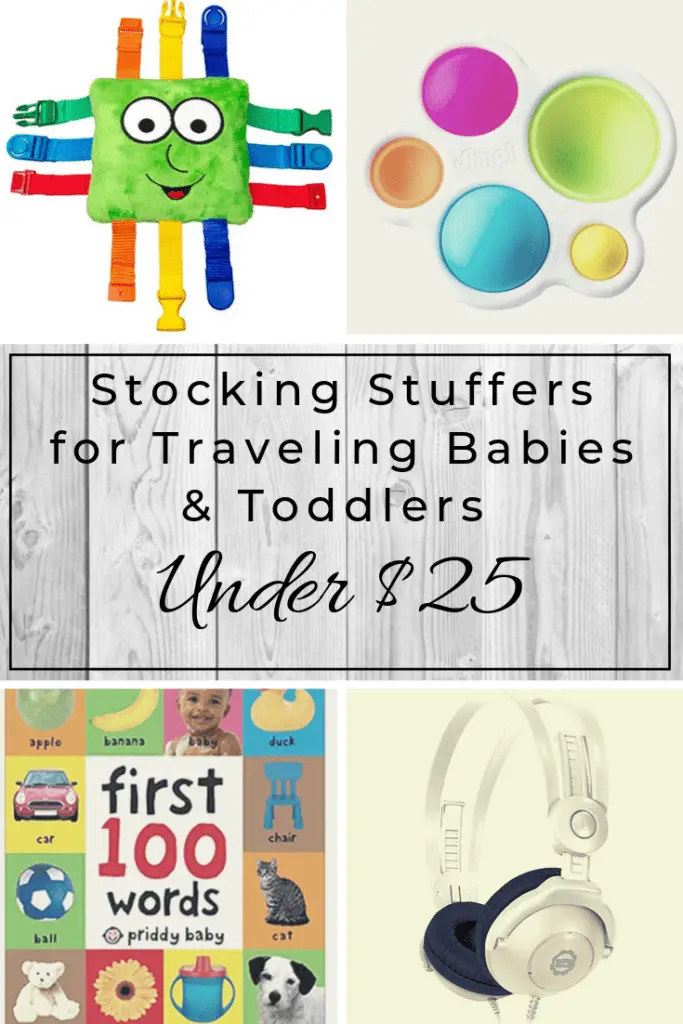 1. Buckle Toy – This one literally keeps our toddler occupied for hours on road trips and airplane rides.
2. Dimpl Toy – This is another toy that our toddler loves to play with. The bubbles are soft and easy to play with on trips.
3. Reusable, Puffy Sticker Pads – These sticker pads are amazing and small. The stickers are reuasable and great for keeping little toddlers entertained (they are also very difficult to rip).
4. Water Wow Books – These little books also toddlers to color (with a little water pen). When it dries, it disappears! So they can be used again and again.
5. First 100 Words Book – This book keeps our toddler entertained for long periods of time. It is filled with simple words and pictures.
6. Reusable Silicone Cup & Straw – We love this one from GoSili.
7. Stacking Cups – Our toddler has played with these since she was a baby. She loves stacking, re-stacking, and practicing her colors.
8. Headphones – These ones are our favorites. They have an optional volume control function to protect toddler's little ears on flights.
9. Finger Puppets – These simple little finger puppets are tiny and easy to pack for fun play while traveling.
10. Busy Board – There are a lot of busy boards out there, and we love this one because its fabric (easy to fold down for packing) and has buckles (our toddler's favorite!).
You might also be interested in: The Ultimate Gift Guide for Travelers
Stocking Stuffers for Kids Under $25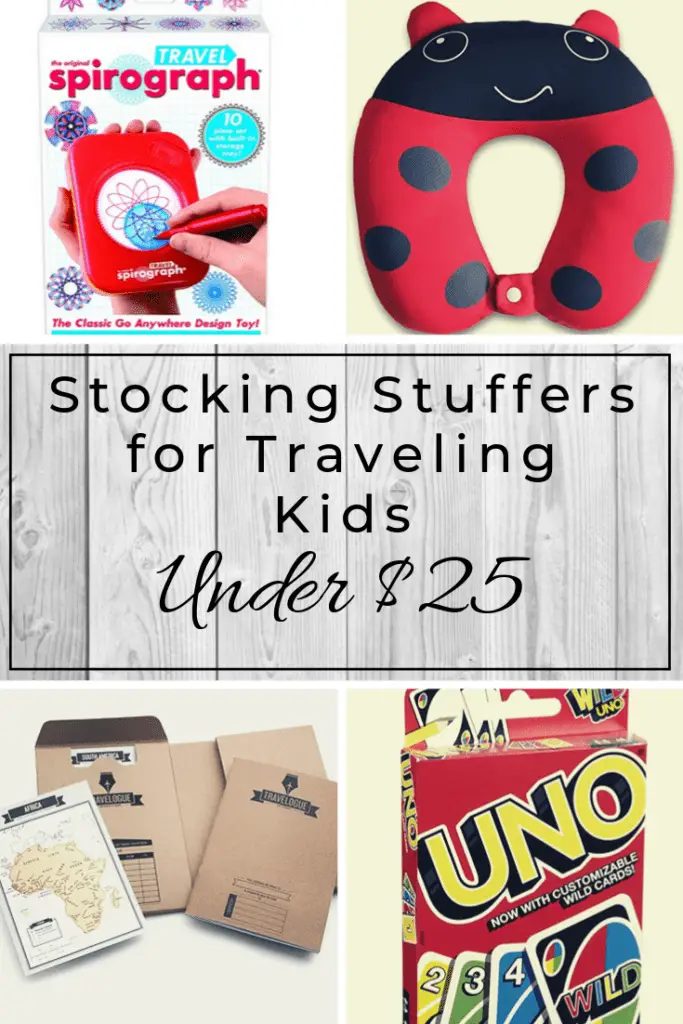 1. Travel Art Set – This set holds washable markers and paper in a convenient case for traveling.
2. Scratch-Off Travel Journal – This journal combines the lovely idea of a travel diary with the fun of a scratch off world map. Nice and small for taking on trips!
3. UNO Card Game – Possible the best card game for travel!
4. Headlamp Flashlight – Every adventurous kid needs one of these for camping and traveling in the dark!
5. Would You Rather? – This fun books will allow for a lot of laughs and is a great way to pass the time while traveling.
6. Travel Spirograph – This fun little spirograph allows for creativity on the go.
7. Neck Pillow – These neck pillows are designed for kids and look like fun animals. A must for comfortable sleep on airplanes!
8. Wikki Stix – This travel set has 144 wikki stix for creativity on the go!
9. The 50 States Book – This awesome book is filled with facts and maps about the USA!
10. Packing Cubes – Looking for a practical gift? Every member of the family needs packing cubes. These compression cubes are excellent and come in fun colors that kids will love.
You might also be interested in: Travel Gifts for Kids and Toddlers in 2019
I hope you found this list of stocking stuffers for travelers helpful! Are there any items you're hoping to receive in your Christmas stocking this year?
Enjoy your holiday shopping!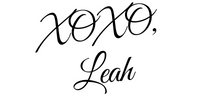 Pin for later: