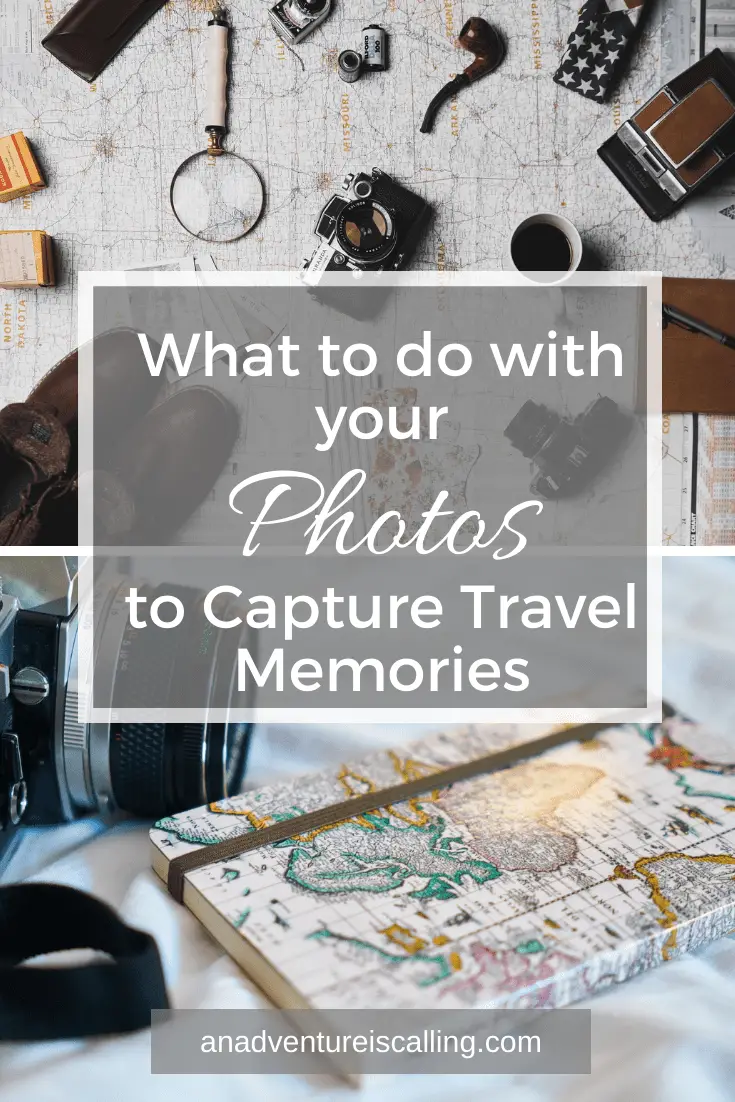 Looking for creative ways to capture your travel memories? If you are like most people, you have taken some amazing photos while on vacation. The last thing you want to do is keep them stored on your cell phone or computer only, where they will never be enjoyed. Here are a few ideas to inspire you to do something with those amazing memories that you've already captured. Create a personalized postcard through the MyPostcard App for a loved one or create a photo book or photo wall displays for you to display in your home. Keep reading for inspiration and ideas that are simple, easy, and beautiful!
We may earn money or products from the companies mentioned in this post. We only recommend products and services that we love!
Creative Ways to Capture Travel Memories
Create & Send Personalized Postcards Through A Postcard App
The MyPostcard App is a perfectly sentimental (and easy) way to capture travel memories in the moment. Everyone loves receiving traditional snail mail, but if we are being honest, most people rarely send postcards when they travel these days. Why? Traditional tourist shops around the world still sell postcards, but the photos on them are often impersonal. It can also be difficult to hunt down postage stamps when you're traveling abroad, and then you have to find a place to mail them. And… if you make it this far in the process, it can take weeks for the postcard to make it to a foreign destination. (True story: A family member sent us a postcard from Germany, and we received it in the USA 2 months after they returned home.)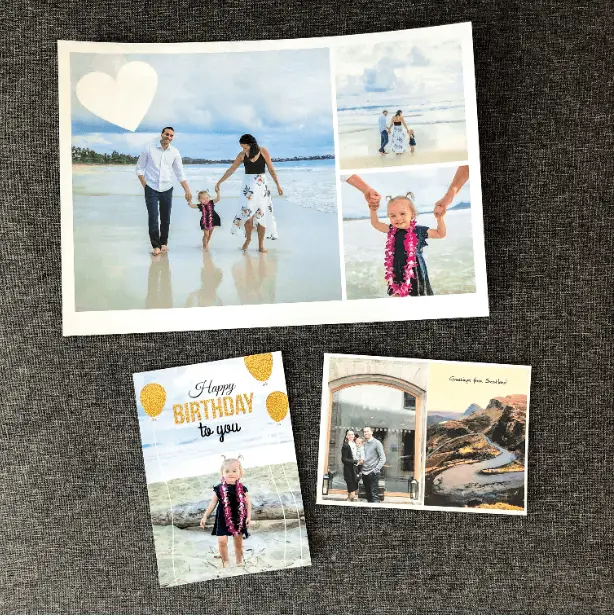 Is there a creative, fun, personalized solution? Yes! Enter MyPostcard, the best Postcard App! I came across this app quite awhile ago, when we were on vacation in Kauai. I wanted to send a postcard to a few loved ones (I've always loved snail mail), but I couldn't find any postcards that I liked. The stock photos looked cheesy or had greetings that didn't fit my personality. After looking for the perfect postcards in several tourist shops, I gave up and turned to the App store. I was pleasantly surprised when I found MyPostcard right away. I downloaded it, quickly designed my own postcards using my own photos that I had taken, added greetings, and hit "checkout". The postcards were printed and mailed to our loved ones within days, and we were hooked. Since then, we have used MyPostcard to create personalized postcards on our vacations around the world. We have also used them at home to create beautiful birthday notes, holiday cards, get well soon messages, and other "just because" postcards.
Here are a few examples of personalized postcards that I created recently using our travel photos from Oahu and Scotland. I used the Trio template with an added heart graphic that I upgraded to XXL, the Golden Birthday template (for my mother-in-law's upcoming birthday!), and the Scotland Highland Template.
My husband and I added personalized notes on a couple for our daughter to keep in her memory box. I love that you get to choose from a variety of font colors, styles, and sizes.
The app is incredibly easy to use! Here are the steps from start to finish. It took me just 4 minutes. The price includes printing, postage, and mailing. Once you hit "checkout", your work is done.
The MyPostcard App is available in both the Apple iOS and Google Play App stores. They are currently offering 30% off when you use my referral link and enter promo code AIC2019 at checkout. Click here to see MyPostcard's most recent deals.
Create a Vacation Photo Book
My husband and I love to create a photo book for each major vacation that we take. I design the photo book, and my husband does the journaling (he takes awesome travel notes while we are away). We love using Shutterfly photo books, because they have stood the test of time, and we love for our vacation photo books to look uniform on our shelf.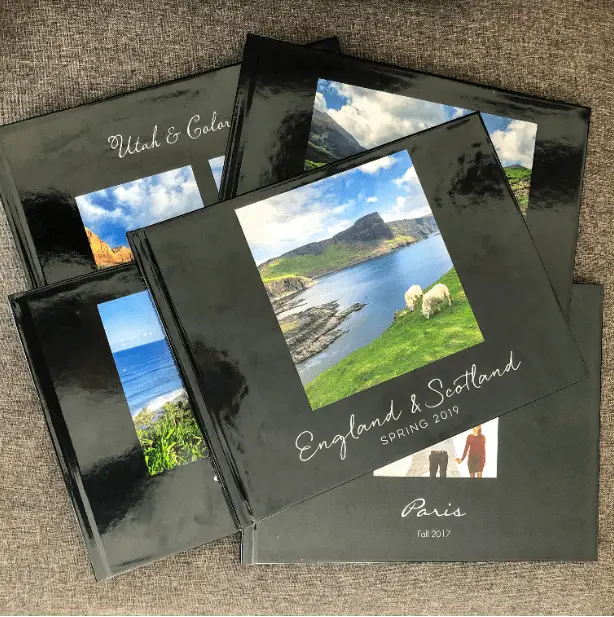 We always create a black 8 x 11 photo book with white text, but Shutterfly has a ton of design options to fit every style. You can create your own and personalize every detail (my preference), or upload your photos and have Shutterfly fill in the pages automatically (so quick and easy).
If you prefer to print your photos to fill a traditional photo album, Etsy has several beautiful, personalized photo album options, like this map photo album or this simple 4×6 photo album.
You might also be interested in: Souvenir Ideas for Minimalists
Create a Travel Photo Display
Creating a travel photo display in your home is a great way to capture your memories and enjoy them daily. My husband and I consider ourselves to be minimalists, but that doesn't mean our walls are blank! We love filling our home with photo memories of our travels.
We discovered PhotoBarn several years ago and fell in love with their wood photo boards. Here are a few examples of the photo boards (3/4 inch birch) that we had created of our favorite photos from Ireland. We have also purchased personalized Christmas ornaments and photo cubes from them.
We also love decorating our home with photo canvases. Shutterfly, Canvas on Demand, and Easy Canvas Prints all make great quality photo canvases in a variety of sizes.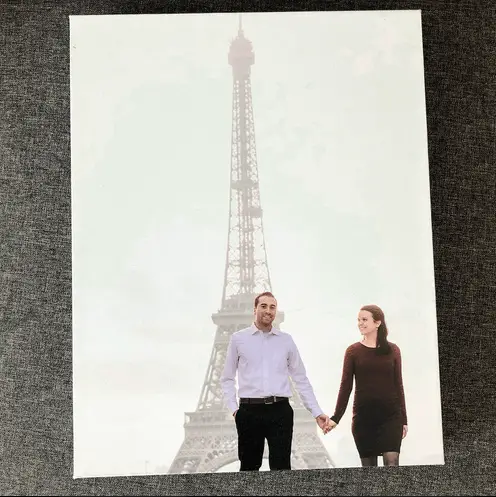 Gallery walls are also a great option, as you can switch out the travel photos in the frames over time. You can buy beautiful, matching frame sets (like this black frame set or this white frame set) to keep the look sleek and uniform.
Keep a Travel Journal/Diary
Keeping a travel journal or diary while you're away is the perfect way to capture memories. You can write down your memories every day in real time, so you won't forget the details. I will admit that I'm terrible at this…but my husband is great and is our official "travel journal-er". He keeps track of our itinerary (what we did and what we ate), funny stories (there's never a dull moment when traveling with a toddler!), things that surprised us about our destination, etc. We love looking back on his travel notes and reminiscing. There are things we think we'll never forget, but we do!
There are so many travel journals and diaries out there. You can use a simple pocket-sized notebook or invest in something personal for your family, like this personalized name leather notebook. This is a great way to get your kids involved in capturing your memories too! Consider purchasing them their own journal to keep them busy on long travel days.
Pro Tip: Hire a Professional Vacation Photographer
If you love the idea of capturing your travel memories with a personalized postcard, photo book, or wall cavas, you will want to make sure that you have quality photos from your travels to work with! When it comes to capturing travel memories, we love to hire professional vacation photographers. Some say that a photo is worth a thousand words, and we couldn't agree more. As much as we appreciate iPhones, tripods, and selfie sticks that allow us to capture our own photos, each trip deserves a few non-selfies. Don't you agree?
We love using Flytographer to book professional photographers around the world. They work with local photographers in over 200 cities worldwide, making them the perfect choice for finding the perfect photographer for you. The company makes it so easy to select a photographer with a style you love and to find a location that will capture the beauty of your destination. They work with travelers of all kinds- including solo travelers, couples, families, and large groups. They use flat rates (starting at just $250 for a 30 minute photo shoot), have a fast turn around (we always receive our photos while we are still on our trip), and are so easy to work with!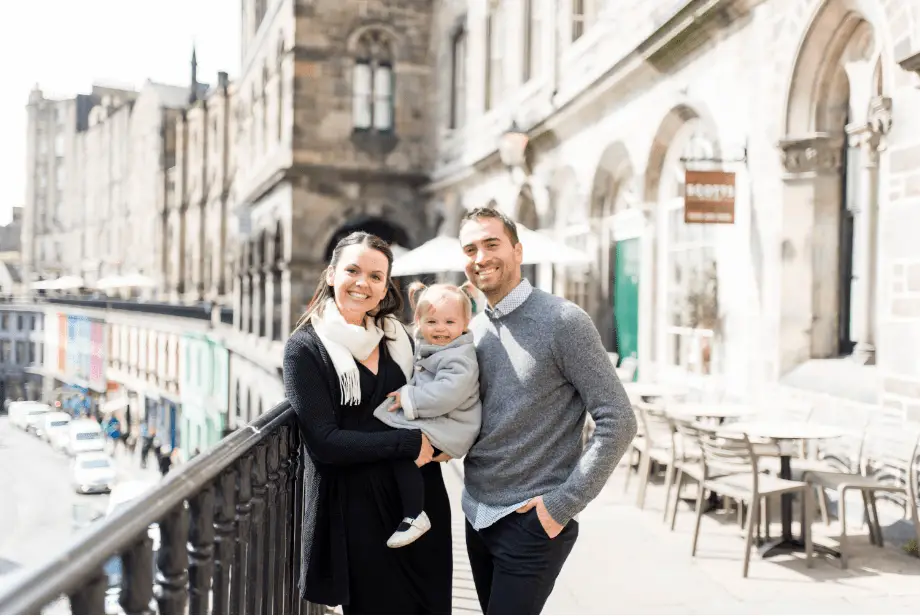 We have used Flytographer three times so far, and we have loved every experience. You can read about our experiences in Paris, Edinburgh, and Oahu if you would like to learn more!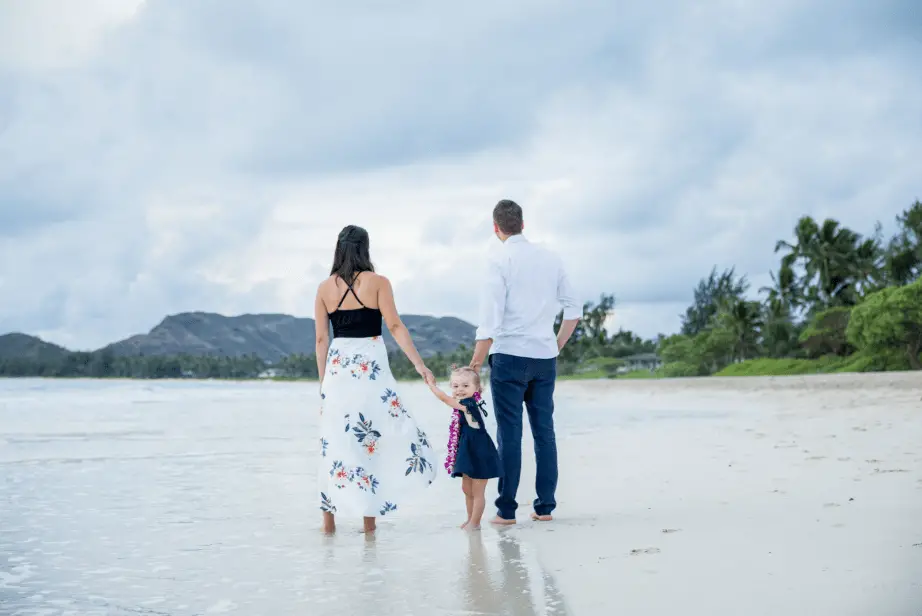 Sign-up for your account here to receive $50 off your first photo shoot. If you love the idea but aren't ready to book a photo shoot, simply create your account, and the $50 will wait in your account. If you already have an account, you can enter CODE7242 at checkout to receive $50 off!
You might also be interested in: 15 Reasons to Book a Photo Shoot with Flytographer on Your Next Vacation
MyPostcard App provided me with product credit and compensation in exchange for my honest review. All thoughts and opinions are my own! I genuinely love their app and have used it for years.
I would love to hear from you! How do you capture travel memories? Do you have a favorite way to display your memories?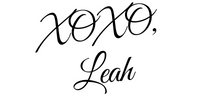 Pin for later: