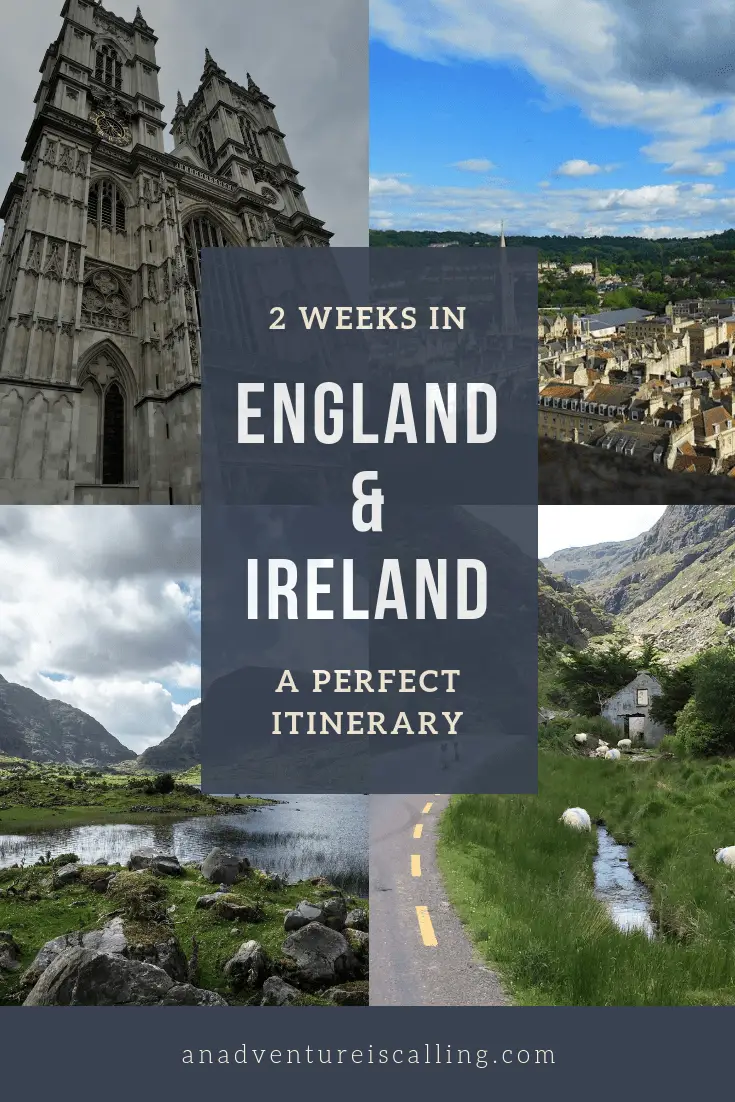 England and Ireland are two destinations that are easy to fall in love with, and it is so easy to fit both into one trip across the pond! My husband and I loved our two week (13 day) trip, and I'm excited to share our itinerary with you. We spent our days exploring royal palaces in London, attending services in beautiful churches in multiple cities, and adventuring through the beautiful streets of Bath. We relaxed in the countryside, boated down the Avon River, and hiked the beautiful hills of Ireland. Our trip was perfect for us, and I hope you enjoy reading about our experiences.
We may earn money or products from the companies mentioned in this post. We only recommend products and services that we love!
If you would prefer to just read about our time in England or Ireland, you check check out these blog posts: How to Spend 6 Days in England and 4 Perfect Days in Ireland. Keep reading for our complete 13 day itinerary!
Highlights of this post that you might be interested in:
2 Weeks in England and Ireland: A Perfect Trip Itinerary
Day 1 – London Itinerary
Note about visiting London: If you're headed to London as a family, you might be interested in: Tips for Visiting London with a Toddler (or a Baby).
Putney High Street
We landed at Heathrow Airport in the late afternoon. By the time we made it through customs and collected our luggage, it was evening and time to meet our vacation home host. We stayed on Putney High Street, which we loved. The tube was a short 5 minute walk away, and we loved the area. We ate at Gourmet Burger Kitchen and enjoyed walking around the neighborhood before turning in early.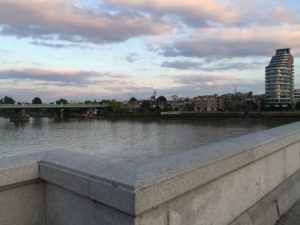 Where to stay near Putney High Street, London
Day 2 – London
We began our first full day in London by waking up in our cute little apartment on Putney High Street at 3am (which is unfortunately no longer listed, but you can find other lovely apartments on Putney High Street here). We couldn't beat the jet lag so we gave in and watched local news on the tele for a few hours while we waited for Sainbury's to open at 7am so that we could make ourselves breakfast (I was thrilled with the ingredients lists on so many items at Sainbury's! As someone with food allergies, I found that London overall was really easy to navigate (you can read about my top 10 places to eat gluten-free in London here). Our apartment was located on top of a Costa Coffee, so we enjoyed a hot drink before heading out for the day.
Buckingham Palace & the Changing of the Guards
Since we were ready to go bright and early, we headed to Buckingham Palace to grab a great spot for the Changing of the Guard Ceremony at Buckingham Palace. This was something that I wanted to see since I was a little girl, and I loved checking it off my bucket list on the first day!
Pro Tip: Arrive early! We arrived about 25 minutes before it started, and we had a front front row view of the ceremony. It was crowded (not something I would recommend to people who struggle with claustrophobia!) – but something I am glad I have witnessed at least once in my life!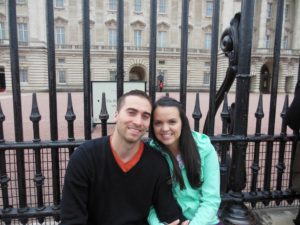 Buckingham Palace Road & Hyde Park
After the ceremony, we took our time enjoying Buckingham Palace Road before heading over to Hyde Park. We loved every minute of the beautiful walk and gorgeous flowers in the park.
Fun Tip: Considering seeing Hyde Park by bike! This guided tour will allow you to see several amazing sites in London, including the park, and will help you avoid crowds.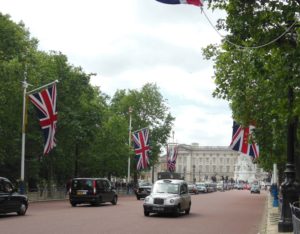 The British Museum
We enjoyed the British Museum for a couple of hours in the afternoon. To be honest, it was a little warm inside (no AC), so paired with our jet leg, we weren't as awake as we would have liked! When you visit this museum, you'll want to make time for the Rosetta Stone and Parthenon Marbles. They are both beautiful!
The London Eye
That evening we grabbed tickets for the London Eye. This was something we both wanted to do, and we are glad we decided to splurge a little to make it happen. We loved the beautiful views of London and overall loved our experience.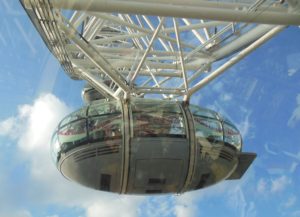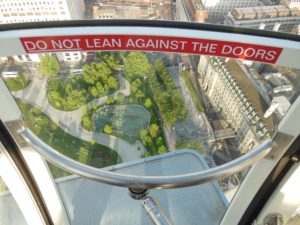 Day 3 – London Itinerary
Notting Hill & Portobello Market
We started our 2nd day in London at Portobello Market in Notting Hill. Exploring Portobello Road was near the top of my must-do list, and it did not disappoint! We loved the peaceful walk through Notting Hill. Talk about beautiful homes! The market itself was crowded, and most vendors did not appreciate it when tourists took photos of their inventory without making a purchase, so I avoided that. We bought some delicious street food, a few little souvenirs, and a cute dress for me. We took our time at the market and then explored the side streets more on our way out. We could have spent all day enjoying those lovely streets! It sprinkled a little bit, but we didn't mind!
Pro Tip: Notting Hill is arguably one of the most beautiful spots in London, so consider booking a local photographer to capture your memories! We are personally big fans of Flytographer and have used their services in several cities around the world (you can read about some of our experiences here and use my referral link for $25 off your first photo shoot). You can also book a professional travel photographer/tour guide here, which looks like another wonderful, high-rated option.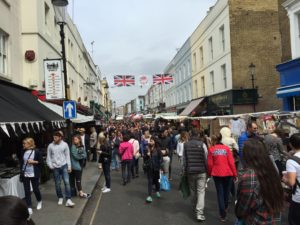 Kensington Palace & Gardens
Then we headed to Kensington Palace– one of the highlights of our trip! We loved exploring the palace, but our favorite memories were actually spent outside enjoying the gardens. So many people skip this portion of the palace, but it was peaceful and something we wouldn't want to have missed!
When you leave the palace, I highly recommend exiting on Kensington Palace Gardens. This is the street that runs on the west side of the palace, and it is gorgeous (it is the most expensive street in Great Britain). Photos are not allowed to be taken on this street. Stroll slowly and enjoy the beautiful embassies and residencies. They are truly breathtaking.
Fun Tip: Considering booking a Royal High Tea at Kensington Palace for a unique, upgraded experience!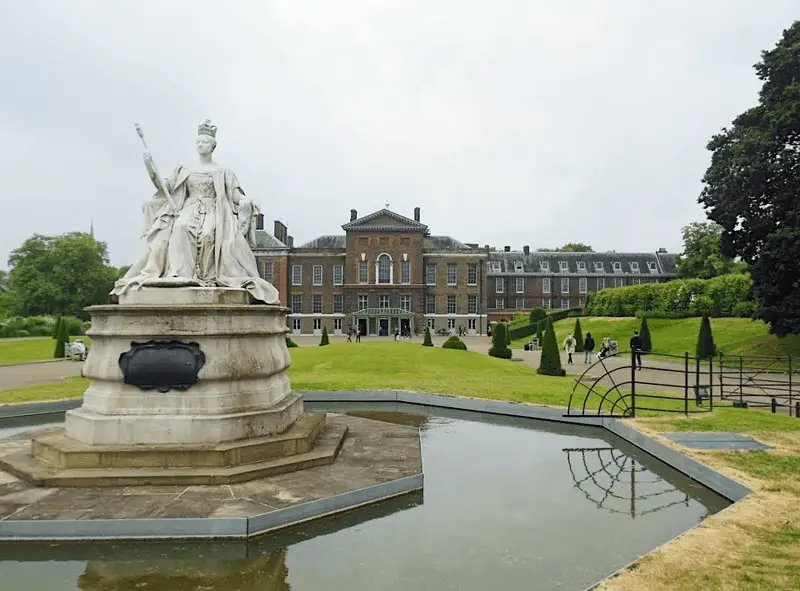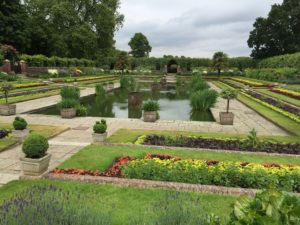 Westminster Abbey
That evening we enjoyed an Evensong service at Westminster Abbey. It was beautiful and fully lived up to our expectations!
Pro tip: When visiting places of worship, attend an actual service. This can save you money on the admission fee (we always give donations but do not need an admission ticket), and you get to truly experience the Abbey (or Cathedral, etc.) in all its beauty. Note that you are not allowed to take photos inside.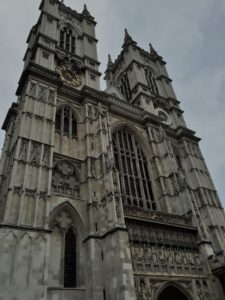 Big Ben & the House of Parliament
It took us awhile to make our way to the Abbey, because there was a large political protest going on nearby. Several metro stations were shut down. We originally planned to do the "Westminster Walk" before heading to the Abbey, but we didn't have time. The protests had mostly fizzled out by the time the service was over, so we walked over to see Big Ben and the Houses of Parliament.
Day 4 – London Itinerary
St. Paul's Cathedral
We started our 3rd day in London by attending mass at St. Paul's Cathedral. It was beautiful! (Photos are not allowed inside.) After visiting several cathedrals and abbeys throughout the UK and Ireland, I can happily report that this is my favorite (we returned here on our second trip to London too!). I love the light colors and natural sunshine that flows through the windows of the Cathedral in the morning.
Pro Tip: I mentioned this earlier, but I'll say it again, because it's one of my favorite tips for visiting places of worship abroad. Considering attending an actual service. This will give you a true experience and will save you admission costs (donations are appreciated).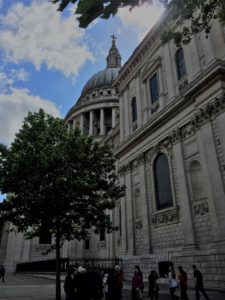 Kew Palace & Gardens
After church, we headed by metro to Kew Palace and Gardens, which is located in Richmond, just outside of London. When I researched royal palaces before our trip, it was obvious that many people skip Kew Palace (likely because it is outside the city and easily turns into a day trip). I was fascinated by its history (this is where King George III spent his days after losing the American Colonies) and the beautiful photos of the gardens, and I knew we needed to make it a priority.
There were a fair share of people there that day (it was also Father's Day), but it was not crowded at all. We loved exploring the castle and the treetop walk in the gardens. We spent the rest of the day there, enjoying their cafes, and exploring the grounds. There is so much see, so be sure to schedule at least half of day here if you add it to your itinerary. Overall, this was one of my favorite destinations on our trip to London.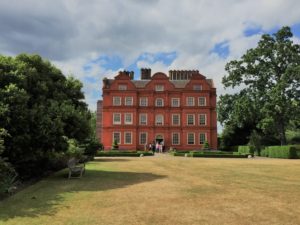 Looking for more ideas? Check out my post on Visiting London for the Second Time and Parenthood4ever's post on Free Things to do in London!
Day 5 – Bath, England Itinerary
Traveling from London to Bath
We left by train for Bath from Paddington Station at 7:30am. The train was absolutely packed. We spent the 1st hour of the trip standing with our luggage in between train cars, before train seats opened up (it was totally our fault for leaving London at rush hour!). We loved the passing view of the English countryside from the train, and decided that we would love to eventually road trip through England (which we did on our next trip! Read about that here!).
Our Cottage in the Village of Southstoke
We arrived in Bath at 10:25am and headed straight to our vacation rental (which unfortunately isn't listed anymore, but you can fine other amazing rentals in Bath here). We wanted to drop off our luggage before heading to downtown Bath. Our adorable cottage was located in the village of Southstoke, a couple miles outside of Bath. Our host sent us suggestions for getting there, which including walking directions and bus directions. We opted to walk there, because the directions said it was just two miles from the train station. We thought we would enjoy the beautiful views and cobblestone streets, and then take the bus back into Bath later. We never found out what happened exactly- but the walk was much longer than 2 miles, and it took us almost 3 hours total (which included a 1 hour lunch break stop to refuel). (When we met our hosts later that night, they were shocked when we told them that we had walked there and had no idea that their check-in instructions gave that recommendation.)
Our feet were sore and we couldn't wait to dump our luggage (thankfully, we traveled with backpacks!), but we knew it was all worth it once we crested the hill into Southstoke. We felt like we has stepped back in time a couple hundred years. We immediately fell in love with our destination. The overall hike was totally unexpected, and we missed our 2pm walking tour of Bath as a result, but we still laugh about our adventure. It made our overall trip to Bath more memorable, and we loved the gorgeous countryside views along the way. That being said- we learned a valuable lesson. We will always map walking directions/distance on our own before we head somewhere on foot again. 🙂
Where to stay in Bath, UK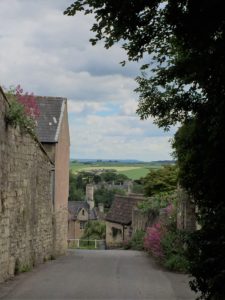 Our cottage was an adorable little garden hut with a magical, breathtaking view. Unfortunately, our hosts moved shortly after our stay, so this hut isn't available for rent anymore. But I highly recommend looking into Southstoke for other accommodations. Downtown Bath is wonderful, but it did not beat the gorgeous views in Southstoke.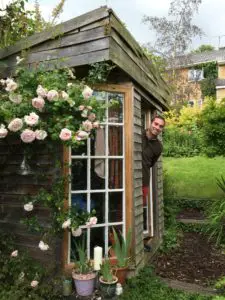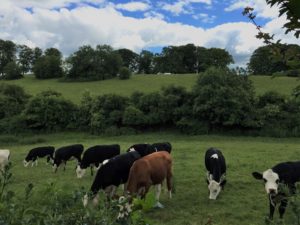 The Bath Abbey & Tower Tour
After enjoying the peaceful view in the country for awhile and freshening up, we walked to the nearby bus stop and rode back into town (and laughed about how quick and easy the trip was). Since we missed our walking tour, we headed straight to the Bath Abbey for a late afternoon Tower Tour. It was incredible! The Abbey itself was immaculate.
On the Tower Tour, we climbed several flights of stairs, learned about the history of the Abbey, and climbed behind the clock. The tour ended with the most incredible view of Bath from the Abbey's rooftop. If you are able to climb stairs and are ok with some tight spaces, I highly recommend this tour!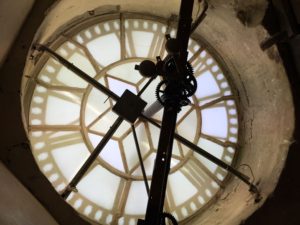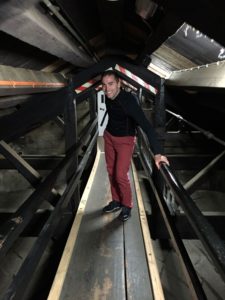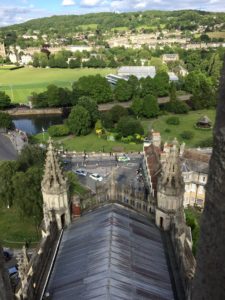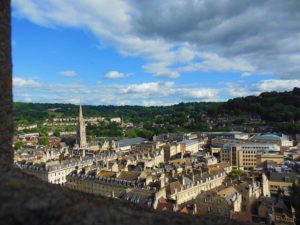 The Abbey Church Yard, Dinner, & Tea with the Locals
By the time our tour was over, most of Bath was closed up for the evening (museums, shops, etc.). We enjoyed ice cream in the Abbey Church Yard (a large courtyard) and strolled the streets before eating dinner at "Lamb & Lion" (bangers and mash, anyone?).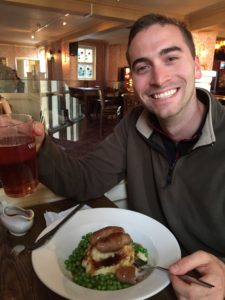 We headed back to our cottage (by bus this time!) and met our hosts for the first time. They were lovely! They invited us into their kitchen for tea and biscuits. It was a lot of fun to hang out with locals. We discussed travel and American & British politics, and it was lovely to hear how they viewed our nation.
Day 6 – Bath Itinerary
The Roman & Medieval Baths
The next morning, we went to the Roman and Medieval Baths (you probably don't want to miss this if Bath is on your itinerary). This is what makes Bath famous (and gives it its name). We spent a few hours here, enjoying the history. While it wasn't the highlight of our trip to Bath, we did love it. It's a must-see in Bath!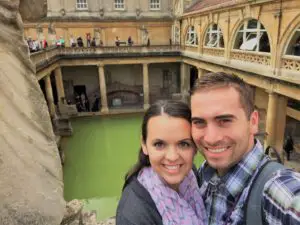 Boating on the River Avon
After lunch, we went to the Bath Boating Station and rented a Victorian-style wooden rowboat. We spent two glorious hours on the River Avon. If you enjoy boating of any kind (canoeing, kayaking, etc.), then I cannot recommend this experience enough! It doesn't make the list for most tourists, but we always seek out these opportunities when we travel, and they make up our favorite memories. My husband did most of the rowing while I steered us. I really cannot put into words how peaceful, beautiful, and romantic the whole experience was.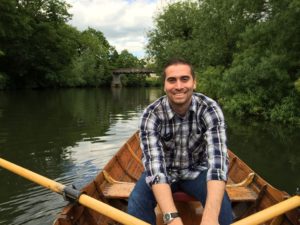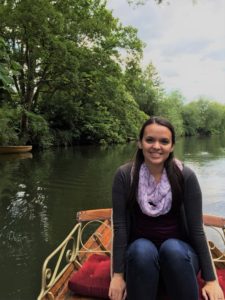 Pulteney Weir & Bridge
We spent the rest of our evening exploring Pulteney Weir and Bridge and the beautiful homes/streets in the city. Again, the attractions and business in Bath close early, so we soaked up as much of the outdoor beauty of the city as we could before heading back to our garden hut for one final night.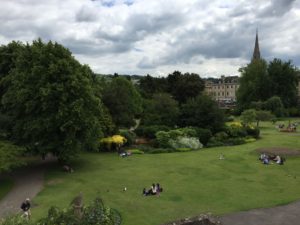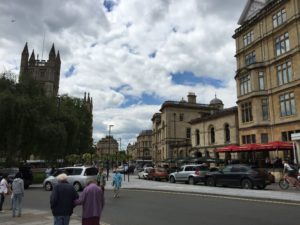 Day 7 – Traveling to Rosslare, Ireland
We woke up early in Bath and took a train to Fishguard, Wales, where we grabbed lunch at a local pub before taking the Stena Line ferry across the Irish Sea to Ireland. It was a very fun, positive experience! It was chilly on the deck (most people stayed inside the ship), but we hung out for hours outside. We loved enjoying the beautiful views. While it is popular to take a flight between the two locations, we are so glad we decided to take the ferry, and I highly recommend it.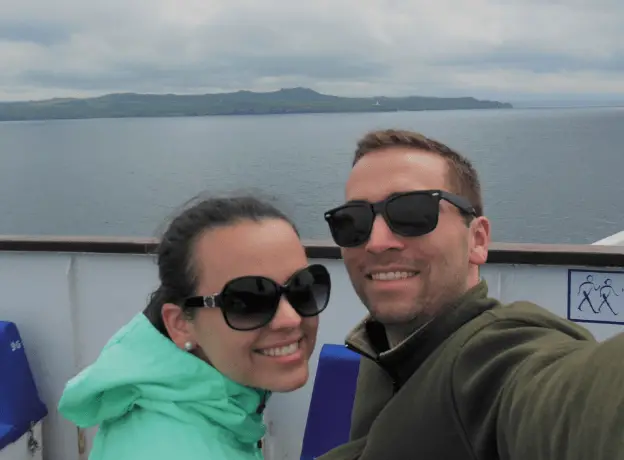 We docked in Rosslare, Ireland, in the evening, and we stayed in a local hotel in Rosslare. The room was perfectly clean, but we were a little surprised at how little there was in the surrounding area. There were a few places within walking distance to eat dinner but options were slim.
Where to stay in Rosslare, Ireland
Day 8 – Killarney, Ireland Itinerary
Driving from Wexford to Killarney
The next morning, we woke up early and too a bus to Wexford, where we picked up our rental car. We arrived in Killarney in the late afternoon, after driving across Ireland.
The drive across Ireland was magical and was even more beautiful than I had imagined. Ireland was just as green as I had envisioned. Photos and videos cannot do it justice. We stopped for lunch in a tiny town where we were the only tourists in the only open pub (the owner even kicked a few regulars out of their seats for us- which was a little awkward but amusing at the same time). We enjoyed our first true Irish lunch (I had bangers and mash) before continuing on our beautiful road trip. Without stops, the drive took 3 hours and 15 minutes. My husband is a total stud and rocked the whole driving a manual on the opposite side of the car/road thing. We passed countless rolling, green hills and few gorgeous castles along the way.
Pro Tip: I highly recommend renting your own car if at all possible. I realize that many people are not comfortable with this, but if you are up for the challenge, I cannot recommend it enough! It was lovely to move at our own pace, experience local culture, and stop whenever we wanted to enjoy the view.
Where to stay in Killarney, Ireland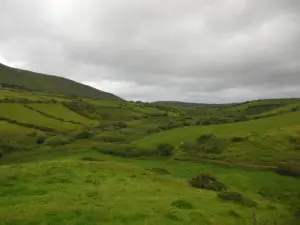 Lodging – The Killarney Railway Hostel
When we arrived in Killarney, it was late in the afternoon and we checked into our lodging- the Killarney Railway Hostel. This was the only hostel we stayed in during our entire trip (the rest of the time we stayed in vacation homes and a couple of hotels). VRBO pickings were slim during our stay, so we opted for a private room in this hostel, which had great reviews. Parking was tight – they had only a handful of spots and they were tiny. One spot was open and it took my husband awhile to squeeze our rental car in, but we made it! (Note: When we returned to the hostel later that night, after we explored Dingle Peninsula, there were not any spots available. We had to park in a public parking lot in downtown Killarney, which was nearby, and walk back to the hostel.)
We opted for the private double bed option, which slept two and had a private bathroom. The hostel had a very rustic feel, and our private bedroom made it feel like a hotel. The room had two beds- one double and one twin, so my husband and I slept together in the double.
Overall, we were really happy with our stay. In true hostel form, it was loud at night with people walking down the hallway, but my husband and I are both deep sleepers and didn't have any problems with it.
The shared kitchen was nice and spacious, with plenty of refrigerator space. We made breakfast there on our first morning, but we were not able to access it on our second (and last) morning there. The kitchen was locked up at night, and we had to leave before it opened to catch our 7:36am train to Dublin. We couldn't find an open breakfast spot in town that early either, so I had to eat chips for breakfast (I have several food allergies, so allergen-friendly snacks are a must when I travel!).
Overall, I would highly recommend a private room in the Killarney Railway Hostel, if you're ok with a little noise. The staff were all friendly and helpful, and we paid 5 Euro to have them wash and dry a load of laundry for us while we were out exploring. We were thankful for that service!
Dingle Peninsula
By the time we checked into our hostel, it was late afternoon. A lot of the major Killarney attractions were closing soon for the day, but we were ready to explore! We headed out for a couple hours in our rental car for the Dingle Peninsula. (The drive around Dingle Peninsula is about 30 miles, and you must drive it in clockwise direction.)
Pro Tip: You don't want to miss Dingle Peninsula, so if you don't rent your own car, consider booking a guided tour!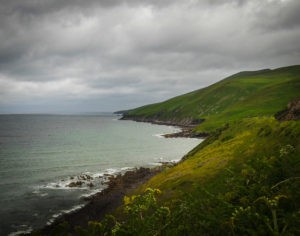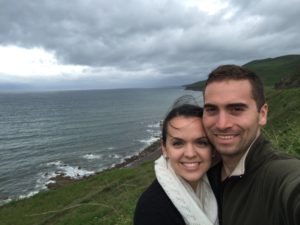 It was so fun. Because it was later in the day, almost all of the tourists were gone. We didn't see any tour buses, and we only saw 1 or 2 cars on our drive. We loved having the tiny little roads to ourselves!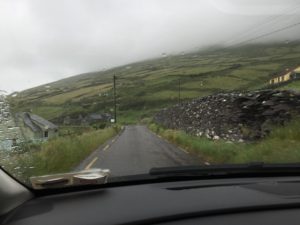 It started raining, which made our experience that much more fun. We stopped several times to take in the beauty of Ireland and enjoyed the scenery with awe. We fell in love with the view!
Day 9 – Killarney, Ireland Itinerary
Gap of Dunloe
We began the next day by driving to the Gap of Dunloe, which turned out to be the most stunning destination that I have ever traveled to. I really mean it. It was absolutely gorgeous, and it left us breathless. We never wanted to leave, and we wound up spending several hours here (longer than we expected and planned for), because we could not pull ourselves away.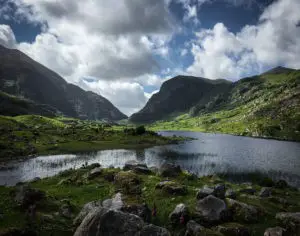 The Gap of Dunloe is a narrow mountain pass in Killarney. There are several lakes, countless rolling green hills, adorable sheep, and authentic cottages in the area. Although it is considered a popular tourist attraction, I have found that many people skip this when visiting Killarney. Please, do yourself a favor, and do not skip it! If you only visit one destination in Killarney, pick this! There are several amazing guided tours that will take you here as well.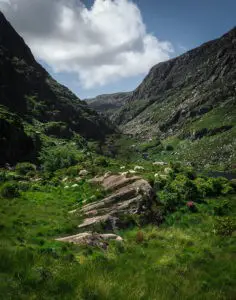 You can rent a jaunting car (a horse-drawn cart with a guide- called a ponyman), but we chose to walk the gap. We took our time and explored as much as we could. We relaxed by the streams, enjoyed walking alongside the friendly sheep, and took in as much beauty as possible. We got lucky with perfect, sunny weather.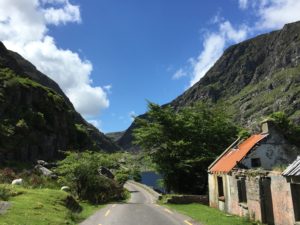 We ate a late lunch at Kate Kearney's Cottage, which is located at the entrance to the Gap of Dunloe. It's been family-run for 150 years. We loved their cheesecake! It was difficult to leave the Gap of Dunloe, but there were a few other sites in Killarney that we wanted to see, so we managed to pull ourselves away. (You can enjoy more of our photos from the Gap of Dunloe in this post.)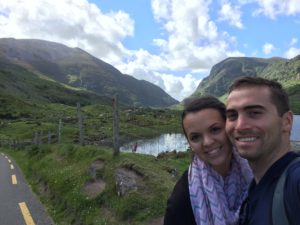 Ross Castle
After lunch we drove to Ross Castle, which was beautiful! It was built in the 1400s, and it is open the public now for guided tours. We are really glad we decided to go inside – we learned so much about Killarney history and life for all the social classes. (Spoiler alert- even the wealthy didn't live very glamorous lives!)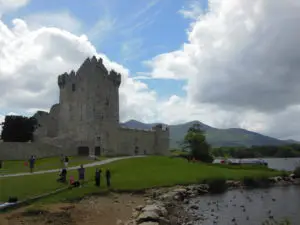 The grounds are stunning and it was well worth our time to explore the outside of the castle. It is right next to Lough Leane (also known as Killarney's lower lake). We saw several people out on the lake on hired boats, and we decided that we need to make time for that next time we go to Killarney!
Torc Waterfall
Torc Waterfall is a beautiful waterfall at the bottom of Torc Mountain. We did our research and knew that the best views were from the bottom, so we opted out of doing the hiking trail to the top of the mountain (we knew we wouldn't have enough time in the day to do it all- sadly!).
The waterfall did not disappoint! It was pretty crowded compared to the Gap of Dunloe, but we still had a great experience. People often see red deer here. We didn't, but I imagine that it would make the experience that much more beautiful!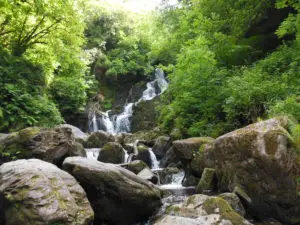 We originally planned to visit the Muckross House as well, but we decided to skip it after arriving at the Gap of Dunloe. We wanted to see it all, but we knew we would enjoy ourselves much more if we took everything slowly and truly enjoyed our experiences, rather than rushing from one place to the next.
That evening, we returned our rental car (which turned out to be a very difficult task- I'll blog about it soon!) and then enjoyed dinner at a local pub. My husband drank Murphy's Irish Stout here for the first time (a bartender's recommendation), and it has been his favorite ever since (thank you, Trader Joe's, for selling it here in California!). We were excited to visit Dublin the next day but we were so sad to leave Killarney! We agreed that 36 hours wasn't enough time, and we will absolutely return again!
Day 10 – Dublin, Ireland Itinerary
Getting from Killarney to Dublin
We caught a 7:36am train from Killarney to Dublin. The trip took about 3 hours with stops (we arrived at 10:45am). There were several political events taking place in Dublin that day (it was a Saturday), so the city was particularly busy. After arriving, we had to take a bus to the nearest DART station, where we waited for about 25 minutes (we were expecting the DART system to be more like the Underground in London, but the trains are not as frequent).
We rented a vacation home in Killiney, a nearby suburb. It was just 10 miles from the city, but it took much longer to get there than we had imagined. Our hosts were lovely and picked us up from the Glenageary DART station, which was a few minutes from their house. Our flat was wonderful! It was a one bedroom apartment, attached to a main house. It had a comfortable bedroom, a full kitchen (with a washer/dryer), a bathroom, and a nice living area. Even though we had a nice stay there, we will stay closer to the city next time.
In total, it took us 3 hours to get from the train station to our flat, and by that time we were pretty exhausted from our late night/early morning/half day of travel. Dublin itself was packed and public transportation was slow with all the events of the day, so we made the decision to explore the suburb of Killiney instead. This was not in our initial plans, but it was a decision that were both content with.
Killiney Hill Park & Killiney Hill
We set out on foot and enjoyed lunch at the Killiney Shopping Centre. We took our time with food and drinks and stopped by the market for some groceries so that we could cook later on. It was sprinkling, but we didn't mind!
We walked to Killiney Hill Park, which turned out to be beautiful! We really had no idea how much Killiney had to offer, and we were glad we decided to explore it. Then we climbed Killiney Hill, which is one of two hills that form a boundary of Dublin Bay. The view from the top of the hill is amazing! We had a great view of Dublin (to the northeast), and on a clear day, you can see the Irish Sea and Wales to the southeast. It was cold and rainy so we didn't get to see Wales, but we loved every minute. We took our time, explored, and enjoyed the view well into the evening.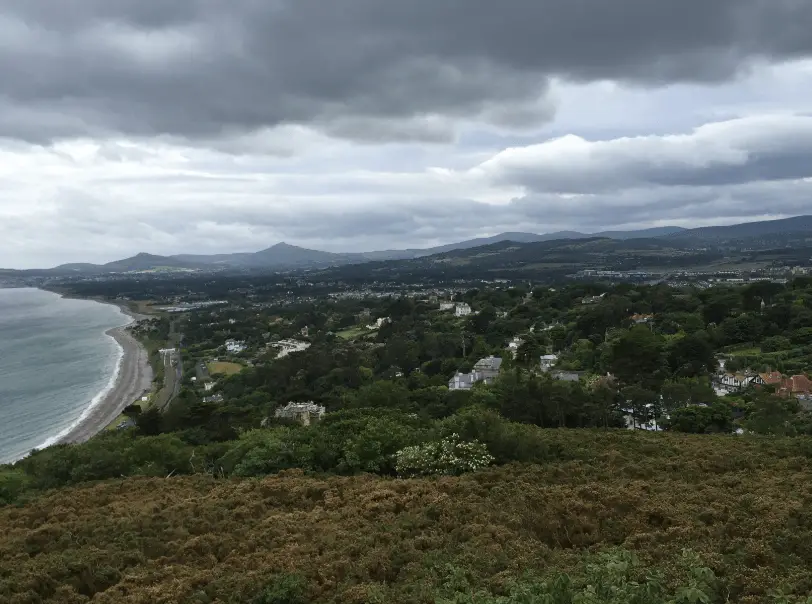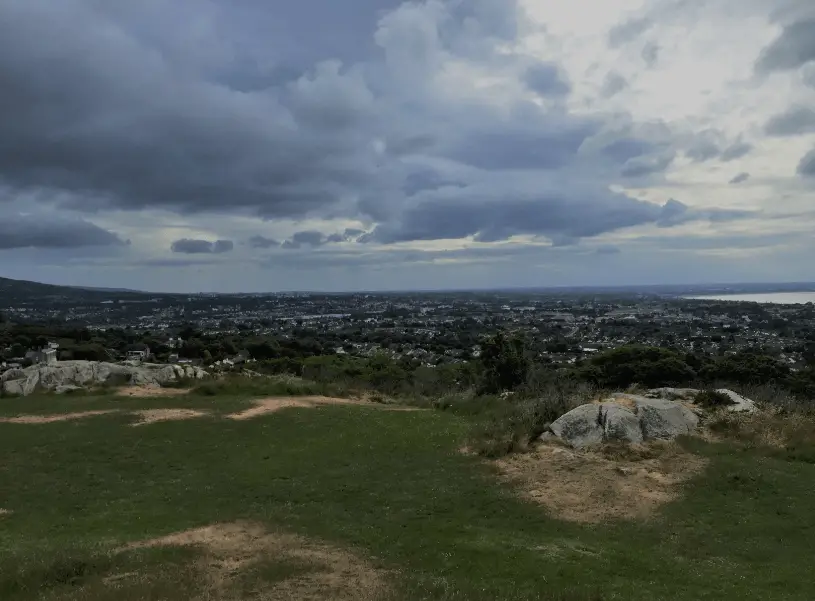 Where to stay in Dublin, Ireland
Day 11 – Dublin Itinerary
Kilmainham Gaol
We woke up the next morning early, ready for a full day in Dublin. We decided to go to Kilmainham Gaol first, because it was at the top of both of our must-see lists. Kilmainham Gaol was a jail, now run by the Office of Public Works. It was used for many years by the British to jail Irish revolutionaries throughout history.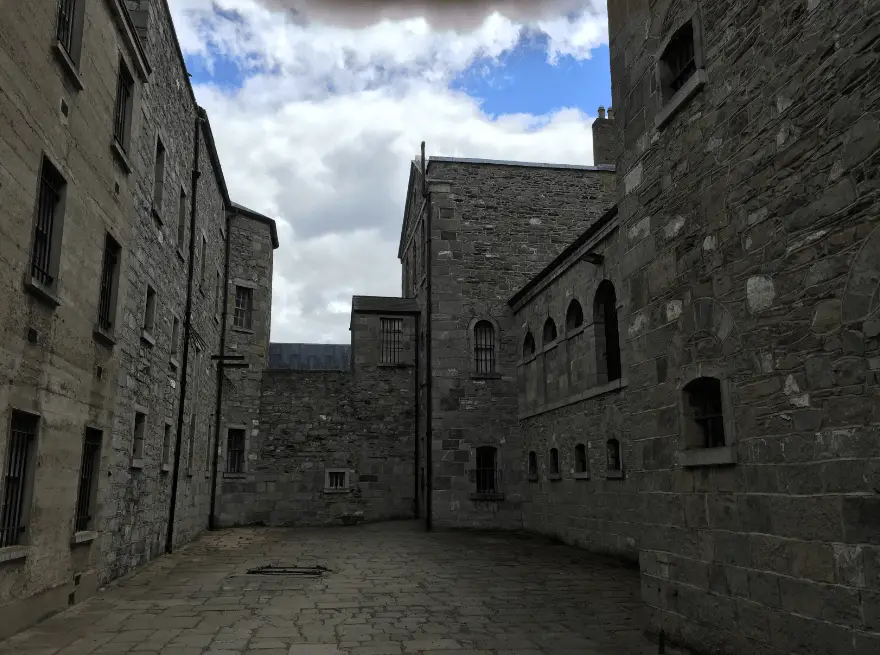 If you love history, then this is a MUST SEE! We were there for several hours, so it was a big time commitment, but it was the highlight of our time in Dublin. My husband and I both loved every minute of it. You have to take a guided tour if you want to really see it, and it did not disappoint. We learned a lot about Irish history and explored jail cells and common areas. It really was fascinating!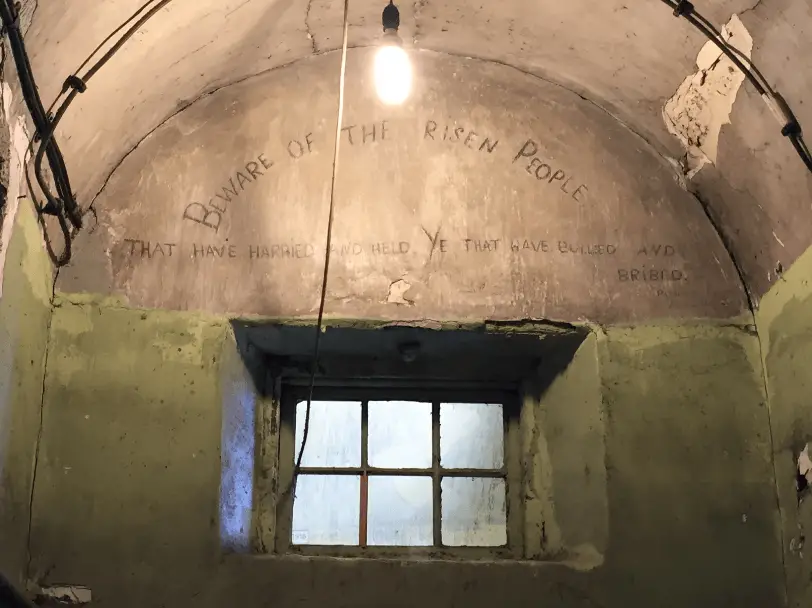 Dublin Castle
Then we headed to Dublin Castle! We decided to walk so that we could see more of the city. We still laugh about this, because we totally got lost. We were expecting the castle to be a bit more obvious- like the palaces in London. We literally walked right by the castle's courtyard wall and didn't realize it!
When we finally realized that were right next to it, we went in and enjoyed its beauty! The inside was beautiful, but it was really the courtyard that we loved the most.
St. Patrick's Cathedral
We decided to attend a "Choir of Angels" service at St. Patrick's Cathedral, and it was beautiful! The Cathedral and its grounds were stunning. Keep in mind that you often cannot take photos inside churches, particularly during service times.
Pro Tip: You can avoid Cathedral/Abbey entry fees by attending services, rather than open admission hours; we always give a donation, but we feel like we get to truly experience these places without paying for standard admission.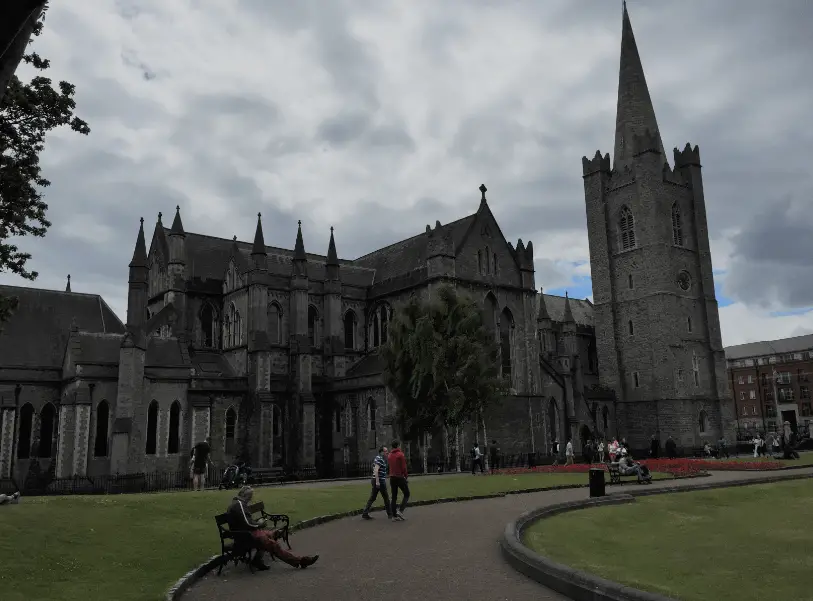 Temple Bar Square
By this time, it was evening, so we headed to Temple Bar Square for dinner. We were hoping to make it to their book market (open on Sundays until 6pm), but we just missed it. We still enjoyed exploring the area. We had decided to skip the Guinness Storehouse earlier that day, so my husband enjoyed a Guinness at a local bar. We did some souvenir shopping and took our time enjoying the culture.
We also witnessed a bar fight! One man broke a bottle over another man's head in front of a bar. It was quite the sight and an exciting end to our time in the square! Thankfully, everyone seemed to be ok, and it ended with the first man being arrested and the second getting checked out by (what appeared to be) paramedics.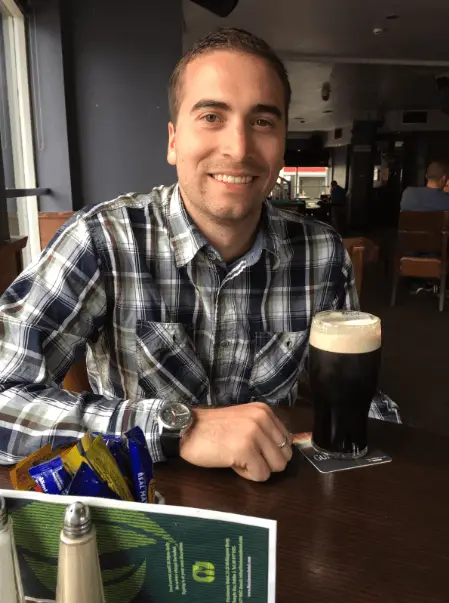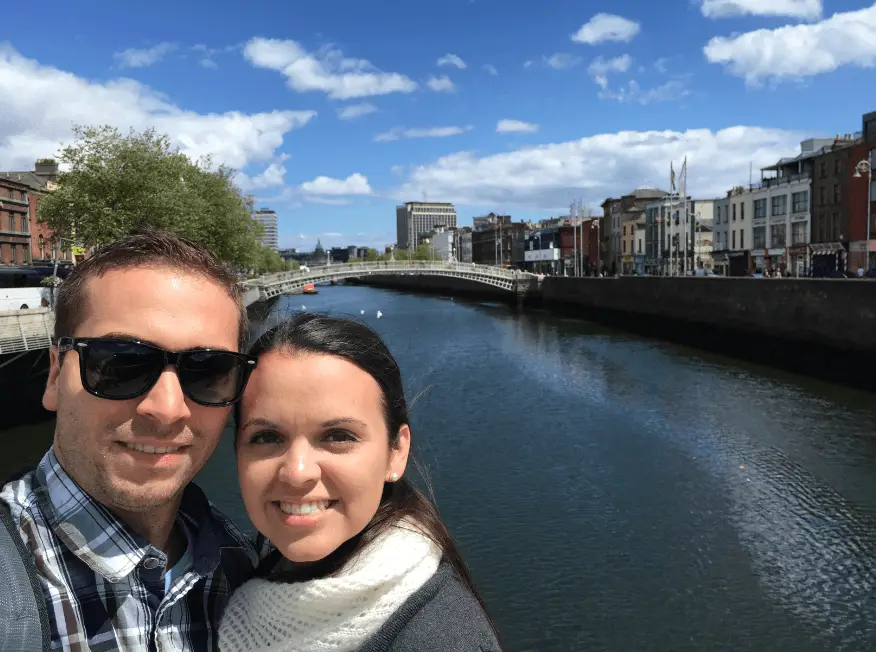 Day 12 – Dublin/London
Getting from Dublin, Ireland, to London, England
Day 12 was a long travel day for us. We woke up early and made our way to Dublin Port, where we took the Stena Line back to the UK (this time we went to Holyhead, Wales). From there, we took a train back to London. We checked in at the London City Hotel (on Borough High Street) for our last night. We walked around Cheapside and along the River Thames. We enjoyed a relaxing dinner and some shopping.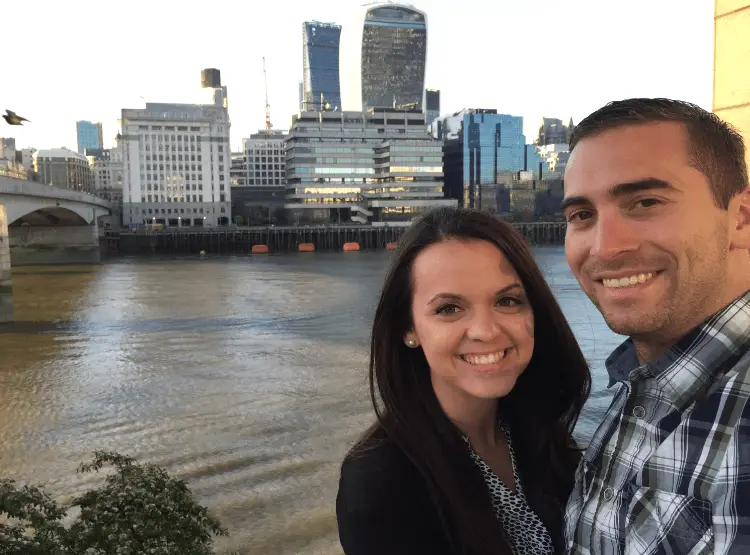 Day 13 – London Itinerary
Tower of London
On our last day, we enjoyed one final full English breakfast at the cute bistro underneath our hotel. We got an early start at the Tower of London, where we started with the Crown Jewels (and beat the crowds!). This day was uncharacteristically warm in London (mid 80s F), so we appreciated the air conditioning!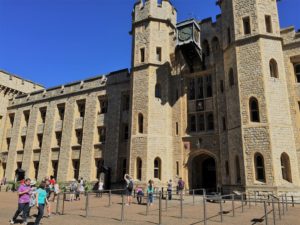 Tower Bridge
After, we enjoyed walking across the Tower Bridge and then did some clothes shopping in Cheapside. We purposely waited to shop until our last day, so that we didn't add too much to our luggage at the beginning of our trip.
Pro Tip: Do what we did on our second trip to London, and go inside Tower Bridge to walk across the glass floor over the River Thames.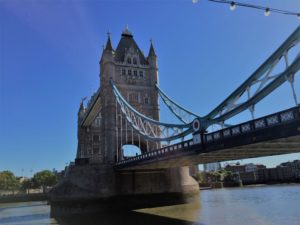 We left London, hesitantly, that evening and traveled back to California (with a long layover in Moscow, Russia). We absolutely loved our time in England and Ireland and immediately started dreaming of going back.
I hope you enjoyed our perfect itinerary for 2 weeks in England and Ireland. If you have ever done a trip like this, I would love to hear how you chose to spend your time. If you haven't been yet, what are you looking forward to the most?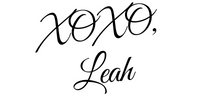 Pin for later: